Update: I just added a complete transcript of what Tori said during her interview clips on this program. Tori was one of the artists interviewed on the TV show "Controversy" which was broadcast on CMT (Country Music Television) in the U.S. It was shown for the first time on April 20, 2003 and has been shown on CMT many times since, including June 11, 2003. The subject of this episode of "Controversy" was the song "Indian Outlaw" by Tim McGraw. Click for full details about the episode, a complete transcript, and some screenshots. This episode will be shown again on CMT in the U.S. on June 17, 2003 at 8:30pm.
More Details
Screen Shots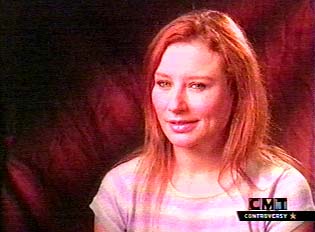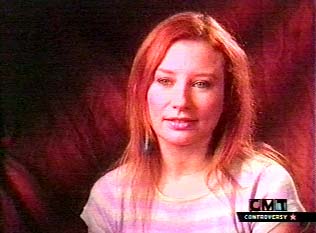 Interview Transcript
Many thanks to
Mike F.
for sending this transcript of what Tori said on "Controversy" to The Dent:
During the show's intro, short clips of the upcoming
half-hour were shown. One of them was of Tori. She
said:

"This song is a white man's fantasy, not an Indian's
reality."

When they actually came to her very brief portion of
the show, however, she phrased the intro clip slightly
differently:

"This is a white man's view, not an Indian's reality,
and I think that's what everybody's saying without
wasting much energy on it. It's kind of one those
that's... okay, whatever gets you off."

They showed Tori again right before the end of the
show. She said:

"If a people want to relate to Native Americans, there
are so many references. I mean, as songwriters, there
are places that you can take this."
The summary for the show on the
CMT web site
says:
Tim McGraw found himself an overnight sensation in 1994 when "Indian Outlaw" hit the airwaves. The single angered Native Americans who felt the song reinforced stereotypes. Radio stations in Oklahoma and Minnesota banned it. However, "Indian Outlaw" marked McGraw's territory as a country star and remains one of his most recognizable hits.
Thanks to
Trent
,
Shane aka ToriKoz
and
Lindsey Pruitt
who also sent me reports from this TV show.