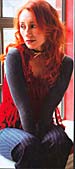 Karina has sent me a Tori interview that appears in the March 21, 2005 issue of Gala Magazine in Poland. Karina has sent me scans of the photos from this interview, which are very nice! Also, I have the interview translated into English for readers of The Dent. Click the details link to see the photos and read the interview!

More Details
This interview was done by Grzegorz Czyz. Thanks to Karina for the scans of the photos you see below and the text of the interview below, which was translated into English.


Tori Amos - I spoke music in a first place
Tori Amos used to sing about her most painful experiences. On her latest album, she radiates calmness and inner peace. Did she find them in her private life as well?
I've met a woman of my life. We spoke for several minutes on the top floor of one of Warsaw's hotels, and she only referred to me as 'sweetheart'. She was sitting there: charming, smiling and relaxed. A fairy. A fulfilled woman. One of the greatest singers and piano players that have ever appeared on a music scene. And one of the most beautiful...
It's definitely not the same Tori Amos who sang about crucifying herself every day 13 years ago. Brought up in the strict rules of the Methodist church, with her father being a Methodist minister, she spent years searching for her own way. But- paradoxically - it was thanks to her father that she played her first show. Edison Amos took his 9 year old daughter to search for the club where she could make some money playing the piano. The girl ended up at... Mr.Henry's, a gay bar in Georgetown, California.
Today Tori Amos is a star. She has a base of loyal fans, especially here, in Europe. She doesn't sing about rape and suffering anymore - she's safe and happy, living with her husband - a sound engineer - and a four year old daughter, Natashya.
She doesn't like playing big venues - she prefers small clubs and studios, where she has more personal relationship with her audience. Once you've listened to her music you'll always go back, and she'll never let you down. Each Tori Amos' album is like an event. 'The Beekeeper', her eight CD, is as good as her previous ones. It's because of promoting 'The Beekeeper' in Europe that Tori visited Poland again.
Could you imagine doing something else than music?
No. I can't do anything else. Music was the first language I ever learned. Thanks to it I can share my ideas with those around me. It's always been like that.
How much about you can we learn from your songs?
I don't write such personal stuff I used to anymore. But my songs have never been too personal. Since I began writing, I've always mixed my own experiences with experiences of other people, as well as with those by the characters, created for the purpose of the story I wanted to tell. But in every lyric there has to be a piece of me or I wouldn't be fair about making music. If this had ever happened, I would merely be a spectator, watching everything from a distance. And I don't see myself doing it. That's why I have to create characters, whose position I could occasionally refer to, at least to some extent.
What is so special about orange knickers that you decided to write a song about them?
I'm sure you've heard about artists Christo and Jeanne-Claude who set up their installations all around the world. In the past they wrapped Reichstag, and some time ago they set up thousands of orange gateways in Central Park. I visited NYC recently with my four-and-a-half year old daughter Natashya. On our way to a hotel, in a taxi, the driver told us that people were not happy about having to pay 26 million dollars for the installation, instead of giving it to the homeless. Then I asked Natashya if she liked what she was seeing outside. She started to giggle. When she saw I didn't understand what she'd meant by that, she replied: "Mommy, in Central Park there are thousands of orange knickers. The ladies here must have very large bottoms". Some time before that I'd read her a book called 'James and the Giant Peach' by Roald Dahl and probably that's why those gateways seemed to be for her like the knickers of giants- main characters of the book. Kids can still enjoy such play of imaginaion, since 26 million dollars means nothing to them.
Maybe I'm wrong but I have an impression that your attitude towards men has changed over the last years. Did you ever really hate them?
I neither hated them nor changed my attitude towards them. In my songs you'll still find a lot of critical comments on men who abuse women. But, because of the fact that I'm happily married now, I'm less concerned with somebody else's personal experiences, especially that I believe women's situation has changed a lot recently. Ufortunately, despite men not being allowed to treat women badly in their private lives, women are still abused by their male bosses in the big corporations.
And do you think there is an alternative to the world of big corporations, in which we live?
I believe there is. Because everything comes down to intention. I don't see anything wrong with progress, as long as the reason for technological progress is rooted in people's concern about others. Right now it's only about satisfying the barbarian drives of those who are in charge. Most of the corporational world is focused on fighting the opponent. Those people absolutely have to win every race, since it's all about racing and winning. But it's like balancing on a line that must end in a fall.
What does a man have to do in order to take you out for dinner? Is it enough to invite you?
Usually while I'm promoting an album I have too little time to go out. I play a radio or a TV show, I give some interviews, and I go back to the hotel so tired that I order something to my hotel room. When I do have some time, my husband arrives - he knows exactly what my day schedule is - and then we go somewhere together. So sorry, sweetheart, but not this time...