Click here to buy the Tori Amos "Lyrics" book from Amazon.com!
My comments about the "Lyrics" Book

What is the Tori Amos "Lyrics" book?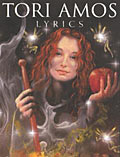 A new Tori book with the title "Lyrics" has been produced and is now available from Omnibus Press. You can see the cover of the book to the right. (Click to see larger.) This collectible book does not contain sheet music, but has the lyrics to all of Tori's songs up through the "to venus and back" album, over 100 Tori songs. It also includes songs from Y Kant Tori Read, her b-sides and songs such as "Just Ellen" and "Rubies and Gold.". Many of the songs are printed next to some fantastic artwork created by the incredibly talented Herb Leonhard. The book has 144 pages and is 9 X 12 inches in size. Tori and her management were actively part of the creation of this publication.
A really cool thing about this project is the fact that Toriphile Herb Leonhard (CygnusX1) created the artwork being used for the cover and the 35 full color illustrations inside. Herb has graced the Dent forum with his breathtaking work before, and I am thrilled that someone from the forum is being honored in this way. Tori's father and Tori herself reportedly chose the artwork being used for the book! You can see more artwork from Herb on his Black Holes and Butterflies web site.
The book has a forward written by Tori which is very nice. You can see the photo of Tori that is printed with the Forward below.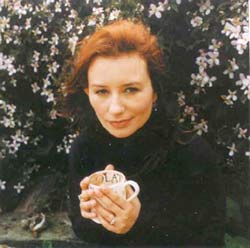 Photo from the Forward of the book. Thanks to
Matthew Myers
for sending me the scan!

My Commentary on the "Lyrics" Book
I received my copy of this book late in the Fall of 2001, and I must say I was extremely impressed! The artwork alone is reason enough to purchase this collectible. Herb's artwork is breathtaking, and it perfectly complements the song that is paired with each illustration. The forward from Tori and the two photos of her that are included are wonderful as well. Tori's comments about the songs and how they are alive are very insightful.
It is so nice to have all of Tori's lyrics in one place. There has been at least one online webcast where Tori herself was using this book to remind herself of the lyrics to her songs! All the b-sides are here, and it is nice to have official lyrics for them, which we never had before. The inclusion of "Just Ellen" and "Rubies and Gold" are very interesting, as these are songs that are not available as recordings. They demonstrate some of Tori's earliest writing.
While I strongly recommend the book, it is not perfect. The b-side "Samurai" is not included, nor is "Til the Chicken". Also, one thing that Toriphiles really wanted to see were the background lyrics that some of the songs contain. Tori often does these at her live shows, but they are not included in this book. But these oversights do not mar the value of this item. Even if you do not get many Tori collectibles, I would strongly urge you to consider this one. It will be a nice and useful addition to your Tori collection.

Other Details about "Lyrics"
Published 2001 by Omnibus Press
A division of Music Sales Corporation
Hardcover Edition:
Order No. OP 48521
US ISBN: 0.8256.1887.8
UK ISBN: 0.7119.8982.6
Softcover Edition:
Order No. OP 48131
US ISBN: 0.8256.1692.1
UK ISBN: 0.7119.7626.0
Exclusive distributors: Music Sales Corporation
You can supposedly order the book also by calling 1-800-431-7187.

Other Comments about the "Lyrics" Book
Here are some comments about the book sent to me by various Toriphiles:
From Michele:
The Lyrics book arrived for me last Saturday, but unfortunately I had to wait the whole long weekend to get it from the post office.

Here's some info for people who want to order:

Omnibus Press
Hardcover Edition:
Order No. OP 48521
US ISBN: 0.8256.1887.8
UK ISBN: 0.7119.8982.6

Softcover Edition:
Order No. OP 48131
US ISBN: 0.8256.1692.1
UK ISBN: 0.7119.7626.0

The book contains 102 songs, a two page foreword by Tori, and a couple of pictures of her along with all the artwork. There is no sheet music, covers or background lyrics, or further lyrics on album tracks than what's in the liner notes. Most of it is album stuff (LE-tvab), bee sides, a few from YKTR, and unreleased songs Rubies and Gold and Just Ellen. The good new stuff for people who have all the albums and singles are the bee sides from ftch. The Beulah Land lyrics Tori corrected while on tour (http://members.aol.com/HerDemons/beulah.html) are very close but a couple of words are different.

My initial reaction was disappointment with no background lyrics, but I think it's nice to have all the lyrics in one place, and the drawings complement them well. I got a misprint one - they were recalled and destroyed, but EQS gave the option to get one. Mine goes from page 96 to 113, all the way up to 128. Then 97-112, and back to 129. I have to admit even though I got the misprint for its collectibility, I would be a bit grumpy right now. I can't believe after all the delay of this book they still managed to end up with a printing error (maybe that's a common occurence, I don't know). I wanted a hardcover to begin with though, and am planning to get that so I can have a nice reference book.

There is a card in the back to order all of the Tori books. 1-800-431-7187

From Violet:
So I don't know which of you had ordered the new "Lyrics" book back in March when it was first announced, but if you did you know it has been delayed all this time, and when it was finally ready to be shipped last week, they noticed that a page was in the wrong spot and the publisher wanted the copies back to destroy them. EQS contacted folks and gave them the option of getting the misprinted copies, or waiting another week for the corrected version.

I opted for the misprint.

Not only is it many more pages out of order than just the one that they told people about, but I am *so* disappointed (I can't even tell you just how much) that two of the songs I most wanted lyrics to -- "'Til the Chicken" and "Samurai" -- aren't included at all.

There seem to be a few other errors in the book, too. Bummer. (Like the lyrics for Hungarian Wedding Song seemingly containing what looks like a comment to the editor [probably written by Tori] about whether or not to include the "froperty" part, but that they included as the last line of the lyric.)

Grrrrr.

Oh, well, better than nothing, I guess. But after all this time, I don't really think it's all that unrealistic of me to have expected a less shoddy job.