Order The "No Boundaries" Benefit Album for Kosovo Refugees From CDnow

- contains the never before released Tori track "Merman".
Go To The Epic "No Boundaries" Page To Sample All The Tracks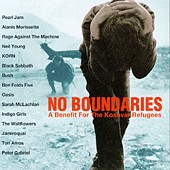 Tripp Gwyn and Christian Nicolau were the first to tell me about a benefit album for the Kosovo refugees that was released in the U.S. on Tuesday, June 15, 1999 from Epic Records called "No Boundaries". The album was released in the U.K. on Monday, June 14, 1999. (Thanks Ken Tough.) Tori is one of the artists on the album and the Tori track is "Merman". This beautiful song has never before been released on a CD. It is one of Tori's most beautiful songs! I am also glad to see that a special song like Merman is being used for such a good cause. Check out my Merman Page for more info about this song.
Here is the track listing for this album:
"Last Kiss" - Pearl Jam (1998 Fan Club Christmas Single)
"Baba" - Alanis Morissette (live)
"Ghost Of Tom Joad" - Rage Against The Machine (CD single from "Rage Against The Machine" home video)
"War Of Man" - Neil Young (live)
"Freak On A Leash" - KoRn (Butch Vig Mix)
"Psychoman" - Black Sabbath (Danny Saber remix)
"Come Down" - Bush (acoustic version)
"Leather Jacket" - Ben Folds Five (unreleased studio track)
"Take Me Away" - Oasis (B-side of British "Supersonic" single)
"Mary" - Sarah McLachlan (live)
"Go" - Indigo Girls (live)
"Used To Be Lucky" - Wallflowers (unreleased studio track)
"Wolf In Sheep's Clothing" - Jamiroquai (B-side to British "Canned Heat" single)
"Merman" - Tori Amos (unreleased studio track)
Fourteen Black Paintings - Peter Gabriel (from his album "Us")
Soldier Of Love - Pearl Jam (B-side to 1998 Fan Club Christmas Single)

Paul tells me that the benefit album was released in Australia on June 21, 1999. He adds that the Australian version differs a little from the US and UK releases. It also includes a track from Aussie artist Jebediah and one from Bic Runga from New Zealand.
SonicNet Music News Of The World

had a full report about this 16-song album which features rare, live or unreleased cuts from all the acts. "Pearl Jam will contribute covers of J. Frank Wilson & the Cavaliers' "Last Kiss" and Arthur Alexander's "Soldier of Love," both of which will appear separately on a benefit single; the songs originally appeared on a Pearl Jam fan-club single."
Three international organizations will benefit from the album. They are Doctors Without Borders, OXFAM, and Cooperative for Assistance and Relief Everywhere. They will receive an initial donation of $1 million from Epic Records as well as future revenues from the project.

Reviews Of "No Boundaries"
My Articles Archive has a review of the "No Boundaries" album from the June 29, 1999 edition of the San Antonio Express News online.
I have added to my Articles Archive a review of the "No Boundaries" album from the June 17-24, 1999 edition of the Boston Phoenix. They call "Merman" a "fine Tori Amos studio leftover."
Reviews of the "No Boundaries" benefit album are starting to appear. The LA Times gave the album 2 1/2 stars in their June 13, 1999 issue. You can read the review in my Article Archives. The reviews says that "Tori Amos' previously unreleased 'Merman' is an appropriately disturbing lullaby."
The June 18, 1999 (#480) issue of Entertainment Weekly also reviewed the album but did not mention Tori's track. They gave the album a grade of B. They said:
VARIOUS ARTISTS: No Boundaries
Multi-act compilations have become the trash bins of the record business, but this hodgepodge benefiting Kosovo refugees has a few tidbits worth salvaging: Pearl Jam's somber remake of "Last Kiss", a swinging remix of Korn's "Freak on a Leash", Neil Young's live "War of Man". The worst moments (Bush unplugged, Alanis Morisette's live "Baba") could force the Kosovars to go back across the border. B

Official "No Boundaries" Web Site
Epic Records created a web page that allows you to sample ALL of the tracks in RealAudio or WAV. It also has a press release about the project, and includes a place where you can donate online to the three charities that are involved with the album, CARE, OXFAM, and Doctors Without Borders.
Go To The Epic "No Boundaries" Page To Sample All The Tracks