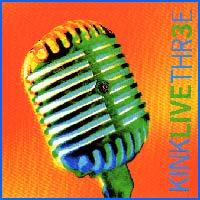 Tori is one of the artists on a compilation CD called "KINK LIVE THR3E," from radio station KINK FM 102 in Portland, OR. The album includes a live solo performance of Concertina from a visit Tori made to the KINK Live Performance Lounge. You can find out all about the album at the KINK FM 102 web site. Thanks to Laura Heywood and Erin for telling me about this. This CD also includes a track from Willy Porter, who opened for Tori during much of the 1996 Dew Drop Inn tour.
The cover of the album is pictured to the right. The track listing is below. You can purchase this CD at various Starbucks locations in the Portland, OR area and you can also order the album online at the Starbucks web site for $12.95. Here is what the Starbucks web site says about this compilation album:
Imagine enjoying groovy music - all the while, helping kids learn to read. Sound altruistic? Kink Live Three is the result of collaborative efforts between KINK radio station (of Portland, Oregon), musicians and Starbucks. This project is part of our commitment to literacy through creative means.

18 artists - recorded live at the KINK Live Performance Lounge at the KINK FM 102 studio in Portland, OR - donated time and music for SMART (Start Making A Reader Today), an Oregon statewide early literacy program that enhances the reading skills, attitudes and life prospects of children who need assistance. A portion of the proceeds from the CD benefit SMART. The musicians will woo you into singing along with them; at the very least, memories will flood from the tunes, and your soul will resonate with the instruments. From the sultry voice of the Cowboy Junkies' lead singer, Margo Timmons, pining over a mismatched someone in Misguided Angel; to Colin Hay's I Don't Believe You Anymore with lyrics so straightforward that you might have to hit repeat a few times. Look at this stellar cast of singers and their earthy ballads - you're sure to be pleased listening to the tunes and helping kids read. To find out more, visit the SMART website at www.oregonchildrensfoundation.org.
Here is the track listing from this album:
Gone Again, INDIGO GIRLS
Angels Would Fall, MELISSA ETHERIDGE
Last Night of the World, BRUCE COCKBURN
Misguided Angel, COWBOY JUNKIES
Breakin' Me, JONNY LANG
I Don't Make Promises (I Can't Break), SHANNON CURFMAN
1952 Vincent Black Lightning, RICHARD THOMPSON
Concertina, TORI AMOS
Beautiful Girl, PETE DROGE
You Ain't Thinkin' About Me, SONIA DADA
I Don't Believe You Anymore, COLIN HAY
Come Around, KIM RICHEY
Drive, JOE 90
You Need to Be With Me, SUSAN TEDESCHI
If I Were You, VENICE
Laugh, I Could Learn to Love, GUS
Wiggle Outta This, CURTIS SALGADO
Mystery, WILLY PORTER
The KINK web site says the following about Tori's contribution to this CD:
If ever a musician captured the intimate nature of the Kink Live Performance Lounge, it would be Tori Amos with her seemingly free-association, almost hallucinatory lyrics. The entire Kink staff came to a standstill while mesmerized by her song "Concertina". Courtesy of Atlantic Recording Corporation.