Check Out The Reviews And Set Lists Page
Tori performed in Wolverhampton, U.K. on May 25, 1998 at Civic Hall during the European leg of her Plugged '98 tour.

Set List
Richard Handal phoned me again from England to give me this set list first.
The Devlins Set List:
World Outside
Years Go By
I Know That
Where Are You Tonight?
Waiting
Surrender
Alone
Heaven's Wall
Tori's Set List:
Black Dove (January)
Cruel
Cornflake Girl
Playboy Mommy
Precious Things
Spark
Honey
Mother
Icicle
Liquid Diamonds
She's Your Cocaine
iieee
The Waitress
1st Encore:
Tear In Your Hand
Raspberry Swirl
2nd Encore:
Thank You

Venue Photo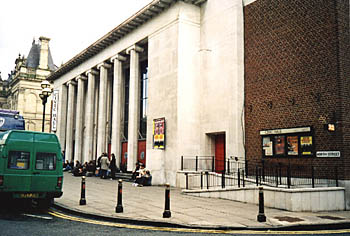 Civic Hall

Reviews
From a local U.K. newspaper and written by Chris Lepkowski
July 18, 1998 - A review by Chris Lepkowski appeared in a local U.K. newspaper (I currently don't know which one.) It was sent to me by Boolbar.
BRAVE TORI NOT FOR THE FAINT HEARTED
Exciting new material rather than old favourites were the order of the day when Tori Amos took to the stage at the Civic Hall, Wolverhampton, writes CHRIS LEPKOWSKI.
Kicking off with Black Dove and Cruel, the intention was obvious from the start - to air as much material as possible from her latest album From The Choirgirl Hotel.
This was Tori's first tour with a full band, making it a new experience for her long-term devotees.
Despite drum beats and snarling guitar often overwhelming her more expressive piano, the new material was undeniably strong and well received. But the biggest cheers were reserved for the Tori favourites, with Cornflake Girl and Mother bringing joy to her fans.
Her performance during Honey was so strong it caused one fan to faint - prompting Tori to toss a bottle of water into the front row for others to share. It was a gesture she repeated later on during the concert.
The set closed with an alternative arrangement of The Waitress, while her second encore was concluded by a moving rendition of Led Zeppelin's Thank You - very apt in the home town of one of her early inspirations, Robert Plant.
On the whole, a brave new musical step from an enthusiastic performer who could so easily have sat back and cashed in on former glories."

From Andy Tebbutt + Emma Taylor
June 21, 1998 - Our third show of Tori's tour (after Liverpool and Manchester) began early on Bank Holiday Monday, having to get a train from Manchester to Wolverhampton. We got to the Civic Hall around 12 mid-day and chose one of the six doors to sit by. There were a few fans sat on the corner watching out for the stage door, so there was just us two and Peter who clung to the doors with it being her second standing show. Around 3pm, we noticed her bus pull up on the other side of the building (there were two stage doors, on opposite sides), so all of us ran around as Joel was putting a barrier in place. He said to everyone that Tori is going off to do a radio show and would be back in an hour to sign for everyone, and at 3:10pm Tori got out the other side of the bus into a waiting car and headed out to do the interview. Within minutes of her leaving, the sun disappeared and we all got caught in a torrential downpour - it really was bad rain. Luckily, Peter had two umbrella's which he kindly shared out...anyway, enough of this chit chat !
The bus moved up the road to park to allow space for Tori's returning car and the rain turned into light drizzle just as she arrived back at 4:20pm. Emma put the small umbrella down but was stuck holding Peters large golfing umbrella for him (there IS a point to all of this, honestly !). Joel held a small practically useless umbrella over Tori's head as she worked her way down the line of waiting fans. As she was signing for Peter, Joel was giving Emma the most evil stare and tutting away all because of the brolly she was holding. Because it was in her left hand and it was such a large one, she had trouble keeping it up and out of the way so as you can imagine, a few drops of water did run off it onto poor Tori, but it was not intentional as Joel really did seem to think. (Emma: There really was no room to take it down, I was holding my stuff to sign in my other hand and Joel was pushing the umbrella one way, while the fans behind me kept pushing it forwards to Joel, and it wasn't even my umbrella... I wish the ground would've opened up and swallowed me right there, it really was that bad. I knew Joel would hate me for the rest of the tour (he really should lighten up), however Tori was unaware of any of this umbrella fight going on, luckily ! Once she'd signed for Peter, I gave him back his umbrella, finally...!). Anyway, if you're all still awake, back to our joint review:
Tori happily signed our stuff and chatted away to us (much to Joels annoyance!). The rain stopped, and out came the sun as she signed for the last few fans right by the door before going in at 4:35pm.
We ran back up to the top and held our place by the door. There were still a couple of hours before the doors opened and later on you could hear the soundcheck slightly ('Playboy Mommy' and 'Pretty Good Year'). The doors opened at 7pm - earlier on in the day, the venue staff told us that all six double doors would open at the same time, however this was untrue as our door and the one next to it opened first, so we were amazingly fourth and fifth in. (Why don't venues tell the waiting fans the 100% truth ? Especially as most of us had been waiting around all day...)
The Devlins came on at 7:30 and did a 40 minute set instead of there usual 30, and by the time Tori came on at 8:55pm, the whole venue was like a sauna, and unlike Liverpool, people were really pushing and shoving from behind. The Civic Hall floor slopes upwards at the very front making the front 2 rows of people appear taller, so to anyone else behind us - sorry, it wasn't our fault.
Tori opened as usual with 'Black Dove', and here are some quotes from the show:
* Before 'Cornflake Girl' she said "thankyou all for being here, I know it's a holiday for you."
* Before 'Mother' she said "the people on the front row are passing out so I'll give you my water to pass along, but if you spill any, you'll get warts on your penis - even if you're a girl !". (Because it was so hot, Tori gave out her small Evian bottle which got passed along and we all had a sip). Thankyou Tori !
* Before 'Thankyou' she said "thankyou guys, you've been great - I know you're dying out there, I really wish we could take you to L.A."
Among others things from the show, the security guys were really mean and wrestled one guys camera off him from the second row, it also took the security guys ages to realise that people were practically passing out and desparate for water and it took them an eternity to get us some, but then they only gave it to people on one side... we never thought it would be this bad / hot at a Tori show but it really was unbearable, by 'Tear In Your Hand', Emma was slumped against the barrier at the front, literally about to collapse and it took me forever to get the attention of a security guy for water... why don't these guys wake up ? (Emma finally got some water which really helped.)
* Emma: 'Honey' was the best time I'd heard it played, it was so moving and has always been my favourite song. It was really special to hear 'Thankyou' too... And we were really touched when Tori did 'Playboy Mommy', but she really looked upset as she sang this.
She went off at 10:28pm, and we managed to get out and round the side to the stage door just as Joel was putting two barriers out. The whole stage door area was in near total darkness as the tour bus was right outside, blocking the street light and a couple of venue security guys positioned themselves along the barriers. Tori came out at 10:55pm, starting on our side of the barriers meeting us fans. When she saw Emma, she said "Hi Emma, you got the water then?", and some other nice stuff, and pulled her down for a hug. (She's so nice the way she makes all your troubles disappear...). When she saw Andy, she leant up and gave him a kiss on the cheek and smiled. As she then moved down the line, Joel was looking really nasty and telling everyone "No flash. It's blinding" as people took photo's. Well, as we said earlier, it was really dark so how else were people meant to take photo's without the flash on their camera's. (We have nothing against Joel, believe it or not, we know he's only doing his job, Tori needs a good security guy - it's just his negative attitude towards her fans that really gets peoples backs up. He seemed okay at the first two shows, but now he's back to his old self...) We know that Tori doesn't want blinding from someones camera flash inches from her face but no-one was taking them that close of her when he said the above. Us fans DO respect Tori, and wouldn't do anything to hurt her or upset her...
Then she went over to do the other side of the barrier before getting on the bus and leaving at 11:05pm
We apologise for going on so much (especially the umbrella battle !) but we just had to get it out of our system. Thank you for reading our experiences. Hope you found it entertaining? Despite it all, it really was a brilliant concert and we know we were so lucky to have met her before AND after the show.

From Jason Terry
May 28, 1998 - Just to let you know that I seen Tori on Monday 25th May at Wolverhampton Civic right at the front on the right-hand side of the stage where Tori handed out the water bottle to my girlfriend "which Tori look straight at my girl-friend" and almost got the bottle missing touching Tori by an INCH where some other girl got it instead, but to see her that close made my Hart beat faster. And it was that hot in there too with all those bodies near each other.
Also the girl who pass out told her friends that she meet Tori's Guitarist backstage when Tori must of had her "Own Time". So maybe I should have pass out I might have meet the Goddess herself?.
Tori was brill just like last time when I went there 2 year ago at the civic. but even better with a full band giving more volume to the music than a pre-recorded backing tape.
Tori sang her songs with great emotion like Precious Things , which I really love and almost got emotional for me too, along with Tear In Your Hand. I even thought that Tori was looking at me, as you sometimes think when their eyes look into yours.
It was a great....excellent.....smashing......fantasic......No words can explain it. Can't wait till next time.....
Also I agree with Mandi Cook about people with long pony tails and goatee beards" not that I haven't got one" leaning "not that I haven't got one" forwards but what made the night a bit upsetting was two smaller girls trying to dance/shove forward where my girl had to rib her ect.
well that's about it I also hope you enjoy your Tori's PLUGGED 98 TOUR as much as I did.

From Mike Gray
May 28, 1998 - Better than some - certainly better than Liverpool and Glasgow, but still not as good as Manchester. Pretty high energy, though. Quite emotional, certainly during "Playboy Mommy". At first she seemed to be really enjoying herself, especailly during "Dove", but she was crying after Mommy.
She was due to play "Here In My Head", and this was written on the set list.
For the first time, "Horses" hasn't been listed as the second encore. We now have "Tori's Choice" as the second encore, which means the solo piano piece is very likely be a regular fixture.

From David (posted to rec.music.tori-amos newsgroup)
May 19, 1998 - I was at Wolverhampton Civic Hall last night... have been dying to see Tori live since I got into her music (just after her last tour in '94 - damn!).
I'm not good at remembering names of songs and stuff, but she was on-stage for about 1 12 hours and I guess it was just over half From The Choirgirl Hotel and the rest were from Little Earthquakes and Under The Pink. Quite telling, I thought - I didn't notice any songs from Boys For Pele!
The band are good, it adds a real rock quality to the new songs and some of the older ones such as Cornflake Girl (always a hit over hear), though the sound mixing favoured the guitars rather than Tori's piano and keyboard - ack! About half-way through the band went off for 15 mins and Tori did some solo stuff such as Icicle. I was glad we got a chance to hear some of the real magical piano playing.
There were two encores at the end - the second one was a solo love ballad which seemed to me to be about her recent marriage... Anyone know what it's called and where I could get it? A truely happy Tori Amos song is such a rarity I think!

From Richard Handal
May 25, 1998 - Some notes from Richard:
The Devlins played a longer set than has been usual on the European Tour so far. They played from 7:32PM until 8:11. You can see the set list for the Devlins above.
Tori played from 8:55 until 10:27PM.
Tori gave a strong and powerful show. The audience tonight was both enthusiastic and respectful, and Tori really seemed to respond to that. She even signed autographs after the show for a ton of people, a practice that is rare these days. Tori REALLY liked Wolverhampton!
Up near the stage it was apparently so hot that one person passed out. Tori was passing her Avian water bottle around for people to drink.
Tori played by herself on "Mother" and "Icicle." Her version of "Mother" was glorious and heartfelt.
Tori ended the show with "Thank You", which is the first time she has sung that cover this tour and only the second cover she has done on the Plugged '98 tour.
Tori did an amazing soaring vocal break during "Cruel."
Tori did a really powerful version of "Precious Things" tonight. Her vocals toward the later part of the song were crazed, and Matt Chamerlain was really pouding those drums.
Tori and her band practiced "Pretty Good Year" during the soundcheck for a long time. That makes it likely that we will hear this song in concert soon.

From Mandi Cook
May 25, 1998 - It was a wonderful, incredible show =) The crowd was enthusiastic but many (myself included) were unable to see much due to a selfish minority who were pushing and lifting people at the front. (Why do tall people with huge pony tails always gravitate towards the front of the stage????!)
Tori could see we were hot and uncomfortable - she handed out 3 small bottles of Evian to left, right and centre stage front people and demanded we pass them round and not hog them. She said "If anyone takes like half of this, they'll get warts on their penis... even if they're a girl!"
She wasn't too talkative and seemed keen to just rock, and rock she did. Highlights for me were, of course, Raspberry Swirl (which I thought for one horrible moment she wasn't going to play... she left it til the first encore... PHEW!) and Cruel. It was a nice surprise to have the Led Zep cover of Thank You at the end and the light show with the big glitter ball created a nice atmosphere, even if it did make me dizzy... but, then, I could just have been recovering from the fact that my raspberry was still swirling... LOL =)
Joel let her stick around to sign autographs and have photos taken at the end of the show by the tour bus. I got my concert ticket signed and took about 16 photos of her, which I think should be AWESOME! I'll scan then and send them to you as soon as possible so everyone can share them =)
Had a quick chat with her... told her not to work too hard and take care of herself (she looked pretty tired on the Jools Holland show on TV a few days ago and asked her about Steve Jenkins (founder of Take To The Sky, UK fanzine, a friend of mine). She was in good spirits and made time for everyone.
For the record, during the show Tori wore a black short-sleeved top, blue flared short skirt (a kind of shiny material) with blue cycling shorts underneath. Also, she had a pair of knee high, dark boots on. She came outside wearing jeans and a jean jacket and she looked soooooo sweet! =)
A wonderful show - best I've seen yet and this was my third at Wolverhampton.