Check Out The Reviews And Set Lists Page
Tori performed in Newcastle, U.K. on May 24, 1998 at City Hall during the European leg of her Plugged '98 tour.

Set List
Richard Handal phoned me once again from England to give me this set list first. I would also like to thank s.pearce for emailing me the set list first.
Black Dove (January)
iieee
Precious Things
Northern Lad
Liquid Diamonds
Cornflake Girl
Cruel
Upside Down
Winter
Horses
Spark
Raspberry Swirl
The Waitress
1st Encore:
God
Tear In Your Hand
2nd Encore:
Landslide

Venue Photo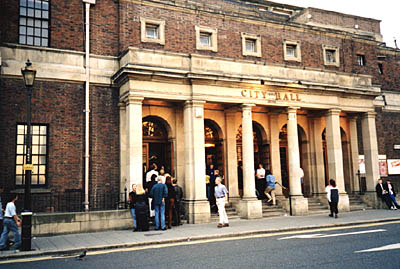 City Hall

Reviews
From Paul Tweedy
May 25, 1998 - Here I present my full review of Tori's Newcastle show.
The Devlins, the support act, were really good in my opinion - a full sound from a trio. They sounded like Crowded House crossed with a bit of Radiohead - good, imho! They were a little restrained but that was probably nerves; the audience received them well, especially when the singer told of their night in the Tuxedo Royale (famous floating nightclub in Newcastle) celebrating the Northern Ireland peace agreement.
Tori came on stage about ten past nine. Caton and the rest of the band walked on first, in darkness and silence, although someone shouted "Happy Birthday Steve!" and this lightened the mood somewhat. The drumbeat to "Black Dove (January)" kicked off, and Tori ran on, to whooping cheers and applause. The sheer power the band put into this song was overwhelming. Caton, in particular, seemed in a world of his own, crashing out the power chords in the chorus. Tori seemed in very good voice tonight; not a note wrong, tackling the high parts with aplomb; you'd never guess she'd been having problems. After "Black Dove" came "iiieee", a song that'd never really clicked with me on record, but the live version was something else. What really knocked me out tonight was the rhythm section; really tight and interacting with Tori's playing and singing like they'd been together years. It was Caton that seemed the odd one out, strangely; adding his spacey guitar everywhere even when it wasn't strictly needed. But I digress; it was good to see him earning his money.
"Precious Things", the next song, was amazing; full of energy. A near carbon copy of the album arrangement, but with more dynamics, with Matt Chamberlain really getting into the song. By now I'd noticed that Tori was having immense fun tonight; she really seems to relish having such good musicians around to play over, rather than having to carry the backbone of the songs herself. It seems to have freed her up somewhat.
After that, she spoke to the audience for the first time. "I want you to meet the guys who are with me this time - some of you remember Caton, he was with me last time (applause and cheering) and this fantastic person is Matt Chamberlain, who hits things (applause) and, er, this is the wonderful Jon Evans (applause).
"So anyway I think some of you will understand the next song, I wrote it about a boy who came not so far from here.."
"Northern Lad". A passionate version; I'm sure Tori was peering at Mark at the mixing desk during the end of the song, which made it even more resonant. "Liquid Diamonds" was next, again, sticking closely to the album arrangement, except Caton was louder and even more spacey. Then Tori spoke again;
"I know a lot of this is new material, but hopefully you'll recognise this one.."
She then launched into "Cornflake Girl". It seemed slightly slower and more laid back than the album version, but Tori's piano playing was ecstacy; she really went to town on the solo parts. Caton looked a bit mad on this one; I think the wine he was drinking was beginning to take effect! More drum loops were next; the beginning of "Cruel". Actually, that's one of the only criticisms I have; a lot of the "Choirgirl" songs just started off with their respective drum loops, which all sounded so alike it was difficult to tell which song was which until Tori sang or a riff started. Ho hum. Anyway, then more speech from Tori;
"So the guys are gonna go away for a minute, and um, somebody asked me to play this tonight, I always play a couple of songs just between us, you know (gestures to audience), they go off and do their own thing (gestures to band area)"
Tori then played a beautiful version of "Upside Down" by herself, followed by "Winter", a fantastic song if there ever was one, played as brilliantly and emotionally as usual. During this song, more than any other, I was spellbound.
The radically, band-arranged version of "Horses" followed, with Tori playing Mellotronny strings on her Kurzwiel and still playing the piano with her left hand. The band wasn't as together as usual on this one, but the music had changed to much it was hard to know what was intentional and what wasn't. Great to hear Tori experimenting with her old songs, though, and this was the only song off "Boys for Pele" she played all night.
"Spark" was next, sticking closely to the album version, but this was much tighter, really powerful. You can tell Tori really enjoys playing this one, she really got into it.
"Raspberry Swirl", I'm sad to say, was a bit of a mess; it just didn't translate well into a live band environment. Caton seemed all over the place, but to be fair, I think something was going wrong technically too. On a number of occasions, the monitor engineer raced over to Caton's left monitor and fiddled with it during the concert.
The final song of the main set was "The Waitress", the extended version she's been playing all through the tour. It sounded really good; although, like "Horses", a bit of a challenge to listen to if you know the album arrangement really well. It blended in well with the other songs though. Tori and the band then came to the front of the stage to rapturous applause then left stage right; only to reappear 30 seconds later for the encores, the first of which was "God". This sounded MUCH better than the crap backing-track version on the UtP tour; Matt and Jon really excelled themselves on this one, with Caton going a bit mad again with his squeaky guitar harmonics. Tori, again, appeared to be really enjoying herself on this one. Then the band started up "Tear in Your Hand", which I hadn't expected to hear, but it was a brilliant rendition; already recognised as a classic, the band carefully did it justice, and Tori seemed know it was going well and embellished upon it. The band raced off again, then Tori reappeared herself to play "Landslide" as a solo piano song. A brilliant way to end the concert.
All in all then, a marvellous set, showing the Plugged '98 experiment has been very worthwhile. It's also helped me get inside some of the album tracks that didn't immediately appeal to me, too. A wonderful show.

From Stephen Pearce
May 25, 1998 - Tori rocked last night at the City Hall.› She really had energy.› I saw her on the Dew Drop Inn tour and the band really brings out the best in her.› She was constantly interacting with them, sometimes it seemed almost sexual with Caton, they work so well together.
Tori didn't really talk as much as she usually does, she only spoke to the audience three times and, at times, because there were no breaks between songs it seemed rushed. First, as always, she played Black Dove (January) then an amazing version of iieee and Precious Things with a 20 second grrrrrrl.› The first time she spoke was after Precious Things, she said "Hi everybody.› I always like coming up here and I want you to meet the guys that are with me this time.› Some of you may remember Caton who was here last time with me, and this fantastic person, this is Matt Chamberlin who hits things and this is the wonderful John››› .› So anyway I think some of you will understand the next song, I wrote it about a boy that came from not so far from here, he's sort of different."
I know this exactly because I recorded the concert.› I was extremely nervous because the security guards were very vigilant and took cameras from a few people.› However I held on to my recorder so can give you the quotes exactly.
She sang Northern Lad better than on record and look at the sound desk a few times while playing it. Then came Liquid Diamonds, my least favourite song on the album, however it had something different live and it's the only song I've played since.› After Liquid Diamonds Tori said, "You guys have been really great, I know a lot of this is new material so hopefully you'll recognize this one." and played Cornflake girl and Cruel.
The band left while tori was speaking, "So the guys are gonna go away now for a minute.› Somebody asked me to play this tonight, I always play a couple of songs just between us you know, they go off and do there own thing."› She played Upside Down and Winter, both of which were amazing, Tori really plays well with the band but there's nothing like that "girl and her piano" thing.› My tape ended half way through Upside Down and because of all of the security I couldn't turn it over until the lights went down just before Winter.
The band returned and they played the new version of Horses, which I liked a lot, it was even better than other people who have written reviews make it sound.› Next was Spark, then came the highlight of the night Raspberry Swirl, one of my favourite songs on the new album (my others are Jackies Strength and Playboy Mommy, which she didn't do).› At the beginning Caton was miming to Tori that he couldn't hear and Tori just shrugged.› I think she missed the point where she was supposed to start singing but it was amazing.› Then came the new version of The Waitress which is so menacing the addition lyrics at the end sounded great.› I can't be sure but it sounds like she sings "Hang ten, hang ten, honey, I'm gonna go where she goes." over and over again.
Tori gathered the guys at the front of the stage they all took a bow and left.› They returned not more than a couple of minutes later and played God and Tear In Your Hand, the addition to the end of God really adds to the song, I'm glad she played this instead of She's Your Cocaine as the set list said.› At the beginning of tear In Your Hand, Tori began the "ya da da da da" a bit too early said "whoops" and laughed, when she began to sing for real Caton was mimicking her, then he mouthed along with a lot of the song.
The second encore was a real treat for me as I've heard so much about Tori covering Landslide but never actually heard it.› She returned to the stage, alone, sat at the piano, didn't speak, just played. Tori left the stage, the audience applauded, and we slowly filed out. After I managed to get out I rushed to the side door to wait for Tori to come out.› The first time I saw her I was being picked up so I couldn't wait around, this time› I HAD to.
When I got there, there were only about five people waiting, that was because usually the performer would come out of a different door, but people soon realized and a large crows gathered on the pavement.› There was only a small area we could wait in as the car was pulled up almost on the pavement so it was a little squashed.› After about twenty minutes of waiting Tori came out, typical she when down the other side, she was there for ages.› The somebody shouted "Don't forget this side Tori", Joel turned around and said "She won't.› How could she?".
She finally came to me, I almost couldn't speak.› I could just manage› "Could you sign it to Stephen please" as I handed her my ticket.› She said "Sure, and how are you today Stephen?".› She spoke to ME.› All I could say was "Great, thanks!"› I wanted to talk to her like everybody else was but I couldn't I was so overwhelmed.› I took some pictures the squeezed out to let other people in.› I ran across the road to where my friends were standing, my heart was beating sooo fast.
It was one of the best days of my life, I can't wait until the next tour.

From Anne Leonard
May 25, 1998 - it was the first time that i had seen tori, so it was an amazing experience. i was a little dissapointed at the time that she didn't do more stuff with just her and the piano, but as my fellow toriphile steve pointed out, if you want tori by herself with the piano you can just put her cd on! the only song that i didn't like being transformed by the band's rockier sound was horses, i much prefer this with just the piano, and also she just repeated "i got me some horses to ride on" and not the rest of the song so it was pretty repetitive.
with regards to richard handal's comments, i didn't think that the crowd was quiet as such, just wanting to hear tori play rather than loads of other people clapping. at the end there were standing ovations all three times she ended!
landslide was wonderful, i was not aware of the name of the song at the time, and didn't know that it was a cover. it was the perfect ending song IMHO.
my biggest memory about the might will definitely be about after the concert when we waited for her to come out and she signed something for me and gave me a hug! i was just speechless and couldn't believe that it was really her! i am still in shock today! i bet my photo doesn't come out now (!) but i will always have the memory!
don't know whether you want to write any of this on the web or not, just thought you'd like to know.

From Richard Handal
May 25, 1998 - Richard gave me these tidbits about this show:
Tori has more energy during this show than the previous one in Glasgow.
Tori hit the stage at 9:06 and finished the concert at 10:41. The main set ended at 10:21, and was followed by two encores. During the second encore she sang a 'swell' version of "Landslide". This is the only cover that Tori has sang on this new tour so far. (She first sang "Landslide" in Detroit on April 29, 1998.)
During "Precious Things" Tori was really attacking the piano.
There were some technical problems during "Raspberry Swirl."
During Tori's "secret time" she played "Upside Down" and "Winter." For those just joining us, "secret time" is Tori's name for the part of the concert where she plays all by herself.
According to the official set list, Tori had planned to perform "She's Your Cocaine" during the first encore, but chose "God" instead.
The audience tonight seemed rather quiet...