Check Out The Reviews And Set Lists Page
Tori performed in Glasgow, U.K. on May 22, 1998 at the Armadillo (also known as the Clyde Auditorium.)

Set List
Richard Handal phoned me once again from England to give me this set list! I can't thank him enough.
Black-Dove (January)
iieee
Cornflake Girl
Precious Things
Jackie's Strength
Liquid Diamonds
Raspberry Swirl
Leather
Baker Baker
Honey
Spark
Cruel
Waitress
1st Encore:
God
Tear In Your Hand
2nd Encore:
Horses

Venue Photo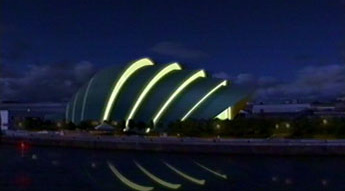 Scottish Exhibition + Conference Centre (Clyde Auditorium)


Reviews
From Dave
May 28, 1998 - Ok well as you know the first few rows were allowed to stand up near the stage (including me!) and this meant we could actually lean on the stage. Tori came on and shook a few of our hands, then plonked herself down on the piano-bench, launching into the haunting intro of black-dove. When the band kicked in ("on the other side of the galaxy") it just blew the crowd away. Hardly pausing for breath, she moved into i i e e e, then told the crowd she was "pleased to see us" (wow don't go overboard tori!). Cornflake girl came in like an old friend, refreshed by her new band. This song is just such a classic, the crowd totally lapped it up.
Some guys even tried to mosh for Precious Things but it just wasn't happening. Then Tori introduced Jackies Strength "this is a song about someone who got lost on their wedding day." I like this song, but I would rather have heard Northern Lad or something older. Liquid Diamonds was cool, especially her imrovisations - seeing Tori jam with a band was brilliant. Raspberry Swirl (one of my favourites off the new album) had a few technical difficulties so she just decided to bang it out on her Bosey. This song rocked, it's excellent.
Then it was time for the band to "have a rest" and the white spotlight was on the girl and her piano. As she played the heartbeat opening to leather, she explained that "someone asked me to play this tonight." Whoever that person was - THANK YOU! Leather is my friend's favourite song. Baker Baker arrived with cries of sheer joy from the audience, and it was honestly the emotional highlight of the whole concert. She held every single member of that audience in her hand, and she changed the words to "if you see her say hi".
The band returned for a thumping version of honey. This is the way this song should have been recorded, and for once the guitars and drums didn't drown out her piano (which happened too frequently). Spark continues to be a brilliant song and she kind of chopped up the order of the "how many fates" part. (If you've seen her live or her Jools Holland appearance you'll know what I mean).
When the introduction to Cruel started, my heart sank a little. It wasn't a song I particularly cared for. How wrong could I be? She wrang every inch of life out of that tune, with an extended improvisation that was more than a little scary (Tori looked possesed at some points!). The song was without a doubt an honest-to-goodness audience-fuck. Wow. Then the revamped waitress finished off the first part of the show (needless to say it's brilliant)
Her first encore God was brilliant but Tear In Your Hand beat it hands down for sheer blood and guts. The new Horses I know a lot of people don't like. It's not better than the original just different. I personally loved it, especially at the end when she holds the final note and the band fade away leaving her voice alone. It's really atmospheric (plus we loved the mirrorball Tori! Keep it going!)

From Patricia Barrett
May 25, 1998 - I was just reading the reviews of the Glasgow concert, which I went to (It was brilliant!!). I'm just writing because you wrote that she performed at the "Armadillo" but the tickets said the "Clyde Auditorium". They weren't wrong...the Clyde Auditorium is widely known as the "Armadillo" because it looks like one from the side (it resembles the Sidney Opera House).

From Mike Gray
May 25, 1998 - I have to say that last night's show in Glasgow wasn't as good - better than Liverpool, but not a patch on Manchester. I got 10th row tickets (on the night! can you believe?) but Tori decided that the first 5 rows were allowed to dance, so that made the view a little worse than you might have expected. The only inclusion that set the tears flowing for me was "Jackie's Strength" which is just as excellent live as it is on record. The solo spot last night was "Leather" and "Baker Baker", with a lyrical twist of "If you see her, say 'Hi'", which I later found out to be because of a letter she had received that day.
It was Caton's birthday yesterday (41) - but Tori didn't mention it. A couple of us yelled out "Happy Birthday, Steve!" but she didn't say anything.
She told a story about the preceding night which I'm afraid I can remember, but it was about a Lord bothering her - she was having a drink, and this guy (who introudced himself as Lord whatever) started pestering her and saying "can I sit down with you for 5 minutes" kind of thing... eventually she got rid of him. It was just like a story about the Scottish and the English and all the rest.
She also said that she preferred Scottish and Northern crowds to those down South...

From Angela Lathem
May 25, 1998 - I was lucky enough to experience the Tori concerts in Liverpool, Manchester and Glasgow (and met with Lori, Mike Gray, Richard, Lucy and Ruth!) this past week. Perhaps I will submit some sort of review later, but for now, I thought you would be interested in the band that opened for her, The Devlins.
As Mike Gray stated, they are an ideal opening act...mellow but not to the point of boredom. In Glasgow the lead singer even told the audience that "It is easy being an opening act, because you don't have to do anything all day. . .we took one of those tour buses that you would never take in your hometown. . .I learned that it was illegal to wear a tartan in the 18th century." It looks like the band is attempting a bit of intimacy with the audience, instead of the same ol' "Our thanks to..." yadda yadda yadda. I'm looking forward to seeing how much more they can open up with their music as well.
Oh, and Lori and I are determined to have a photo shoot with the lead singer (wink) while Ruth and I keep hoping to play football with them; before the soundcheck in Manchester, it looked like they could've used our help, at least in retrieving the ball from under their tour bus!
Here's some scans of the promo postcard that can be found lying around in all of the UK venues. . .I hope that you can use some of them.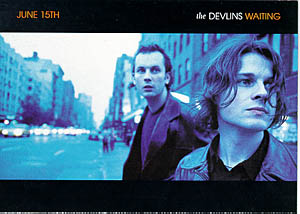 Some important info:
The Devlins new single is out on June 1st--"Heaven's Wall"
The album is called "Waiting" and the title track is a combo of left-handed acoustic and electric joy, played live!

The Devlins website is:
http://www.thedevlins.com


From Richard Handal
May 21, 1998 - Here are some things Richard told me over the phone about the Glasgow show:
Tonight's show seemed very low-energy and almost labored at times. This is in great contrast to the high-energy show yesterday in Manchester.
There was a large gap between the first row and the stage and per Tori's pre-show request, people were allowed to stand there during the show.
Before "Spark" Tori said (and this is paraphrased...) "Here's a little song that made me happy, and I hope it does not make you sad because it makes me happy."
The opening act, The Devlins, played from 7:46 until 8:16pm.
Tori played from 8:51 until 10:23pm. The main set ended at 10:06pm.

From raphael chaize
May 22, 1998 - I'm a French fan of Tori and i check your great web site regularly.
I just come back from the fabulous concert Tori gave at the Glasgow Clyde Auditorium.
I have seen her two years ago in paris and I found that she was a bit more mature on stage, she also controls a lot more her voice. This tour is totally different from what she did before.
She strangely introduced the song "spark" saying that this song makes her happy and that she hopes it doesn't make us sad.
The more emotional moments of the concert were for me Black Dove, very moving ; iiee fabulous ; precious things so powerful ; jackie's strength without the orchestra but with a double bass and Raspberry swirl. On Raspberry swirl she encountered a technical problem, the synth did not work anymore and so she did the whole song on the piano, fantastic !!!
She talked about an English lord who proposed to buy her a drink and insisted when she said no, claiming that he was a lord. she concluded saying that she understands why the scots get pissed off now ! It was before Jackie's strength.
The band also nearly started the song Tear in your hand without the drummer who left for a short while, nobody knew why, so tori and steve caton made fun out of him.
These were the highlights of this fabulous show. Here is the set list :
Black Dove (january)
iiee (extended version)
Cornflake Girl
Precious Thing
Jackie's strength
Liquid Diamond
Raspberry Swirl
Leather (for Simon [?]) only tori and piano
Baker Baker only tori and piano
Honey
Spark
Cruel
The Waitress
1st Encore
God
Tear in your Hand
2nd Encore
Horses (new version)

From Lianne Macdonald
May 22, 1998 - I don't know if this happened at either of the two previous UK shows but her Tour Manager, John Witherspoon (that's his name isn't it?) came out and told the people in the first few rows that they could stand up in the space in front of the stage (there is quite a large space between the front row and the stage) so everyone in the first five or so rows was standing right next to the stage. It was great being so close, but then again as always when you are standing you sometimes lose sight of Tori and it was a bit squashed. One good thing about standing was jumping about to Raspberry Swirl, it was without a doubt the highlight of the show. She had to play most of it just on the 'bosey' as something went wrong with the synth, but it was amazing, she absolutely rocked. I'm going to the Sheffield show too and I can't wait to go now :-)
BTW She made one guy very happy, he placed a bunch of flowers on the stage in front of where he was standing and after the first encore she went over and gave him a bit of a snog! So no doubt he will be on cloud nine for the next month!