Check Out The Reviews And Set Lists Page
Tori performed the Glastonbury Festival in the U.K. on June 27, 1998 during the European leg of her Plugged '98 tour. Sadly, the media coverage for this festival, which was extensive, largely ignored Tori's contribution. Tori was shown by BBC2 TV on the late-night Glastonbury broadcast Saturday. They showed her playing Precious Things and Crucify. I heard that announcer John Peel said the following comment about Tori during BBC2 TV's brief coverage of her. He said, "Oh isn't she fabulous!? And I think the answer to that is no, actually." I have no idea if that was a joke or not, but there you have it. The BBC Radio 1 coverage ignored Tori completely. Even the webcast failed to cover Tori's performance. However, you can find Tori content at the Tunnel Records web site

, which has a couple of mp3 sound clips and photos from Glastonbury. (Thanks Mike!)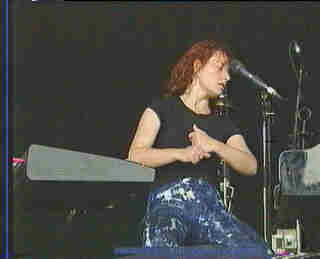 This photo shows Tori at the Glastonbury Festival and is from the Tunnel Records web site

.


Set List
Many thanks to Danica for sending me the correct set list! (FINALLY!)
Precious Things
Cornflake Girl
Raspberry Swirl/Professional Widow (remix)
God
Crucify
Cruel
Tear In Your Hand
The Waitress

ABC's Indepence Day Concert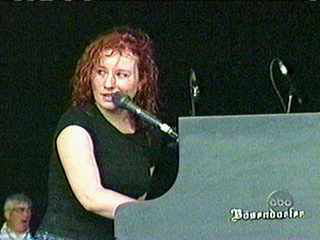 On July 4th, ABC in the U.S. showed a special Independence Day concert that featured several of the acts from that U.K. Festival, including Tori. They showed Tori singing Precious Things and Crucify. This was likely the same footage that the BBC showed on British TV. I now have a page with more details about the ABC broadcast, and several wonderful photos from the concert sent to me by Toriphile Xenotrope (who went to a lot of trouble to make these for me and who I thank profusely.)
Read all about the ABC Broadcast and see many photos from it.

Reviews
From Danica
August 8, 1998 - Danica has a recording of Tori's performance at the Glastonbury Festival, and she sent me the correct set list for Tori's concert.
Precious Things
Cornflake Girl
Raspberry Swirl/Professional Widow (remix)
God
Crucify
Cruel
Tear In Your Hand
The Waitress

From "The official festival souvenir review"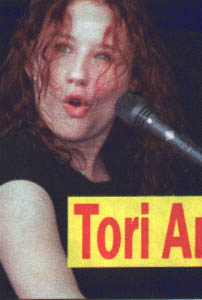 July 15, 1998 - Ears With Feet Boolbar has also sent me a short review of Glastonbury and a photo from the concert that appeared in "The official festival souvenir review" of Glastonbury '98, a "Western Daily Press special publication":
Tori Amos, Pyramid Stage
Taking advantage of a rare break in the clouds - whaddya mean you missed it - Tori Amos should have been one of Saturday's highlights. Indeed, the surreal scene seemed perfectly suited to her eerie vocals and clanking rhythms.
Ever mindful of what the audience was going through, she lost no time getting into the greatest hits. Cornflake Girl sounded big and menacing, Amos bashing the piano like some sort of demented, ginger Liberace. Professional Widow sounded almost funky and there was even a reported outbreak of dancing in the Pyramid's sprawling mudbath ! Sadly, this was later confirmed to be nothing more than an over-excited student looking for his jester's hat.

From Melody Maker Magazine (U.K.)
July 7, 1998 - The July 4, 1998 issue of Melody Maker magazine in the U.K. had a brief review of Tori's performance at the Glastonbury Festival. As usual for some elements of the British Press, it is less than flattering. This was brought to my attention by Toriphile Dave Birks.
MELODY MAKER JULY 4th page 28
Why is Tori Amos the "Cornflake Girl"? Does she go soggy if you leave her to long in the milk? Not even the best mid-orgasm face since Gina G can rescue her masturbatory shite, especially when the crowd are bombarded with hailstones, a plague of locusts, random kitchen utensils and whatever else god sees fit to vomit upon his Earth.

From NME Magazine
July 7, 1998 - An issue of NME Magazine (I am not sure which one...) had a paragraph about Tori's performance at the Glastonbury Festival. Danny Wedup sent me the article below:
"As a convicted pig suckler, Tori Amos should be spiritually at home in these conditions, although such is the eyes-closed, mouth-every-word religious devotion of the fans at the front, that they'd probably go to a gig in a river of real shite if she saw fit to play there. But she does rock, in a startlingly emotional, intense fashion without sounding like a melodramatic old twat, and with a succession of oddly mesmeric songs you forgot your friend used to like."

From Toby Mathews
July 2, 1998 - Just to add to the Glastonbury info. Unless I temporarily went out of my mind, Tori also played a rather spooky Cruel, bringing the FTCH count up to an astonishing 2!!

From sascha segan
June 29, 1998 - tori played an hour long set here at glasto to a large and very muddy crowd in front of the main stage. she came on 15 minutes late, because the sound engineers were puzzling over her keyboard -- eventually they just gave it up for dead. a very unusual set, more in performance than in song choices, because she did everything on the bosie. in deference to the mainstream uk crowd, raspberry swirl -- on the bosie! -- became merged halfway through with a live rendition of that armand van helden remix of "professional widow" -- quite intense. raspberry swirl was in fact the only ftcgh song she played (Note From Mikewhy: Another report says she also played Cruel...); the rest of the set was sort of "dance remixes of tori's greatest hits," with heavy beats and dissonant guitar swirls and piano chords highlighting cornflake girl, precious things, crucify ... tori herself looked totally drained by her intense, high-volume performance. the little bit she spoke between songs was really shaky, as if she was about to crack. but it was a unique show. catch it on tv - that way you can avoid the mud!
Sacha added more to her review later...
umm ... lemme see if i remember the other songs. she played tear in your hand. she played god. i'll email you again if i remember more.
also, she was most definitely not on the webcast, annoyingly.

From Paul Tweedy
June 29, 1998 - Tori was on the late-night Glastonbury broadcast on BBC2 last night (Saturday). They showed her playing Precious Things then Crucify. Sounded good but it was in broad daylight so it didn't look terribly impressive when compared to the usual stage show.

From Mike Gray
Mike Gray was not at the performance, but knows that Tori came on stage at approx. 15:40 Saturday afternoon.