Check Out The Reviews And Set Lists Page
Tori performed in Vienna, Austria on June 15, 1998 at the Libro Music Hall during the European leg of her Plugged '98 tour. This show was part of the Libro Music Days Festival which was held June 14-16, 1998.

Set List
Many thanks to Eva Knobloch for being the first to give me this set list.
Black-Dove (January)
iieee
Precious Things
Crucify
Spark
Cornflake Girl
Pretty Good Year
Upside Down
China
Northern Lad
Cruel
Liquid Diamonds
The Waitress
1st Encore:
Space Dog
Raspberry Swirl
2nd Encore:
Tear In Your Hand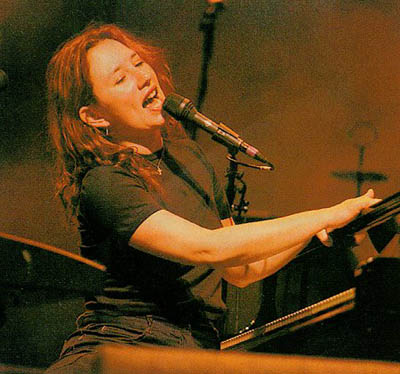 Toriphile Uli (aka Wilma) sent me this photo of Tori performing in Vienna.

Sound Clips
For a real treat go to Toriphile Uli's web page

and listen to the many RealAudio sound clips from Tori's concert in Vienna, including Raspberry Swirl, which sounds really fun live!

Reviews
From Eric (with a 'c') Thelen
June 21, 1998 - Because four bands played on that evening, the soundcheck was very early (about 2:15 pm). Tori did Meet&Greet two times - once before the soundcheck (with only two Ears With Feet present!) and once before the actual show.
The soundcheck in Vienna was audible:
Band Jamming (without Tori)
Liquid Diamonds
Spark
Iieee
Raspberry Swirl (rhythm part)
Northern Lad
During the show, Upside Down was played due to a request during the 'Before Show Meet&Greet'.
This is the setlist in the correct order (I think it was already correct on the 'Dent'):
Black Dove (January)
Iieee
Precious Things
Crucify
Spark
Cornflake Girl
Pretty Good Year
Tori does not talk very much during the shows of this tour. She probably does not feel like she has a lot to say. Before PGY she explained that she had written this song about a guy and that he had faxed her recently. In her most wonderful voice (this alone was so beautiful that it would have been worth to see the show just because of this comment) she said something like 'So he is still alive - he is doing pretty well'.
Upside Down
China
Northern Lad
Cruel
Liquid Diamonds
The Waitress
--
Space Dog
Raspberry Swirl
--
Tear In Your Hand

From Uli alias wilma
June 21, 1998 - Here is a review of Tori's concert in Vienna and things that happened before the show.
I arrived at the Libro MusicHall before 3 pm and I could already hear Tori doing her soundcheck on my way there. The doors to the stage were opened so u could see the stage, but the big speakers wouldn't let one see Tori and Joel said that there was no chance to watch her during soundcheck. So I joined Eric from Germany and Iris from Austria sitting in front of the building listening to the soundcheck. She played Spark, iieee (she said I do this for myself) , some beats of Raspberry Swirl and then Northern Lad. Eric and Iris told me that she had already arrived at 2 pm, probably that early because there were other bands who needed to do a soundcheck. I missed her after the soundcheck. She left really quickly for some press appointments.
Soon after that my friend from Germany arrived and we found out that Caton, Matt, Jon and some other crewmembers were sitting outside in the park enjoying the beautiful sunny day. We went over to them to get some autographs, they all signed the back of my FTCGH CD and i asked them to draw me their instrument, which they did. I'll soon do a scan of that and send it to you, Matt drew me a smiling drum....
They were all really nice and we chatted with them for a while. Somehow we decided to go to the Prater, which is an amusing park close to the MusicHall and has one of the big attractions in Vienna the Giant Ferris wheel (constructed in 1896/97). Caton joined us. He is a lovely guy, down to earth, nice to talk to.
We went back to the MusicHall, because Joel had told us that Tori would come back around 5pm. I told Caton to give me a big big smile during the show, if he decides to stay in Vienna the next day. There were already 2 more EwF from Germany waiting behind the tourbusses and 3 from Austria joined us. I knew the ones from Austria and it was nice doing some Toritalk while waiting for her. She wouldn't arrive until after 6pm...the doors to the hall had already opened and i knew that i probably wouldn't make it first row anymore. She signed my CD and we immediatly rushed We still made it first row, though not in the middle.
I think that the setlist u have is ok, she didn't play anything between Spark and CornflakeGirl, she only did this spanish "brrrrrrrrrrrrrrr" whistl before CfG. I'll be able to tell u more, when i have the bootleg pressed on CD. I'll put some real audio files on a webpage....in a week or so. Before PGY she said something like: I got this fax, a few years back a guy sent me this fax, he wrote a letter, he is still alive, he is doing pretty well..(i didn't know Greg sent a FAX). After secret time the band came back and they started Northern Lad. Caton's guitar wouldn't work , which was fun because of the lyrics...and i feeeel something is missing, but i feeeel this cake just isn't done...after she sang it gets so fucking cold, she said: don't worry Caton. Hey and really, the sound would come again, hehe.
After the main setting they left the stage and i needed a cigarette. They came back and played SpaceDog and the couple next to me, who were snogging during most time of the show left, so me and my friend had enough space to dance along to Raspberry swirl, which was great! At the end of Tear in Your Hand Caton gave me some looks and a big smile, so i thought he was probably going to stay in Vienna. Unfortunately I didn't get to meet him after the show, we saw him, but me and my friend were a bit late cuz we needed a drink after the show. Anyways Tori signed my EwF T-Shirt, now I am an approved EwF :))))))))
At the Munich concert Eric told me that Caton was actually really willing to stay in Vienna, cuz he had talked to him after the show, but he eventually decided to go on the tourbus.

From Hermann Zwanzger
June 17, 1998 - I also went to the Tori-Amos-Concert in Vienna and all I can say is: it was really amazing.
Though most things about this gig have already been said, there's a few things I'd like to add:
I'm sure to remember "SPARK" being the fifth song on the setlist. Can't think of any 'unknown' songs Tori played that night, except for the one before 'China' (if it was "Upside Down" - can anyone tell me where it is from?). Right after "China" came "Northern Lad". I think it really fitted in at that point of the show, with Tori starting on her own and the band joining in a little later - Great! One of the evening's highlights, besides "Pretty Good Year" and "China". By the way: the last song before the encores was "Waitress". I'm sure she did not play 'Silent All These Years'. Drummer Matt Chamberlain (?) did a remarkable performance on "Raspberry Swirl"!
So, that's all I can think of right now ... brilliant concert, brilliant band, but there could have been a little more "silent" moments with just Tori on the piano ...

From Martin Stepanek
June 17, 1998 - I just have been to my first Tori concert and Tori was absolutely fabulous!
It seems we were waiting for ages, for there were three bands before Tori (Tanga - Austrian band; The Devlins - Irish, said they were touring with her; and Morcheeba: English =>actually they were so very great that I thought, well, if Tori is ill and cancell the gig, it was still worth coming...)
Finally, she appeared, and although there were not too many people (about 1500), it felt great, because I was in first row in the middle of the stage and everyone around me was going like very crazy. (which was nice, except that a girl behind me sometimes sang louder than Tori herself - during the first songs - then I made her stop ;O) - sorry, but I really wanted to hear Tori Live and not Tori Fan giving a heartbreaking performance... :)
Tori was wearing blue jeans and a blue T-shirt, so looked like a pretty normal person. The first two songs were BLACK DOVE and IIEEE, but these songs could not be appreciated at all, because photographers were making photos, standing in front of everybody (this made Austrian people produce some of the finest English sentences like: 'Fuck the Press' and 'Fuck off' - I wonder do we learn such things at school?!?)
Then there was PRECIOUS THINGS and that's where my brain now can't really get things together very well, for I was too much into the music...
I only remember she played the following songs (in any order)
CORNFLAKE GIRL
PRETTY GOOD YEAR
CRUEL (one of the best songs - it really rocked)
CHINA (even this one was very pretty, for she did it without band)
NORTHERN LAD
LIQUID DIAMONDS
WAITRESS
SPACE DOG
SPARK
CRUCIFY
RASPERRY SWIRL (people were jumping like kangaroos)
... (Sorry, that's all I really can think of)
Resume: She didn't play any song from Boys for Pele [ :((( ] NO Playboy Mommy, Jackie's Strength 3 encores
Her voice was really incredible. She hit the highest notes without any problems and really sang with very strong voice (chest voice? - don't know the English word - but you get the idea)... The band fitted very well into the songs - it seemed as if they had been playing together for years - also was very nice to see Tori communicate with her band.
Tori didn't talk (except that she said that Pretty Good Year she wrote about a guy who seemed to be in love with her (did she say that he sent her faxes??? Sorry was almost like being under drugs (though I wasnt) and then she said with a great smile: 'Yeah, and he's still alive.'...)
So, very last bit of my long message: During Pretty Good Year a boy next to me, who seemed to be the hardest die-for Tori fan, started screaming: I LOVE YOU TORI !!!!!!!!! She smiled, went on singing and playing. But after the second encore at the very end she came near first row, bowed down, picked out his hands and gently touched them. (and there were a lot of hands, waiting to touch Tori) I found it extremely nice that Tori remembered him screaming and through her touching and looking in his eyes really gave him back something special, like for a few seconds he was knowing that she was doing this especially and only for him.
What a night!!!!!!
I wish all of you who are still looking forward to seeing Tori, some wonderful time - I'm sure the concerts will all be very great!!!

From Eva Knobloch
June 17, 1998 - Proud to be the first - and probably the only - one to write about the concert in Vienna.
First the setlist; Unfortunatley, I am absolutely not sure about the order.
Black dove
iieee
precious things
crucify
(unknown)
upside down (love that song =])
china
cornflake girl
pretty good year
spark
northern lad
cruel
waitress
liquid diamonds

encore I

space dog
raspberry swirl

encore II

tear in my hand
...I think
Marvellous concert, the only problem was that there had been playing three groups (Tanga, the Devlins and Moorcheeba) before her, which was kind of exhausting... Though I missed to see any really BIG Tori fans the atmosphere was great. Tori spit a lot while singing! :-)
A pitty she didn't play a song of Pele.
Anyway, it was absolutely wonderful!!! One of the most exiting concerts I've ever seen.