Check Out The Reviews And Set Lists Page
Tori performed in Manchester, U.K. on May 21, 1998 at the Apollo during the European leg of her Plugged '98 tour.

Set List
Richard Handal phoned me all the way from England to give me this set list!
Black-Dove (January)
Cruel
Cornflake Girl
Liquid Diamonds
Precious Things
Playboy Mommy
iieee
Silent All These Years
Cloud On My Tongue
Putting The Damage On
She's Your Cocaine
Raspberry Swirl
Waitress
1st Encore:
Spark
God
2nd Encore:
China

Venue Photo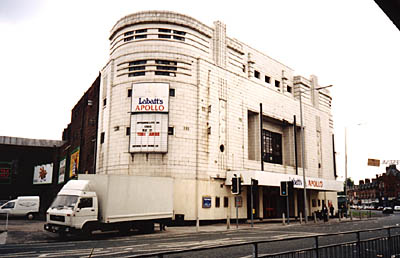 The Apollo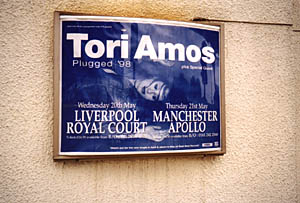 Reviews
From Rochdale Observer newspaper
July 15, 1998 - Emma Taylor + Andy Tebbutt have kindly sent to me a review of Tori's concert in Manchester, U.K. that was printed in the "Rochdale Observer" newspaper on 30th May 1998:
MORE WAS SOMEHOW LESS
" Live Review "
The Devlins / Tori Amos
(Manchester Apollo)
Irish three piece The Devlins are getting a little attention now in the music press. Their lyrical self-absorbtion, sulky, mid-paced and straight forward guitar music puts me in mind of the North's own ex-patriate rocker John Waite, wrapped up in more hip packaging.
Irish heritage seems to provide instant musical cool, even if it has all been done before.
That's something you can't accuse dear Tori of. Despite early vocal comparisons to Kate Bush, Tori's surreal but uncomfortably frank lyrics and intensity keep her resolutely original.
Billed as the "Plugged" Tour, it sees the newly married Amos with a full live band for the first time. A mixed blessing this. The many songs from the new album "From The Choirgirl Hotel" work well, as does old hit "Cornflake Girl", but the spiky and sometimes brutal arrangements devour Tori's off-kilter charm, and although she clearly enjoys the company, it's almost a pleasure to see them leave her on stage alone with her beloved piano.
Solo she winds her raw and beguiling way through the emotional hills and valleys that connect her to the audiences hearts, and this is why Tori's legions keep turning up. Old friends "Silent All These Years" and set closer "China" draw the best reaction by far.
The band, particularly the inventive but overly intrusive drumming of Matt Chamberlain severs the connection, good as they may be, clearly leaving the listeners at a spectators distance, rather than the closeness Tori's music frequently allows. Her shows are always worth the visit, but in this case more was somehow less.
By Nigel Lancashire

From Manchester Evening News
July 15, 1998 - Mike Gray sent me a review of Tori's May 21, 1998 performance in Manchester, U.K. which appeared in the Manchester Evening News in the U.K. on May 22, 1998. There was also a photo of some kind printed with the review.
REVIEW
TORI AMOS / The Devlins
The Devlins, from Ireland, boast that their live sound represents "a return to the power trio" and they made themselves a lot of new friends last night supporting Tori Amos. Their intricately crafted songs of yearning and desire, coupled with amiable stage manner, might yet see them hailed as the new next big thing.
There is no such testing for Tori Amos. Her spectacularly loyal fans love her intensely, and most of them were doubtless already familiar with songs on her new album From The Choirgirl Hotel, quite a way from her erstwhile "girl at her piano" style. Her robust new sound, inspired in part by the remixing treatment that made her "Cornflake Girl" a chart hit was also the basis of her stage show.
Tori, centre stage flanked by a grand piano and synthesizer, between which she would spin within numbers or even half way through a vocal line, was joined by her album musicians Steve Caton (guitar), Matt Chamberlain (drums) and Justin Meldal-Johnsen (bass). Between them they cooked up a dense, rhythmic, tribal swirl of sound with Tori's vocals swooping and soaring in and around it. On new songs like Black-Dove (January) and Raspberry Swirl or the remodelled Cornflake Girl, the overall effect was powerful and alluring, if often disturbing. With impressive lighting effects complementing the sonic overdrive, this was invigorating stuff and a far cry from the kooky confessional wailing sometimes ascribed to Amos by her detractors. A besotted audience lapped it up but there was, nonetheless, a palpable thrill when she revisited more familiar territory in a brief solo piano interlude.
Article by Kevin Bourke
Back copies of the MEN can be ordered - call 0161 832 7200 if any other people are interested in having a copy - it's on page 29.

From Lily*Pixie (Beth Price)
June 4, 1998 - Hi there, this is Beth, I was recently in Manchester to visit my boyfriend and we both went to see Tori live at the Manchester Apollo on May 21st. This was my first EVER concert seeing Tori live and I was so thrilled and so impressed and immensely happy! She was awesome, and her set was perfect. I cried when she walked onto the stage with her little feet doing a half walk/half run movement through the shining spotlight. She's truly amazing and talented. I guess you don't need any information about this concert, but it was wonderful. I've heard that Tori doesn't neccessarily play as many songs as she did, however, i'm glad she did! It was the best experience (besides meeting my boyfriend) that i've had in my whole life. Congrats to Emma and Andy!!!!! I was so thrilled when I heard Tori say she had gotten a note backstage and that Emma was going to be asked a very important question. I could imagine the shivers going down her spine! I would've written to you earlier but i've only gotten back from Manchester 2 days ago and I'm still recovering! Tori is such a good performer and a breathtaking musician. I have an article here that my boyfriend sent me from a Manchester newspaper (i'll find out which!) where Mr. Adrian Thrills completely knocks Tori and all of her majestic talents especially on her new album 'from the choirgirl hotel'. I wasn't sure if you had access to this article, and if you don't i'll be happy to fax it to you. Anyways, I just had to share my experience with you and I hope so much to see Tori live again in concert very soon. After all, it was from your website that I acquired the information about her concert in Manchester and about how to buy tickets. Thank you so much Mike!

From Emma Taylor + Andy Tebbutt
May 25, 1998 - We arrived at the venue for 10:50am, and the crew had almost finished unloading already. Time flew by sitting in the sun, and by 4:00pm there were about 30 fans waiting eagerly to meet Tori (more or less the same people who had turned up to meet her at Liverpool the day before). Tori's tour bus had been there all day, as she was out filming with a local TV crew, in the Castlefield area of the city centre, so we knew she would be arriving back by car. At around 4:30pm,the venue staff swung the two barriers out for us to line up against, luckily we were right at the front as she stepped out of the car with Joel and John. Appearing very happy and relaxed, there then followed a seemingly quick meet and greet session, as things were signed and lots of photo's being taken ! Joel wouldn't let people step back for other fans to have stuff signed etc, but everyone seemed to get stuff signed by reaching over heads. When she got down the line to us, she said some great things to us, and we were amazed at her genuine openess. Our only moan was the presence of a German TV crew who were stood directly in front of us, blocking our view at times, as they filmed her meeting and greeting her fans. (They later went inside to record an interview, but we have no further details. So, if you're reading this in Germany, watch out for it !)
After she had gone in and everyone calmed down, relaxing in the sun, you could clearly hear the soundcheck from around 5:15 to 6:00pm. We heard "Putting the damage on", "Playboy Mommy" and "iieee". Doors opened just after 7:00pm, and we all filed in, and took our seats. We were so lucky to have had front row, centre seats (if you go to the Dent's concert tickets buying page, you can read our ticket buying experiences from way back in February !).
The Devlins came on at 8:00pm and performed a good, 30 minute set - watched as in Liverpool by Jon Evans from the side of the stage. Tori came on at 9:10pm and launched into a cracking set, but we won't go through it song by song, as we'll be here all day, but here are a few of her quotes :
* After "black dove", she said they'd had problems with the power in the afternoon but it was okay now.
* After "precious things", she said "it's nice to be here - it's been a long time." Then she introduced the band one by one, before saying the most important thing of the whole night (to us anyway)... "There's a girl by the name of Emma here tonight, Emma - someone's going to ask you a special question later, a guy, I got a letter backstage, it's a very serious question, so you better go to the ladies room ! She's in here somewhere, that's all I'm gonna say...I'll leave it up to him".
You may be wondering why we remember those words so well, you see, it was US she was talking about ! We'll each try and explain a little now :
Andy : I gave Tori a letter in Liverpool, in which I asked her, if she could possibly ask my girlfriend Emma during the show, if she would marry me ! I didn't know whether she would do it or not, but whenever we've met Tori before over the years, she's always remembered us, and she knows that me and Emma got together because of her, five years ago (long story...!)
Emma : I had no idea that this was gonna happen ! Just after Tori had said it, Andy leant over and asked me if I would marry him. I said "yes!", and we spent the rest of the concert sat hand in hand, with smiling faces, but also near to tears - especially in "China" when she sang the line "in your eyes, I saw a future together" whilst looking right at us... it was so moving. We could'nt believe this was happening to us ! This was the best night of my life - we owe so much to Tori... thankyou Tori so much...
Back down to Earth again for some more quotes now :
* After "iieee" she said that a couple of people had requested the next songs, and someone shouted they wanted to marry her, and she replied "I'm already married honey !"
* Before she started "Raspberry Swirl" she said "I love this bit !" and went "wheeeeeee!", and someone shouted out "You're gorgeous" to which she responded by saying "You're gorgeous too !".
At the end of the show, she came to the front of the stage and bowed down, looking right at us both - we were so happy ! Music wise, it seemed a much better show than Liverpool, they changed the set around a lot and the sound was much clearer - you could really hear what she was saying. She left the stage at 10:44pm and everyone reluctantly left...
We were lucky when we got outside and around the side of the building, as her car was pulling up, and the staff were setting the barriers up. We amazingly got up to the front again (albeit a few people apart from one another), and when Tori came out 20 minutes later, around 11:25pm, she happily signed for people on either side of the barriers (accompanied by Joel, who has seemed in a good mood the past two days !). When she got to me (Emma) she said "Congratulations!", and a few other personal things and hugged me! She asked where Andy was, and when she got down the line to him, she said "see - I came through for you Andy...", as he thanked her.
(This reads confusingly as we're jointly writing this !) After saying her farewells, she got into the car and drove off into the night, leaving behind many ecstatic fans...
We've memorised so many of the details so well because it was (obviously) so important to the both of us. But if ANYONE reading this has a copy of the show (audio or video taped), then P.L.E.A.S.E. contact "Emma Taylor" - details are on The Dent's UK registry pages. Also, if ANYONE has photo's from after the show, can you please get in touch. This was such an important night for us both, you know why from reading this !
Sorry if anyone's found this boring to read and thinks we've taken up too much space - we'll try to keep any future reviews shorter and more entertaining !
From two very happy, still in shock Tori worshippers...

From Mike Gray
May 25, 1998 - Manchester. That show was the most unnerving, wonderful experience. Tori played the best set I've ever heard her play, with so many little improvisations and additions that you just had to be in awe. The surprise inclusion of "Playboy Mommy" (well, actually not surprising when you spent the day with the person who asked for the song, but hey..) which Tori finds hard to play, the resurrection of "Cocaine" and best yet, the scrapping of the set list, when Tori didn't return and play "Horses" (which I don't like any more live - the new version is too different), but instead played a solo piano "China" which left me in tears for a good 20 minutes after the show. Other inclusions were an improv section at the end of "God" which went something like:
"jesus you dropped a bomb on me - dropped a bomb on me, jesus... and you know, you'll do it again... you dropped a bomb on me, you dropped a bomb on me, jesus" and continued in the same vain. She actually did this again the following night in Glasgow, so perhaps this is a permanent fixture now.
Before the manic "Raspberry Swirl", she said... "heheh la la la la .. this is my faaaaavourite bit...." then Matt (the man with 6 arms) suddenly kicked in on the oil-drum thing he plays and off we went...
According to the set list, in her solo spot, she should have played "Sugar", but instead, as you'll see on the set list on MikeWhys page, she played "Cloud On My Tongue"

From Stuart Ellershaw
May 22, 1998 - What a night! I won't go into what I risked to see Tori tonight but believe me it was well worth it! Richard Handal and Lori were right, this was a very special night, even for Tori's usual standard. She was on top form if not higher.
After fighting thru the rush hour traffic to pick up my friend Sonia I burnt rubber down to the Apollo and arrived at 7pm on the dot - the time printed on the tickets. We needn't have feared that we could have missed the start of The Devlins set, there was a huge queue right around the venue and we didn't get inside until 7.30.
Walking along the queue was very interesting, the average number of body piercings must have been way above the national average and the audience consisted of every type of person you could think of, from goths to businessmen still wearing their suits, aged from 16 to 60. I spotted the newly cropped Joel and the even wider but shorter tattooed guy outside the stage door. No one was bothering them, I don't think Joel is as famous over here.
After finding our seats which were excellent (4 rows from the front, right in the centre) I decided to head back out and look for the official merchandise stand. As I was walking out of the auditorium, forcing my way back through the throngs of people pouring in to find their seats I noticed a girl looking at me. Suddenly she shrieked and I found myself being hugged tightly. I returned the favour, and before I could search my memory banks to put a name to the face she introduced herself. It was Heather, a Tori-friend who I've been writing to and exchanging tapes with for 4 years but never met in person, and the only photo I had of her was 5 years out of date. By a freak coincidence she and her friends had seats right next to mine on the same row so we had a great chat before and after the show.
Up and coming three piece Dublin band The Devlins eventually came on and performed a short 30 minute set. The songs were impressive although a little samey sounding. They reminded me of an early Del Amitri - great Scottish band. Tori's time in Ireland is obviously introducing her to the wealth of talented new Irish groups. I hope she brings The Corrs with her next time!
I spotted another Toriphile in the front row that I've met once before so I asked him how the hell he got that seat, cos I ordered my tickets by phone 5mins after the lines opened and got 4th row. He said he was at The Apollo banging on the doors before it even opened the morning the tix went on sale. I kept glimpsing at his face during the show. The guy was in Heaven, utterly hypnotised.
I knew the one and only Richard Handal was going to be there too and sure enough I saw him arrive during The Devlins set. "He's probably been having a margarita with Tori backstage" I thought to myself. Knowing him to be a friendly type of living legend I introduced myself and was given the most enthusiastic bone-rattlingly friendly hand shake I've ever received. A few weeks ago Richard had told Joel that he was coming to England to see Tori but asked him not to tell her. The surprise worked a treat - apparently in Liverpool the night before Tori spotted Richard in the audience half way through Cornflake Girl. He said her eyes nearly popped out of her head and she almost lost her rhythm!
He had chatted to Tori earlier in the day and she said her voice was fine now, as I know he had some concerns about it on the club tour. There was no evidence of any voice trouble whatsoever during the show. I've never heard her in better voice. And she was sipping Evian between songs; not the honey, lemon and ginger concoction which is a good sign.
This was a totally different Tori to the one I last saw 51 months ago on the Dew Drop Inn tour. She was quiet and more introverted back then but last night she looked so happy - marriage definitely seems to be suiting her.
The crowd erupted as she came on stage after the band. She walked right to the edge and gave that ten-finger waggle-wave and the ever-cute scrunchy faerie smile. As she touched her heart and symbolically threw it out to us you could tell right away that this was going to be a special night.
She started as usual with the beautiful and powerful Black Dove, with a percussion introduction as opposed to the mallet piano album version. As soon as the band kicked in on the "other side of the galaxy" line I was entranced. The spell still hasn't been broken. Tori performs so much more than music, the only word to describe it is magical. She draws you into her world and you never want to leave.
She then launched straight into Cruel, interplaying between the Kurweil and Bosey frequently as she did on most songs in the set. This was a much longer version than usual, she didn't seem to want to end it. I could see her giving the band signals to carry on and just follow her, which they did excellently. Things were warming up nicely.
Luckily the two annoying press photographers buggered off at this point. They were getting on our nerves and in our way.
Caton started strumming the distinctive Cornflake Girl intro and we went wild again. The older songs sound amazing with the band, this is such a change to the Girl and Piano concerts, but a welcome one. She's been there, done that and she's proving she can "cut it" with a band on stage no probs. Tori was obviously really enjoying playing with them, especially Caton, their interaction is closer than ever now. He was boogying around like a good "un all the time, playing the Rock God.
Tori then stopped to say Hello to us and someone shouted "I'm gonna marry you!" to which she replied "But I'm already married!" as if she'd been married for ages and we all should know by now that she's well and truly spoken for. I saw Mark Hawley on the mixing desk before the show. In case he was hassled by jealous fans he tried to confuse us by cunningly employing a lookalike roadie - same hairdo, same t-shirt, but different wife. We sussed you out Mark!
Anyway back to the show. Next came Liquid Diamonds. This song has really grown on me lately and this was a stunning version, simply beautiful. Her voice soared and penetrated the auditorium, I swear my very bone marrow was reverberating in harmony with her.
The unique piano riff to Precious Things got us all in a tizz. What a version this is. Even Tori got over excited and she lost her timing slightly just after the grrrl part but it was hardly noticeable.
When the song finished Tori introduced the band. She complimented them all and said "They are the guys that back me up so well and cover for me brilliantly when I fuck up like I just did.". She introduced Matt as the guy who "hits things, fabulously". She grinned back at Jon a few times during the show too. And Tori and Caton were Tori and Caton as always - only more so.
Tori then turned to face us and said "Is there an Emma out there?". A few girls behind me started screaming. Tori continued, "Someone had a word with me earlier, a guy, and he says that you are gonna be asked something after the show, something very important. So you do what's right. That's all I'm gonna say". Everyone clapped. It was a very well behaved audience. No hecklers. Not one. No one shouted during a song at all. Someone shouted "Tori you're gorgeous!" after one song and she just beamed and replied "Same to you."
Tori then turned to the Kurzweil and the accordion-like intro to Playboy Mommy filled the air. That little keyboard can make some cool and varied sounds! This was a very moving performance.
The madness that is iieee came next. The band were really moshing during the "you little arsonist"part. Grunge lives!
And with that the band disappeared to leave Tori to her secret time with us, although she didn't call it that. She said that the next song was a request - an extremely moving version of Silent all these years.
But nothing could prepare us for the next song. It was supposed to be Sugar (which I'd have loved to hear) but she more than made up for it with her version of Cloud on my Tongue. I was speechless. It was simply breathtaking. She kept looking up at the balcony as if it was directed at someone. It seemed to take on a whole new meaning somehow. Wow.
Then back came the guys and Jon picked up his double bass. Tori then proceeded to play Putting the Damage on which I wasn't expecting to hear. Matt's drums made it the Twilight version of the song. Gorgeous and moving.
Caton then picked up his rock axe and Matt joined him in the rockfest of She's your Cocaine. Steve really seemed to enjoy playing this. It's not the strongest song on the album I think, it's just a bit of fun but it sounded great live. I love the middle part though when it all goes quiet "cept for Tori and the Kurweil when she sings the "If you want me to I could lie to you" part.
Thanks to MikeWhy's swift updating of his web page that morning I knew that Tori played a unique version of Raspberry Swirl the night before so I was dying to hear it, and finally it was time. I thought they'd HAVE to use a tape for that driving dance rhythm but oh no, not this time. Who needs tapes when you have Jon, Matt and Steve! Matt left his drum kit and walked down behind the Bosey to what I've been told is a big jet black 50 gallon oil drum. Tori said "Oooh I loove this bit. Wheee!!" and then Matt started bashing the hell out of the oil drum with his drumsticks. You will not believe how cool this sounds guys, it was very similar to the album version. I dunno how they got that sound but this blew our pants off. I have a feeling it's gonna be a regular part of the show now, everyone seems to have so much fun playing it. So look out for this one, its a killer!
We were still reeling when Tori started playing an unrecognisable tune on the bosey. Then just Matt joined in behind her. I could have listened to those two jamming together for hours. I was still trying to figure out what song it was when Tori drawled, "So÷ I want to kill ÷ this ÷ Wait-ress". What proceeded was a real slowed down version of this UtP classic. Matt was really into this, his drumming was fantastic. So was Caton, he really went for it. The new ending with the rhythmic breathing is great too. Tori doesn't know how sensual that sound is from her, well she probably does actually. There were a few hot collars after that I can tell you!
Then just as we were at the peak (so to speak) she thanked us, brought the band up to say bye bye and left. But they soon returned, Tori sat at the Kurzweil and the familiar intro of Spark began. I thought that intro sound was Caton's guitar but no, it's the Kurzweil.
Next came the great band version of God. The new ending "You dropped a bomb on me Jesus" seems to be the new official version of the song. Perhaps she'll add a new line to this song at each new tour with each new big thing that God does to her. Three people tried to storm the stage and party on down to this but security soon put a stop to it.
Then Tori and the guys waved and left again. We screamed. We clapped. We prayed. And she came back. But where were the band? She waved and smiled and turned to the Bosey and began playing China. Now this is how you end a concert. Powerful and moving are nowhere near strong enough words to describe this performance. You could hear a pin drop. The atmosphere was electric, you could almost hear the air crackle.
And then again she was gone. The lights stayed on. We hoped and prayed again. The lights still stayed on. Could she be coming back with the band for a THIRD encore? Of course we were dreaming. The lights finally came on and David Bowie came back through the speakers. It was over.
The only minor negative points to me was the lack of a programme and official merchandise. The bootleggers had a flippin"field day outside afterwards. There was also a *slightly* samey intro to some of the new songs - on the album they are all instantly recognisable, but live a few were the same tempo and same rhythm. But very soon after a couple of bars the others joined in and you could tell what the song was. Also Tori's keyboards were ever so slightly drowned out by the band sometimes, but she treated us to three full solo songs so I think everyone got their money's worth of both Tori's.
Afterwards she thanked us for being such a great audience. If anyone is qualified to be the judge of Tori's live performances it's Mr. Handal. Respect to you sir! I agree that last night Tori rewarded us with the performance of her life so far.

From Anthony Holloway
May 22, 1998 - As your first review tells it really was a superb performance. The things I've not seen mentioned :-
Before the show some bloke passed a teady bear and letter to one of the roadies which he took backstage. A few songs in Tori says 'she has some news for Emma and tells her she might need to use the loo.. but will leave it up to him to ask', which I guess was about a marriage proposal.
After the show at the meet&greet she said she has been filming two videos, for Jackies Strength and Raspberry Swirl, with J.S. being released in the US as a single while Germany get R.S. She did not know which was going to be released here in the UK.

From Esther
May 22, 1998 - Like your page, a lot. I just thought I'd add my own little thoughts as I was there at the Liverpool and Manchester gigs. I have to say that I never felt like that before - she, as ever was abosloutely amazing. I talked to her briefly after both gigs because she came out to sign stuff, but what do you say to someone you admire so much it hurts? I would have loved to have gone to more dates but money is a problem as I am a poor student. Anyway, I'll keep up to date with the tour if you keep up the reviews.

From Richard Handal & Lori Keaye
May 21, 1998 - Here are some things Richard & Lori told me over the phone about the Manchester show:
Tori is really starting to cook and interact more freely with the band. She is loosening up, and tonight show was really intense and memorable. Tonight was perhaps her most amazing show in some time.
The show started at 9:10 PM local time and ended at 10:42 PM.
During "Cruel" Tori did an extended vocal part where she was soaring...going higher and higher and motioning to Matt Chamberlain that she wanted to continue vamping.
During "Precious Things" she lost her place playing after the "girrrlllll" part.
"Secret time" consisted of "SATY" and "Cloud On My Tongue". Her version of Cloud tonight was most amazing.
During "Waitress" she did the song even slower than usual, which made it more intense. There was a lot of interaction between Steve Caton and Tori on this one. She also did more rhythmic "panting" than usual here.
According to the official set list, she was supposed to do "Sugar," but did "Cloud On My Tongue" instead.
Tori was also suppose to perform "Horses" for the second encore, but played "China" instead by herself without the band. The song was so touching that most of the audience and Tori herself were in tears by the end of the song.