Check Out The Reviews And Set Lists Page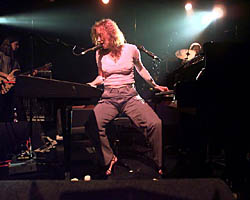 Tori performed her 9th concert of the North American club tour in Chicago, IL on April 30, 1998 at the Park West. The photo you see to the right is actually from this Chicago concert. It and many others like it can be seen much larger at Tori's Official site

maintained by Atlantic Records.

Set List
Black Dove (january)
iieee
Precious Things
Spark
Cruel
Liquid Diamonds
Tear In Your Hand
Silent All These Years
Icicle
Putting The Damage On
Horses
Northern Lad
The Waitress
1st Encore:
She's Your Cocaine
God
2nd Encore:
Cornflake Girl

Reviews
The most recently added reviews are right after my review.
Part of this concert was broadcast on the radio via the Album Network and on the web, For details on the radio broadcast and webcast, go here.

From Mikewhy
May 2, 1998 - Power, Intensity, and Change In Chicago
Getting tickets for the Chicago club show on April 30, 1998 at the Park West was extremely difficult. Waiting in line to get into the general admission show proved to be almost just as bad, because of a steady light rain that soaked many of us and made the temperature seem colder than it really was. Was it all worth it?
Hell yes!
I came to the show with my good friend Stacey Russell and Danica, creator of the wonderful Realm Of MP3's web site. While outside, I must have talked to over 50 people who I either knew or who recognized me and introduced themselves. I enjoyed talking to all of you. It reinforced for me the main joy of running this web site, which is meeting so many wonderful and interesting Ears With Feet. Many thanks to Adam Young for organizing the line and passing out numbers. Stacey and I were #69 and #70.
Tori arrived for her sound check, and I simply watched from across the street while she chatted briefly with the folks toward the front of the barricades. Tori was forced to go into the front of the Park West, because there was no room in the back for her tour bus. We were also told that there was not even a backstage to speak of at this venue. If you go in the rear doors you are on the stage! It was good to see her again. She looked really wonderful.
After 6-7 hours of waiting, the Park West let us in. I immediately headed for the balcony and was thrilled to find stools up there to sit on. The balcony was actually quite small, and consisted mainly of a row of stools near in the front, a walkway behind that, and then another row of stools slightly raised behind that. I was able to sit down during the entire concert with an unobstructed view. The sound quality up there proved to be perfect, and I was still close enough to see the facial expressions on Tori. I could not have picked a better location.
The only negative for me was the cigarette smoke. It made my eyes itchy and very sensitive. The lighting during some of the show started to blind me because of the heightened sensitivity of my eyes. To the smokers around me who refrained from doing so during the show, I thank you. You demonstrated consideration and class. Because most of the people surrounding me did not smoke, I was able to get through the show without a major health incident.
David Poe opened, but I really did not pay too much attention. He seemed like a good person with good songs, but his voice really did not impress me. Then around 9:10PM Tori took the stage.
I am finding it difficult to put this show into words, but I know that it was a night of incredible power and intensity. This concert was LOUD, and that is an adjective that often does not get used at a Tori show. Like everyone else I wondered how it would be to see Tori with a band. I had worries that we would not be able to hear her clearly, that her piano would get lost with the other instruments, or that Tori's set list from night to night would grow static.
While the set list has been a little more steady on this tour than the last, Tori still varies it enough that each show is unique. As for the sound of the concert, credit must be given to Mark Hawley and the rest of her sound crew, who did an amazing job. Tori's voice was crystal clear through the entire show, as was her piano. The band complemented Tori and did not drown her out.
Thanks to a friend, I has an advanced copy of "from the choirgirl hotel" that I had played in the car on the way to Chicago. So I had some familiarity with the new material. Tori opened with "Black Dove (January)", a song of intense beauty. During the louder part of the song my jaw simply dropped where it remained for the rest of the concert. I was immediately thrilled by Tori's voice, which seemed so strong and beautiful. Tori's band, consisting of Steve Caton on guitar, Jon Evans on bass, and Matt Chamberlain on drums, really impressed me. The drums were loud and seemed to make my internal organs jump! Jon's bass added a spicy undercurrent to the material, and Steve looked reborn as he jammed. My fears about a band at Tori's show melted away, and I leaned forward to take it all in.
I won't give a play by play description of the concert, since there are other reviews that do that. The main thing I want to get across is how exciting and different this show was. Tori was having a blast on stage, and at several times during the show she was dancing on her piano bench, twisting her arms in the air. The clarity and strength of her voice was both thrilling and a relief after hearing about some of the trouble she was having earlier in the tour. My excitement level seemed to increase with each song. "iieee" is even more impressive in concert than it is on the record. I really enjoyed the lighting for that one. "Precious Things" was unbelievably intense at the end, with those bright white flashing lights and Tori wailing. Everything seemed to have an edge to it, an aura of excitement and passion that was overwhelming at times. This was the same ole Tori, and at the same time it was a whole new Tori.
I was a bit concerned when people threw lip gloss at her before she played "Silent All These Years." Tori reacted favorably to it, talking about her love for lip gloss and saying, "Moist, is the key sweetie." But it looked like at least one hit her in the head, and some people said her bodyguard Joel looked rather displeased. I was then amused when Tori got hundreds of people to sing along with her during Icicle (though I usually hate sing-a-longs at Tori's shows.) How many artists can you think of who have hundreds of people sing along with them about masturbation?
I felt very favorably about how Tori presented her older material. The new version of "Horses" really impressed me. A disco ball filled the Park West with light, and it seemed to really enhance the song. As Danica said, the song seemed darker. It also put me in a trance as I listened. Tori's ending notes were impressive and sent shivers through me. Waitress really came alive with the band. Jon's bass really added flavor to the song, and Tori's new ending finished the main set on a series of strong, affecting notes.
Tori obviously wanted to jam during the encores, so she did "She's Your Cocaine," "God" and "Cornflake Girl." I really enjoyed the new ending to God, with the Gap Band inspired, "You dropped the bomb on me, Jesus" part being repeated over and over again. During the Dew Drop Inn tour the first encore was usually a soft one. This time I found myself becoming breathless with the non-stop energy coming from the stage. We were the first audience to experience "Cornflake Girl" on this tour. Tori did not do the famous Cornflake Dance, but the song seemed more potent with a full band supporting it. I was a bit disappointed that Tori did not do "Cooling" which was on the planned set list for the evening. But Tori needed to jam during the encores, and so she must have sent "Cooling" home.
So yes, the club tour was worth all the hardships it took to get in. What is both amazing and scary is the fact that Tori and the band was so impressive this early in their tour. Things can only get better as they continue to play together. I expect more awesome things in the future from them, as well as more spontaneous jamming. If I am this positively affected early in the tour, I think the later shows will simply kill me (in a good way!)
The one thing that really hits you hard during these shows is the fact that for the time being, the "girl and her piano" thing is really gone (except for the 2 songs Tori did without the band.) Some people may have a harder time with this than others. I asked one fan after the show what he thought, and he was a bit torn in his thoughts. He loved the new stuff and the show, and yet he missed the quiet intimacy of the previous tours. I could see his point, though it was not a serious problem for me. I have come to accept the fact that change is Tori's middle name, and that from album to album and tour to tour, Tori is going to challenge us all the time. It is part of the reason I appreciate her talent so much. This particular album is all about rhythm and requires a band to make it work. Tori still plays a few songs by herself, and that number may increase slightly when the main tour starts in a few weeks. The concert demonstrated growth and a desire to expand, and yet still respected Tori's "girl and her piano" past and the unique power and beauty of the piano. It all seems right for this moment in her career.
The most important thing is that Tori's music continues to do what it has always done. It inspires and challenges us. The music still reaches inside you and can empower you to find wholeness, or to look at life in a new way. In that way the show was still intimate and personal to me. I can not wait to see her again later this year.

From Lana Helm
September 18, 1998 - i thought you might want to hear a couple of my thoughts on the show to post on your review page...forgive me if i'm repeating some one else's review, but i only read yours. here goes wow wow wow!!! i have to admit, i was kind of concerned that i would deeply miss the intimacy of just tori and her piano with caton making breif appearances (he is just so funny sometimes!). but i was blown away. something happened to me that night. first of all, we had wonderful seats. we lucked into the front and center table, and we had a great view the entire time except for the idiot girl that kept raising her hand in one gester or another and blocking tori's face from my vision. one thing i have to express is how ultimately intense the volume of the show was. this is something that i hadn't experienced in the past except for a few times with Talula, Precious Things, and God. PT, by the way, was by far the best rendetion i have heard to date. there was something in the way that she went into that song that made tears just come bursting out of me. that song has never affected me that way. but i think she was taking me back in time or something. more about this crazy volume.. my friend francesine and i were standing up against the divider between the tables and the floor, and the vibrations were coming up through the floor. don't get any sick ideas, because it wasn't like that. it was just that the sound of tori's voice was incompassing my entire body, not just my ears. i got chills on top of chills. i just can't explain it. i also believe that tori and i had an intense connection. when she stopped and said that she was changing the set and she just had to do this song, and then did Tear in your hand. well, needless to say, i burst out in tears once again! i just needed to hear that song, and she knew somehow. and once during that same song, she looked up, and i know the light was right in our area, she probably saw the tears beaming on my face. i don't know, but i sure felt something. i have to rate this as the second best show i've been to, falling only behind bloomington, in. on the 96 tour.(mike, I'm sure you know why on that one!)one last thing - i think we should all give a shout out to tori's band for coming through soooooo smoothly on cornflake girl. i hope everyone caught the connection that went on between them when they all got it right on beat. yea steve! he sure was rocking! well, that's my call.

From The Illinois Entertainer Online
May 4, 1998 - A review of Tori's Chicago show appeared online at the Illinois Entertainer web site

. It was written by John Everson.

From Lori Adams
May 4, 1998 - Hi Mike! The Chicago show was beyond words. I can barely describe how AMAZING this show was! I have never in my life had music moving throughout my whole body, to where I felt like I was hypnotized. That's exactly what this show did to me, the music flowed right through, and I simply closed my eyes (not all the time, had to look at Tori!) and let Tori take me on the ride! I can't stop thinking about the show, and about how I can't wait to see her more this summer! It makes me teary-eyed knowing that all this excitement is over until this summer! I waited soooo long for April 30, and it was over and done in no time! Oh well, I was there! I absolutely loved the show, and I love Tori's new music. I, like many others, was skeptical about how Tori would blend with a band, but after seeing this little sneak preview, I am more psyched now than ever!!! One thing though, I hope to hear just a few of "Tori and her piano" songs during her tour. Just to reminisce. Bad luck seemed to be running my and my friend Stacy's day, on the 30th. After a series of little mis-haps from traveling from Cincy, OH to Chicago that day, to waiting in line, etc. it was topped off when Stacy passed out! This definatly put a dampner on all the excitement and emotion I was feeling at that moment. Some of you all may remember a girl being carried off the floor, well, that was my best friend. She was not feeling well that whole day, and I think that the heat got to her and not eating. Of course, she's never passed out in her whole 21 year old life, and the one time she does is at a Tori concert, and to top it off during TIYH, which happens to be my favorite Tori song (Stacy's too)...I was so so sad I missed that...I know it wasn't Stacy's fault though. After Icicle we went back out, but lost our awesome standing positions. So, to finish, the show was fantastic, beyond words, but there were some strings of bad occurences...like dropping my camera in a puddle after the show, while waiting to meet Tori...but that didn't happen either. But, I was atleast there, and this show was surreal and my obsession grows even more...ha just kidding...Tori is so amazing and there is not a concert that even comes close to comparing how awesome Tori shows are. I love watching Tori live, because while she is playing, pounding, singing, and swaying, she is feeling that music from the depths of her soul, and total passion is being proven to her audience, and at this show it was so evident..that she was in love with her music, and we were in love with her music too! One more thing...Precious Things was breath taking...I have never---ever--ever had a song possess me like that...it looked like Tori was possessed too!! wow!! My jaw just about hit the floor and I thought I was gonna be the one to pass out when Tori started doing those funky sounds with her voice, and she was moving her head back and forth, red hair everywhere...WOW!!! Waiting impatiently for Tori's Ohio arrival, or surrounding areas!!! Ahhhhhhh......

From Danica
May 2, 1998 - Alright, for those of you that don't want to hear long stories/reviews of the club tour experiences, go ahead and delete this post now! :P I had a very wonderful/stressful at times experience and even though Mikewhy was there with me, I told him that I'd transcribe the comments during this show for the review, so here I am. I'm also including a story that prolly isn't very relevant except to demonstrate how incredibly wonderful the Toriphiles at the Park West were.read on to find out.
I have just a few things to say before I get into the actual club stuff. I was basically hanging out with Mikewhy for the last 3 days..he is a great guy and SO dedicated to the Dent, he was up all night with only 30 minutes sleep before we headed out to Chicago at 4:30am updating his site! How's that for dedication? Ok, I shan't make Mike blush anymore (grin). Oh yeah, and please forgive any typos, because im extremely tired, I've been in cars on the road for a total of 10 hours today.
Mike, Stacey and I got to West Park in Chicago about 11:30 am and there was already a line there, but not too bad. Meeting everyone that I'd been emailing and people that visit my site was just incredible. Everyone was so completely great and nice! During the duration of waiting in the rain and bloody cold Chicago weather (brrrrrr!!) I started to get anxious when the girl and guy that had mine and Clarissa's (another toriphile there that had followed us up to Chicago from middle Indiana) 'tickets' hadn't show up. We were getting worried, and hoped that nothing bad had happened. In the mean time, the meet and greet happened, and I didn't get to meet or take pics of Tori, but I saw her from across the street, which suited me fine. The amount of fans at the Park West was huge! She looked lovely as ever. One Toriphile, Amber gave Tori a card that the internet Tori fans had signed and contributed money to RAINN on, and she said that Tori had tears in her eyes when it was given to her. Along with that Amber graciously gave Tori something for me. After that Clarissa's fiance started to walk the enormous line up and down the Park West looking for out voucher holders (whom will remain nameless for now), holding up a sign, and talking to people and telling them how far we had traveled and the situation. Around 4:30 Mikewhy had talked to someone else about this situation also, and they found 1 ticket. Problem was there were 2 of us. So since Clarissa hadn't ever seen Tori live, I told her to take the ticket, cause I wanted her to see Tori. She popped in line with that voucher holder and the search continued. All this was done just in case my voucher holder didn't show up for one reason or another. About 45 minutes before we got to go into the venue, Ami and Lance showed up (my voucher holders!!)!! They had terrible traffic problems and that was why they were so late. I was so so happy to see them, and glad to know that they weren't in any bad situations, like accidents and so forth. Clarissa's fiancee and I walked down the line to tell Clarissa that they had shown up, when a huge amount of the people in line started to ask if the voucher holders had shown up. Brian told them yes and they cheered! Then they said, "Does the Nashville girl get to go to the show?" And since I was standing right there, I told them yes, and that it was me they were asking about, and they all cheered in this HUGE uproar. Something so simple as cheering touched me so much. These strangers were applauding for someone they didn't know, and it was so sweet, I had tears in my eyes. The Toriphile at the park West were absolutely wonderful! So we all got in and went straight to the balcony. The Park West (this was my first to trip there, and to Chicago period) was really nice inside. Kinda like a bit bigger lounge area. I seriously doubt that anyone had a bad experience there, cause everything was laid back to me. No pushing and shoving inside or anything. Anyhow, so we all sat up on the balcony and had a PERFECT unobstructed view of the stage. We were just diagonal from the soundboard where Mark was. Caton was up on the balcony before the show, talking to some people and such, just walking casually around.
Poe came on stage (I wont discuss this because shamefully, I fell asleep because I was exhausted) and left after his set. What I did see of it, I thought that the people were nicer to him than I had previously heard from in other posts of the other club shows.
We waited very anxiously and then the lights went out. The band took the stage and began to play. Tori them came out and looked radiant! She started dancing a bit right off, then leaned down and touched hands with some of the crowd. The lights shinned on her and she started to play, opening with(of course) Black Dove (January). Followed by that was iieee, which was brilliant! Precious Things was next, and after hearing it from the previous concerts, seeing it live was just indescribable, really. Tori and the band were so into the whole show, and having such a great time jamming and playing, you could really tell by the smiles Tori was flashing and her dancing in a lot of the songs. After Precious Things, she said hi to the crowd (forgive me for this part of the transcription, the crowd was a bit loud at this point and I can't pick some of her words out) and said, "Oh my, we love being here. I played here a few years ago it's one of my favourite places. And Uh, I knew it was going out on the radio tonite, and I was going to be really nervous.my shoes are purple but they turned yellow!". She then introduced the band ending it with "I think you'll recognize this one" then went into playing Spark which had a nice longer intro to it.
Cruel was played next. I think that this is my favourite song on the new album so far and live it was just beautiful. Liquid Diamonds followed. The lights came back up and Tori said, "Ok, so you all have been really really wonderful, and umI'm changing the set now. I don't always do this but, I'm changing everything now! So I'm just in the mood to do this now. Caton, you'll catch up, Matt, let's just go". And they play Tear in Your Hand beautifully! Before the next song, Tori breathes heavily in response to the crowds cheers and something about lip gloss (sorry! I missed that part a bit) then goes to say (about the lip gloss) "you know that's my addiction, don't you?" Then one thing of lipstick flies through the air and hits the stage. Tori says "ohhhh whoa wait wait wait" and gets up to look for it. She comes back a few seconds later, "I can't find it! Wait, I'll get some" then people throw about 8 tubes of lip gloss at Tori, and I think that one of them hit her! (rude if you ask me, but I won't get into that even though flying lip gloss could be dangerous :P) She caught one and says thank you, then puts some on, breathes heavily in the mic then says, "I feel so much better now, you know.someone mentioned this to me the other day(about her heavy breathing)they said 'you have a real problem with that ya know' I said ' a problem with what?' 'you do that every ten seconds!'..I said " Moist, is the key sweetie. I will negotiate a deal with any of you in the worldI LOVE negotiating deals.but I've GOT to have my lip gloss. Ok, this is secret time as some of you know, and um.well, I know that Mmmwahh back", then plays Silent All These Years. Icicle follows, and in the middle she stops singing and says, "So I know, that you know this bit..but I have a friend here, that's never ever been to a concert before. No, she was a bridesmaid at my wedding. So, she doesn't know these words, so help her ok? She needs to hear you alright?", then the crowd helps her sing part of Icicle, it was really great and Tori seemed to love it.

Tori jams a bit on the piano while the rest of the band comes back out on stage to do the Twilight Mix (the version on the RAINN promo CD) of Putting the Damage On. They immediately go into a new version of Horses, which blew me away. I hardly knew what it was till Tori started to sing the words. A very dark version of it, which gave me the goose bumps! After that they played Northern Lad (beautiful!!). Following that Tori says, " you guys have been so great listening to all this new material, we'll be back in the summer. Hey, alright, we'll see you then", and goes into the awesome version of The Waitress. I really think that I like this version better. Its sooooo groovy and it just pulls you in with all the instruments. Tori takes a bow and they all leave the stage. The first encore song was She's Your Cocaine, followed by a kickass, much better live than the prerecorded tracks on the 94 tour, of God. At the end Tori sings "You dropped the bomb on me, Jesus" over and over again! They left the stage again, coming out for the final song Tori says, "ok, so we've never done this before, this is out first one together. We've done this before , but we've never done this before ", then goes into Cornflake Girl. They end the show with a group bow in front of the stage, and that's the show!

Tori was in superb spirits last night, and then guys in the band were really groovin and getting into it all. There was a lot of smiling from the whole band and Tori, and the energy level was impeccable. Some points during the show I looked over and Mark was doing a bit of dancing on his own, which was incredibly cute! Not even 5 minutes after the show had ended Caton was back up on our side of the balcony, and all of us internet chicago go'ers congratulated him and shook his hand, telling him what we liked in the show. Caton was very very nice, and looked great. He was very pleased with the show and was more than willing to talk to us after a great performance. I just can't say enough nice things about the new material live and the older material that has been formatted differently. I don't have one bad word to say about it, it's the best Tori show that I've ever seen.

From JB Bridge
May 2, 1998 - This was an altogether different Tori concert than any previous ones I've attended - the differences being positive in some aspects and not so postitve in others.

The girl on MTV 1515 said it perfectly - it was a Tori _concert_ as opposed to being a Tori _show_. She and the new band are a very powerful, very driving force. She has adapted to the new way very well; you would think she's been playing with these guys for years. I really didn't pay much attention to the three men on stage (and I couldn't even see the drummer from my vantage point), but they really give it their all and are not just "the backup band".

Now I know Tori is going for something new here, and I realize that this is just a "preview" of things to come, but with a few exceptions, I found myself not getting into the show as much as I had my previous times. A lot of it had to do with that I was hearing a lot of the new material for the first time, so I was busy processing in my head the song structures, piano parts and Tori's singing, and I couldn't pick out most of the lyrics she was singing.

Indeed, there were times where I couldn't hear the baby grand piano, and I couldn't begin to tell you what most of the keyboard patches sounded like cause the keyboard was overpowered by the other instruments. Our group were at the right side up in the balcony (right on the edge so we had an excellient view of Tori althought we couldn't see her hands at the piano), and we had speakers right next to us to the right, so I'm thinking the keyboard was mixed more to the left side. It was a very LOUD show! Even the fans were much louder that usual between every song! So it was a lil difficult to get into the new material in such a setting.

Also, and this was also addressed on that MTV 1515 interview, the intamacy between Tori and the audience has been lost. It was there during the "secret time", but not as much as before. She used to draw from the audience whenever performing, and now it seems she draws from the band and from herself as well. Of course it takes a bit of concentration to work with a band, and those who know me know I speak from experience. But somehow you have to read your audience and draw the energies/vibes/whatever and give them back through your performance, and I'm not entirely convinced she was doing that. I still wish to keep the faith, and I believe that in due time Tori will be able to balance herself between audience and band members and draw from each equally.

Using a somewhat sexual analogy, the preview tour is very much like a tease: just as you were getting into it and wanting more, it end's abruptly (hmmm...maybe coitus interuptus would be more fitting? ;>) Everyone there will tell you I was fully possessed as I was banging on the edge of the balcony like a piano during "Cornflake Girl". It was then when I finally was able to let go and get lost in the music, but then it was all over! I think everyone was upset when the house lights went up and "Norweigen Wood" started playing. The show was only 1 1/2 hours long (maybe 1 3/4). But the preview show served its purpose by debuting a bunch a new tracks with retooled versions of older material and leaving everyone wanting more. So I am looking forward to the "real" tour when I have had the chance to get into the album and get myself really mentally and spiritually prepared to go on the journey with Tori and the boys.

As far as the new songs, "Black Dove (January)" and "Cruel" (with that awesome bass part) were the ones I really liked and got into. And I'm glad she didn't use the vocal effects on "Spark".

"God" and "The Waitress" have become much grander in scale with all the new parts. This was also the first time I've heard this particualar version of "Putting the Damage On", and although I really like it, I felt that the whole tone of the piece has changed cause it sound like a much happier tune now. Cornflake Girl was indeed a treat, seeing that this was the first time with the band. But I just didn't care for the new version of Horses at all - I mean it's okay, but nowhere near as good as the original.

but THE highlight of the entire night was, of course, "Precious Things"! This is how the song was ALWAYS meant to be played! The original version on LE only hinted at how powerful, monsterous, and beautiful this piece is! And I thought the mutated "exorcist" performance during the DDI tour was the ultimate version! THIS one brought the house down! The "grrrrrrrl" part now?.......oh, fuck! I was too enthrawed watching Tori thru my binoculars or else I would have been thrashing the demons out alongside with her! And if I ever get a copy of this (especially with visual), I will indeed have my own exorcism! One of these nights, Tori's head will be spinning 360 degrees as she comes to the climax of "Precious Things"! She wasn't drawing from any earthly source then, but you couldn't help but be drawn into the darkness with her!

I am glad that I was there to be a part of this event, and I did enjoy the show even if I sounded to the contrary in this review. But it also a very special night because I was with many of my fellow rmt-a'ers, and it felt SO great to be able to experience a performance with them.

and it looks like we'll be doing it again on July 19! It's on a Sunday, so I can make it! see you all again soon! :)

From Amber
May 2, 1998 - Amber put up her review and the story of the entire day on her All The White Horses web site

. Read her thoughts about the show and about the RAINN card that she gave Tori from her fans on the internet!

From Davy (RDTRN mailing list post)
May 2, 1998 - Well, hello, fellow Arty Turners. Davy here. I got home from the Chicago club show about half an hour ago. I'm going to warn everyone who isn't interested in the whole "here's my show experience" phenomenon that this IS a little info about me being at the show, so you might want to scroll down. Also, this is my first posting from my super-cool and totally trendy torithoughts address. Original, ain't it?

Anyway, my friend Lindsay drove up from the University of Illinois to go to the show with me, and had classes all morning, so we didn't end up getting to the theatre until about 7:20 --- actually, we got there around 6:50, but it took a half an hour to park, about half a mile away. [Mental note: next time I see a show at the Park West, I'm taking the train and getting a cab.]

We get there, we get in, and then we stand around. All the seats were taken. Lindsay and I ended up leaning against a wall. We got through David Poe (not incredibly bad, but not incredibly good either) and then waited some more. Then I spotted Mikewhy!!! I met him and Danica and Danica's friend (hon, I'd know your name, but I'm really awful with them --- I just remember Mike and Danica's because they're Tori-net legends. Honest. :)) All three were simply charming. See you guys at the next Chicago show?

Anyway, the Tori show started. I didn't write down the set list (cause Mike was doing it) and I didn't know what most of the songs were anyway, so here's some highlights.

Black Dove (January) was easy to figure out what it was, since she played it first, and part of the song is Tori singing 'Black Dove.' I liked it.

I don't like the snare drums on Putting the Damage on. Or the guitar. Through most of the song the bassist played the string bass with his fingers, but when he got out the bow, I just about melted. Piano and bowed string bass. I wanna hear it. Please, Toreeee!

750 people singing about masturbation.

Tori needing lip gloss desperately, and having 10 or so containers thrown at her from the audience.

Two words: CORNFLAKE GIRL.

Afterwards, I took Mike's advice and waited outside for the barricades to appear. Before that, however, I got Caton to sign my Under the Pink songbook (I want Tori to sign it so that it is blessed and I'll magically be able to play the piano better). He seemed kinda distracted and not there --- but I asked him to do a favor for me and give my note to Tori, since I was pretty sure I wouldn't be able to give it to her myself. He took it, but there's no way to know whether it got to her or not. For all I know, he dropped it in the trash on the way out the door.

So I went outside, got pushed until I was as far away from the barricades as I could be, and ended up only seeing a flash of red hair as she got into her limo.

So all in all, I enjoyed it a lot. It was WAY loud in there --- my ears are still ringing --- and I missed having my own seat. (er, actually, I missed having a SEAT, period) I'm also kinda disappointed because I didn't get to meet her. Not incredibly disappointed --- cause next time she's here, I'm going to go to the sound check meet and greet, and as Gawd as my witness, I will get her (and the bassist and the drummer) to sign my UtP songbook.

Dealing with the new songs is interesting --- some of them I liked, and was riveted throughout, and others I found myself tapping my finger and waiting for them to end. I need more exposure to them, definitely, before I make a final decision.

So, to those with tickets, you're in for a rush. To those of you without tickets, at least your hearing isn't impaired like mine. And you always have the big tour, which won't be as cramped and won't be as hard to get tickets to.

From shawn.the.little.masochist...
May 2, 1998 - I was lucky enough to get a setlist from the stage. here's how it went...(compare it to the actual set list above!)

black dove (january)
iieee
Precious Things
spark
cruel
liquid diamonds
Leather
Silent All These Years
Putting The Damage On
Horses
Tear In Your Hand
Northern Lad
The Waitress

First Encore
she's your cocaine
God

Second Encore
Cooling


This was an amazing show!! I got in line for tickets at 1am and got in line for the show at EXACTLY 6:58am (are you sure where my spark is). Tori did a really short meet and greet, probably cuz it was raining. I got to see her, but that was it. I got a cool pic of Caton getting on the bus though. It didn't start really raining til about an hour and a half before they let us in. When we got in, I bought some cool Tori-merchandise, then met up with my friends. I was psyched to see we were right in front of the stool between the Boosie and the keyboard with only one person in front of us! The concert was simply amazing!! Precious Things was my favorite of the nite, but I also really liked the little dance at the beginning of Iieee. During the second verse of Icicle when she asked everyone to sing, she had eye-contact with me the WHOLE time. I was in heaven!! One thing I noticed that I was a little sad about is that Tori did barely any talking. At the end of the show, Tori was touching everybody's hands and I was leaning up, trying to give her a shirt I painted with the RAINN pic of her on it. Joel pulled her off the stage before she got it (but there is a pic of me reachin out to her with the folded shirt and note on tori.com). The same thing happened after the first encore. I knew there was only one more encore left, so I took a chance and threw the shirt onto the stage, but it got caught on one of the speakers. The camera guy that was right by it however, got a good camera shot of it, then pulled it off the speaker and spread it out in front of the keyboard. When Tori came out for CFG, we all pointed to it and she looked down and smiled. When the band came up to bow, Matt picked it up and did a little "bull fight dance" with it and tossed it to Tori!! It was AWESOME!!! I hope she got my letter!!! I stuck around while everyone was leaving and the tech guys were givin out the setlists so I got one off the drums. My friend got Tori's. Another friend got Caton's. YEAH!!! It was a great time and I met a TON of awesome Toriphiles (Amber, Charlie, Dawne, Christina, ectect)...

Can't wait to do it again!!!

From helena
May 2, 1998 - i smiling so much right now cause i had the most faerie tale/horror story tori experience ever -

when tickets went on sale for the chicago show i was in the "maybe" group, which meant we had to wait until everyone else go ttheir tickets and then if there were any left over we could buy them. after waiting six hours, they sold out when there were 7 people ahead of me. then today i went to the park west by myself around 1 to see if anyone had an extra guest voucher, which no one did. luckily, i met one of my friends down there, so i sat with her and asked everyone for an extra voucher. at around 4 tori came and we ran to see her from across the street - i figured just seeing her from 20 feet away would make it worthwhile; she was very cute, wearing a white shirt and no make-up and i wished i could have hugged her, but i was across the street...

anyway, i went home to beat rush hour traffic, started taping the radio broadcast (they only played half an hour of the show!!!!) and then my friend shannon called me (who'd also tried to get tickets but couldn't). we decided to go downtown (we live half an hour away) and just stand outside the stage door and listen, so we left, parked illegally, drove 80 mph to hear as much of the show as we could. we stood outside the stage door for about twenty minutes, just amazed that we coudl HEAR her and she was inside, and we were so happy. then this man came out and told us we couldn't come in (he thought we were trying to sneak in) but i told him we'd waited soooo long and he let us run in. the door was right next to the stage, so we were only about 4 rows back and we came about half way through the show. WE GOT IN FOR FREE!!!! it was the most perfect thing, i thought i was floating - all that waiting finally paid off. "horses" was just amazing, as was "precious thing" (which we heard on the radio as we were driving". i was so scared to hear her with the band at first, but for certain songs like precious things, it adds so much, making it so incredibly powerful and giving me even more chills than usual. i was just in a daze that we were THERE and seeing her and everything and how that man let us in and....we didn't even get a parking ticket!!! we waited outside to see her after the show (we were the first ones out there cause we ran out at the end of "cornflake girl" through the side door) but we were pushed back by all the people that came later, and since we're both short, we didn't see her all that well, but it didn't rilly matter cause she was there and we'd gotten to see her and....aahhhh!!!! all the new material sounds beautiful and very enchanting. i also thought it was going to be queer not having "me and a gun" - um, i can't listen to that song on cd cause i get flashbacks and cry, but in concert i love it (still makes me cry) - so i thought the show was kind of going to have a big hole in it. but then when i was there it was like, this is all like dress rehearsal with all the people that love her most (standing out in the rain waiting for her!!!) and she looked so happy and it was just fun, and having "me and a gun" in there would kind of take that away in a sense....i wonder if she's going to do it on the regular tour, though. oh, and "cornflake girl" sounded great, even though it was the first time they'd played it together - it didn't sound as dramatically different with the band like some of the others, but it was still nice to hear. tori's voice is even better than on the last tour, which i was not expecting at all. anyway, all those hours of waiting and crying and begging finally paid off and i'm sure the faeries were with me today...