Check Out The Reviews And Set Lists Page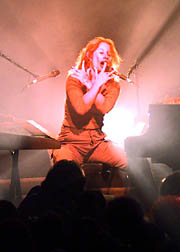 Tori performed her fifth concert of the North American club tour in Boston, MA on April 25, 1998 at the Avalon. The photo you see to the right is actually from this Boston concert. It and many others like it can be seen much larger at Tori's Official site

maintained by Atlantic Records.


Set List
The photo to the right shows Tori singing "Black Dove (January)" from this show. It was taken from a RealVideo clip available at www.tori.com

.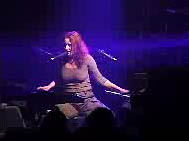 Andrea Cleaver was the first to post the set list online...
Black Dove (January)
Cruel
Horses
Precious Things
Liquid Diamonds
Jackie's Strength
Northern Lad
Baker Baker
Upside Down
Doughnut Song
iiiee
Tear in Your Hand
Waitress
1st Encore:
She's Your Cocaine
Spark
2nd Encore:
God
Merman - "I know I'm not supposed to do this, but I'm going to anyway".

Reviews
From marlantigone (posted to the RDTRN mailing list)
May 13, 1998 - Well, I'm sure others have posted the setlist, etc. but I just wanted to say that last nights show in Boston was absolutely incredible. I think my mouth dropped open about 5 seconds after Tori walked onstage, and just didn't shut.
Highlights:
Meeting wonderful people (hi Kathy!) inside and out - including one guy who was tall, but considerate and helped me and some shorter girls out.
Baker Baker, MERMAN! (the most gorgeous song ever, which Tori ended the night with by singing "Now I'm going to do something I"m not supposed to do. This is the song that Tower has..." Stunning!, Horses (the version with the band is gorgeous), Donut Song, God, well, simply ALL OF IT.
Lowlight:
Some drunken fratboy idiot decided to make his own personal moshpit during She's Your Cocaine. Disgusting and scary. Luckily, someone (a bouncer? He looked like a bouncer) grabbed him and tossed him out, but not before he shook us all up a lot.
Did anyone tape this show?
I only wish I had been able to give Tori the letter I had written. Other than that, a perfect evening.
During Merman, Tori sang "little skeeter girl." I haven't re-listened to the studio verson of this song to see if the lyric is there, but that should answer our questions about skeeter, at least a little...
PS I just read someone's description of their Tori show as "tori wasn't into the crowd." and just wanted to say that in Boston it was the complete opposite, and that Tori seemed intensely personal and seemed ready to burst into tears during many moments in the show. And the fact that she played Merman shows that she felt the love in the room...


From The Boston Herald
May 5, 1998 - A review of Tori's club tour concert in Boston, MA appeared in the Boston Herald newspaper. I think is was the April 27, 1998 issue, but I am not sure. I thank marlantigone for sending it to me.
Review by Sarah Rodman
Sneak preview club tours seem de rigeur this spring. Hootie just did it and Garbage is going to do it.
Chances are, Tori Amos' show at Avalon Saturday night, part of a 13 date North American club tour, held the most surprises for her devoted, longtime fans.
In a most welcome live performance turnabout, the fiery-tressed piano woman has hit the road with a full band.
And the resulting rock n roll noise was a beautiful thing.
It was as if Amos had found her, pardon the term, cojones.
Drawing heavily from her forthcoming album, From the Choirgirl Hotel, set for release May 5, Amos played a thrilling, riveting 100 minute set for a packed room of pin-drop attentive fans.
After a year off, her tensile soprano was drop-dead gorgeous, going from the lower brassy intensity of the mournful, clamorous opener "Black Dove (January)" to the keening, operatic highs of the funky "Cruel."
The above two new songs, and several others - including the ruminative "Jackie's Strength" - while still indulging Amos' singular flights of lyrical fancy, seem more structurally straightforward. Gratefully, AMos has backed off her dramatic intakes of breah and her precious, girly affectations.
Instead, the emphasis was placed on the bottom, as Matt Chamberlain's deftly intricate drum patterns, in concert with synth programs, and Jon Evans' fluid bass lines shared equal space with Amos' classical-damaged piano runs and Steve Caton's forays into guitar fuzz and industrial feedback.
Amos, who straddled her bench while playing both piano and synth, also included the familiar with a driving new arrangement of "Horses," the sweeping "Precious Things," a funky encore of "God," and the demented "The Waitress."
She closed the night by singing the gentle "Merman." She prefaced the song, which is only supposed to be available via a Tower Records Web site, by saying "I know I'm not supposed to do this, but I'm going to anyway."
Though her fans may argue that she shouldn't have hit the road with a band, it's good that she did.
Memo to Tori: Please stop subjecting perfectly lovely singer-songwriter boys with guitars like David Poe to the ritual sacrifice that is opening your show. Poe, whose smooth tenor falls between Jackson Browne and Lyle Lovett, had to deal not only with the normal opening act indignities of people ignoring him, but he also fielded rude comments and loud shouts of "Tori!" becoming so frustrated at one point he actually flipped off a particularly vocal patron, though he later apologized.
[Note from Marla: The guy David Poe flipped off was the same guy who made his own personal mosh pit during She's Your Cocaine. He deserved it!!]

From Boston Phoenix
May 2, 1998 - There is a review of The Boston concert by Carly Carioli from the Boston Phoenix weekly newspaper in the April 30 - May 7, 1998 issue.
Tori live
Tori Amos's performances are usually more like seances -- the pale girl at her baby grand conjuring up ghosts in screams and sighs and whispers and slippery solo piano streaks. And though her current warm-up mini-tour (which hit Avalon last Saturday), her first with a full band, didn't forsake any of the intimacy she's known for, it was still a subtle retreat from the spotlight. Augmented by guitarist Steve Caton (who's been with her since her mid-'80s hair-metal days), bassist Jon Evans, and drummer Matt Chamberlain, Amos (playing piano and keyboards back-to-back) was occasionally overwhelmed by her collaborators: Caton showered power chords upon Little Earthquake's "Precious Things" and indulged a cheese-metal solo on Boys for Pele's "Doughnut Song," and the rhythm section perhaps overstated the electronic big-beat rhythms on from the choirgirl hotel's "Iieee." But more often the band fulfilled the promise of new dimensions -- allowing Amos to flex more dramatic, rocking muscles on choirgirl's "Cruel" (propelled by a scuzz-crusted bass line worthy of Tool and a chorus that'd make Garbage blush), or shading both new and old material with tempered gradations of elegance, melancholy, and exuberance. The band provided a heavier sonic partner for her voice to spar with, but it was also a place for her to hide, to emerge from unexpectedly.
The 17-song set -- drawing heavily on songs from choirgirl -- often seemed like a fan-club meeting. Although the show sold out within minutes weeks ago, Toriphiles were reportedly lining up at Avalon as early as 5 a.m. in order to secure the general-admission floorspace closest to their idol. "So this is our time together," Amos said casually as she sent the band away for a mid-set solo interlude, apologizing in advance in case she forgot the lyrics to her old songs. Halfway through a goosebump-raising "Baker Baker" she paused to console a front-row fan reduced to tears: "Oh, baby, that's okay. We're all screwed up."
And that was the vibe -- gentle consolation, with a touch of wry self-mockery. Introducing one of choirgirl's highlights, "Jackie's Strength," the recently-married Amos said, "I wrote this one about a girl getting lost on her wedding day. Wonder who that would be -- duh." Nor did the crowd need to be reminded of her much-publicized 1996 miscarriage to catch the allusions in choirgirl's first single, "Spark": "She's convinced she could hold back a glacier/But she couldn't keep baby alive." Rendered with chilly reverb and wisps of acid feedback, "Spark" (as an encore) and the set's opener, "Black Dove (January)," were highlights, evoking a kind of trip-hop cabaret with creepy hues and menacing allusions, and Amos's voice slithering through like the tendrils of a spider plant.
This review followed a review of Tori's album "from the choirgirl hotel." You can read the full article here.

From Nithya Rajendran
April 29, 1998 - The Avalon show was terrific, although Tori didn't seem as energetic as she was at the DC show three days before; she wasn't doing her little dances in between her keyboard and piano. I think she might have been worn out from her New York shows and promotional junket. She did talk to the crowd much more than when I saw her in DC. The rest of the show was pretty much the same. Tori and the band were very enthusiastic. Jon Evans, the bassist, has really endeared me, I must say. While Caton and Matt were pretty mellow and professional, Jon was singing along occassionally and kept smiling over at Tori. He seemed like he was just having a great time. Those bass players, I tell you.
Tori did perform alone during the midst of the show. She did "Baker Baker" and had the lyrics written on her hand. She also did "Upside Down" which looks like it will be a standard on the tour. The biggest surprise was that she closed with "Merman." I happened to be standing right behind Mark( sound engineer,more notaably Tori's husband) he had the set list on the board and she was supposed to do "Angie." So, It was a bit of a surprise for him also.
We got a chance to meet Tori after the show and she was great as usual. She finally came over to the side we were on. I told Tori she did a great show in DC and I was gonna get some guiness later because I just turned 21. Then she said, "Oh, that's fun." After she signed my postcard, she came right up to me and told me that the "boys on the bus mix Guinness with champagne...they call it a Black Velvet." Then I told her I'd try it and she said, " you know, it's not like that song (rolls her eyes)...it's..." and I said, "Nah, that song's...aaeech." Or something along that line. Anyway, Tori's given me drinking advice. Funny. I did try a Black Velvet later and she was right, it was delicious...mmmmm. Thanks Tori.

From Jenn (precious-things mailing list post)
April 28, 1998 - I just have to add to the boston reviews.. I wasn't going to cause i know people are going to bitch but i said "what the hay" someone will be glad that I do.
I'm a freshman in college and I've listened to tori since 7th-8thish grade... I love her , I worship her she played a few years ago in NH at UNH the day b4 my birthday and I missed it.
This is the first time I've seen tori live.. I waited in boston for 10 hours to get my voucher, and then another 5 to get in for the show... It was well worth it :)
when the tour bus pulled up I ran to the gate but I didn't get very close, so my b/f let me on his sholders, and I started taking pics, I even took some pics for other tori fans who weren't graced with the advantage of being 10 ft tall like me hehehehe ;)
then at the show I got pics.. I changed my film and thats when the bouncer came around ripping film out of cameras so I lost maybe 4 really goood pics :(
after the show I was one of the first people to start to wait for her by the gate, we waited for about an hour and a half... cause according to some of security " she was chit chatting with people" which I thought was cute :)
then she came out :) she finally made it over to me where i got great pics of her, and held her hand she signed a card for me.
I noticed she had writing on her hand so I asked her what it was and she told me that it was the lyrics to 'baker, baker', and she giggled. This is because she plyed 'baker,baker' unexpectedly. then she was telling us how in england they have this drink called black velvet that she loves: it's guiness, and a little champagne mixed with it.
she was sooo beautiful, and so tiny :) it was amazing... I love her evn more now.
I don't think the band drowns her out at all. Songs like waitress and God are even more powerful now :)
her newer songs are the best.
Merman... I could goon foerever but i won't... it was simply amazing :) with little "stars" floating around the ceiling.. everyone was silent..... and in awe :)


From The Boston Globe
April 27, 1998 - The following press review which appeared in the Boston Globe newspaper was sent to me by Toriphiles Sarah and Marco Carbone.
You can also read this review online.

MUSIC REVIEW
Unique Amos dazzles crowd
By Steve Morse, Globe Staff
Boston Globe
April 27, 1998
Raw virtuosity is not something one encounters often. There's so little of it around in these formula-prone days that when the real thing pops up, it can hypnotize a listener and not let go. That's what happened Saturday at the sold-out Avalon, where Tori Amos floored the crowd with her primal, uninhibited skills.
Amos was playing the fifth date of her Sneak Preview '98 tour, foreshadowing a summer return to Boston, though the date and site have not been announced. Be prepared for a battle for tickets, because Amos's star is skyrocketing. She's already huge (she played the Wang Center and Harborlights last time around), but she's now touring with a band for the first time and has elevated herself to rock goddess level.
She's one of the most expressive singers on the scene, and one of the most chameleon-like. She offers the keening wails of a Kate Bush, the high-floating sustains of a Joni Mitchell, the slinky funk of a Sade, the smoky jazz of a Sarah Vaughan, and the earthy, in-your-face power of an Eddie Vedder.
Add them up and you'll realize why she riveted the crowd. Her range was dazzling and so was her honesty. And though viewed as a guru by some young women, she doesn't pretend to have the answers. She's a minister's daughter who constantly questions the universe and herself.
''Can't we get a little grace and some elegance? No, we scream in cathedrals,'' she sang in new song ''iieee.'' It was one of many new tunes from the album ''From the Choirgirl Hotel,'' due out May 5. The songs had a more cohesive rock context compared with her earlier, piano-based work, but Amos, after begging the crowd's indulgence for so much new material, also dipped into some older faves at Avalon for a well-balanced show. These included the precocious ''God,'' ''Precious Things,'' ''Baker Baker'' (about asking to be made whole again - a common theme), ''Horses,'' and ''Upside Down.''
The sound quality was exceptional, (part of her sound system came from last year's Ozzfest tour) and was mixed by sound engineer Mark Hawley, her new husband. The lighting was evocative and trippy, courtesy of the lighting designer who toured with the Stone Roses.
The new songs were highlighted by the intense vocal flights of ''Cruel'' (''I can be cruel, I don't know why,'' she belted), the prayerful ''Jackie's Strength'' (about praying for the poise of Jackie Kennedy), and the last encore, the lullabye-ish ''Merman.'' Her three-piece backup band was stellar, notably guitarist Steve Caton (a longtime studio collaborator) and drummer Matt Chamberlain, who has worked with Pearl Jam and Edie Brickell.
Because of an early start time, I missed opener David Poe, but I recently saw him in a tuneup at the Green Street Grill in Cambridge, where his melodic songs of the heart were captivating, as was his cover of the Zombies' ''Tell Her No,'' which he also did on Saturday.

From Lisa Street
April 27, 1998 - well, i don't think i have anything really new to add to the reviews of the show in Boston at Avalon. i was mesmorized once again by Tori's energy. i caught a glimpse of her when she arrived by standing on the step of the equipment truck (i see that the other girl up there with me sent in a review - Hi), she did look up and give me a little wave and "hi" before Joel told us to get down. i was on the floor during the show and unfortunately managed to be surrounded by guys taller then me until the very end. i used my memories of seeing tori before and listened carefully to the music. it was such a different experience with the band. suffice to say, it rocked. it was neat that some of the same lighting filters that were used on the DDI tour were used again (like the purple roses that would go during 'blood roses' last time). Baker Baker was beautiful and i could have curled up with my stuffed penguin and had the best dreams during Merman (i'm so glad i got to hear this since i'm a fellow mac user). the space outside the venue was just not conducive to the barricade; there was only room for two or three of the portable fences and way too many people. so, i decided to wait until she comes back to get one of those great tori hugs. thanks to all those who were polite and phooey to all those who pushed and shoved.

From Chris Wyman
April 27, 1998 - The Boston show was, as expected, amazing. We stood near the back by choice (both my girlfriend and my friend's girlfriend are around 5 feet), and we could see perfectly. This show was something of a dream come true for me - I had commented several years ago during the Under the Pink tour that I wished that she would play even one show with a full band to get the full effect of some of those songs. "Precious Things" and "Tear In Your Hand" finally came to life the way I had hoped they would.

From Michael Curry (precious-things post)
April 27, 1998 - Yesterday I went to see Tori's show at the Avalon in Boston, so here's a little something about the experience.
Let me start by thanking Heather (aka Glitter Girl) for offering me her extra ticket, for driving into Boston and for tolerating me for the entire very, very long day. Thanks again Heather!
Heather and I got to the Avalon not long after 5am so we were 14th in line. In case it wasn't said by enough people last night (including Tori), Brian did an excellent job of keeping thing organized the entire day. Spending the entire day in line is much less onerous when you know you can leave your spot in line to go get food or hide from the weather (the weather forcasters in Boston are idiots btw) and it will still be there when you get back.
The truck with Tori's equipment arrived early, followed later by the crew bus, but the real excitement didn't start until Tori's bus arrived not long after 3pm. A rush to reach the hastily erected barricades began as soon as the bus rounded the corner and by time it was parked quite a crowd had gathered. Unfortunately, as soon as Tori came out and started to meet the fans those people toward the back of the crowd decided it was worth crushing those of us closer to the front in order to get a few inches closer to her. Tori seemed a bit frazzled to me, but she moved quickly along the line, signing various things, exchanging a few words and giving out a few hugs and a kiss or two.
Once Tori had gone inside it was back to the line, and not too long after 5pm the doors opened and we began filing inside. I got a good spot in what was roughly the third row center, and being fairly tall I had an excellent view. Then as more and more people piled into the club the pushing began, as some of those who couldn't be bothered to get down the the Avalon early in the day attempted to push their way into the crowd from the sides and rear. Since the show wasn't scheduled to start until 6:30 we got over an hour of pushing, shoving and crushing, highlighted with the occasional threat of violence. When reading the reviews of some of the previous club shows I had been rather surprised by the reports of fights and such, but when I was up in the front of the crowd actually being crushed myself I got a better understanding of why things like that had been happening and I find it hard to blame some people for snapping.
Just after 6:30pm David Poe took the stage. They say the opposite of love isn't hate, it's indifference, and that's how I felt about David. So far I haven't seen one opening act for Tori that I've liked, and this guy continued the streak. Yes, he got heckled and shouted at, but as I commented to one of the people I was crushed up against I think the crowd would have been more polite if we hadn't been standing around being crushed for so long. Basically I just found David Poe to be really, really boring. His voice isn't very good, his guitar playing is average and his songs aren't especially well written.
Once he was finally done there was more activity on stage as the various techs took care of all the last minute chores. While this was going on the fog machines that seem to haunt every Tori show got started, filling the air with mist to prepare it for the light show that was to come.
Just before Tori and the band took the stage I was wondering if the show would be worth all the time spent on the street outside and the time spent standing and being crushed inside. Then the show actually started and by halfway through the first song I knew that it had been more than worth it.
The band really rocked, and though I'd say that the only one Tori has a genuine rapport with at this point was Caton the other guys did a great job as well. Of course I had trouble tearing my eyes away from Tori to watch her bandmates play, but with Tori on the stage there's no need for theatrics from any of the other players anyway.
Tori was, as always, Tori. She was absolutely brilliant! Her voice was in good shape and she seemed to me to be really into the performance. I was close enough (and tall enough) to enjoy a few of the moments when Tori looks right into your eyes while she plays and they were as breathtaking as ever.
As for the songs themselves, though I was a little apprehensive about the new album before the show all my doubts are gone now. The new songs are amazing, with the standouts for me being "Jackie's Strength" and "Northern Lad". Whether I like those two because they are truly better than the other or just because they seem more Tori to me is of course an open question. I guess I'll find out once I get the album.
The new arrangements of the older songs were awesome too. "Horses" seems much darker in the new version, and I like it better this way I think. "Precious Things" is great with the band, and I think the long drawn-out "grrrrrrrrrl" sounds a lot less overdone (which was my impression of it on the last tour) with the band. The standout though is "Tear in Your Hand", which though I had always liked it had always been sort of a second-stringer. The band version is several orders of magnitude better than either the album version or live versions of the song that I've seen Tori do in the past.
"Spark" didn't impress me nearly as much as I had expected it to, as I thought several of the other new songs outshined it. On the other hand, I thought the unexpected "Merman" was even more brilliant than I had thought it was after hearing the mp3.
Overall it was an absolutely stunning show, and well worth the effort I put into being there. Since this might well have been the last time I get to see Tori perform (since I can't even imagine going to see her in some gigantic venue like Madison Square Garden or some football stadium) I'm glad the last show was possibly the best show I've seen.
The only way the experience could have been improved (besides of course a better opening act) would be if some Tori fans had taken the time to be less selfish and more considerate of their fellow fans. Most Tori fans are pretty cool people, but those that aren't diminish the experience for the rest of us.

From kristen byrne
April 26, 1998 - I seriously thought that I was going to break down and cry when I saw Tori. I thought that I would be so emotionally-affected that tears would form in my eyes as soon as I saw her. But I didn't. Instead, I stared in awe at the beauty and the entire phenomenon that I was only 25 or 30 feet away from her. It was incredible. The entire venue was filled with people completely taken by her presence. And I was one of them.
The day began as an array of confusion. I intended to meet my other ticket-buyer in line about noon...but I didn't get there until 5 pm. (I'm sorry Bill and thank you for waiting for me.) I was sad to know that Tori had already come and went inside to prepare. This was my first Torishow so I wanted to do everything perfectly...wait for hours, with a Sharpie in hand, perhaps my favorite CD (umm...), and/or get the Toridrawing by William Fuentes (for my RAINN benefit) signed. But I suppose it wasn't supposed to happen that way. I'm not arguing...I was still able to witness a fantastic performance and take part in an ethereal experience.
We were allowed in about 5:15 pm. Everyone got their place for the evening...and stood eagerly waiting for the show to begin..and stood and stood and stood...then right on time- 6:30 David Poe got on stage. I personally didn't find him to be a "grabbing" artist...but let me say this: that man has balls. Some guy was interrupting and yelling something about "Where's Tori?!" I'm not sure what exactly he said...so David dedicated a special song to him and to all the lovers in the place. It started like this:
"If I saw you bloody in the streets, I wouldn't stop.... If I saw them beating you, I would tell them to stop and finish the job myself."
something to that effect. It was funny...and that rude guy did deserve that as well as the finger from David himself (which he did apologize for later.) David probably played for about 45 min...even after he broke a guitar string on one of his (what I thought) was his better songs.
Then the lights went down and some stage crew came out, with rags in hand and mikes, cleaning Tori's Bosey and keyboard (can't remember the name now). There really was no shouting for Tori or anything. There was mood music playing in the background and people would clap as soon as a song was finished, hoping Tori would be next. This went on for about 35 min. I think. IT just felt like forever.
And then it became completely dark. And everyone screamed cause we could FEEL her. I could actually feel her as I stood on one of the higher steps on the left side of the stage...and people screamed and clapped as she came on stage. She wore green cargo pants and a v-neck grey body-suit kind of top. She looked beautiful even in such comfortable clothing.
I was going to write the setlist on paper, but my friend was supposedly taping the show, so I didn't think I needed to...as it turns out...it was never recording. And I'm so upset about that. But I do have the last 4 songs.
I wish I could remember what she said during the show, but as I said, I was completely entranced in wonder and awe. She sounded fantastic. And the band, to my surprise and relief, sounded great with her. Everybody complimented each other so well. And the wailing guitar by Caton and the drums by Chamberlain and the cello by (what's his name?) made the show so much more powerful. As other people have written...Tori did play the keyboard and piano on a lot of the songs. She was amazing...unbelievable...and so fun to watch. Her facial expressions are joys within themselves.
She did explain Jackie's Strength and how she wrote it (when?) someone got lost on their wedding day. "Guess who that could be" she said and gave this cute "who me?" grin. I shouted "Congratulations Tori!!" It was a beautiful song...and one that stands out in my mind...I'm looking forward to hearing the studio version on the album.
She also played one of my favorite songs Baker Baker. I was actually hoping that she would. Before she played it, the band members got off stage. And she said somethin like, "Well, this is our secret time together. I'll introduce the boys when they get back, but this is our time. They know that we have a special relationship between you and I." (something to that effect) and everyone hooted and clapped. Then she said "This next song I haven't played anywhere else on tour. But this girl wanted to show up and I'm not sure why. And I may forget the words, so..." To which someone yelled "I love you anyway Tori!" And she said "Good..." and smiled. (again, something like that.) She went into Baker Baker and I did almost cry then. It was so beautiful. And you could tell that everyone was completely taken over because it was SILENT. Except for Tori's beautiful voice and piano playing.
Iiiee...I think I remember. I didn't recognize it and it was pretty much vocalization...I couldn't get any words from it I don't think. But it was very interesting...I'm interested to know as to what it means...We'll have to see.
She played Merman as the FINAL song. It was already the 2nd encore and my feet were killing me...but the pain could definately be ignored just for a little while longer. I hadn't heard Merman yet on the 'net...but I knew it was it when I heard the lyric "merman..." She sounded very cute...like a little schoolgirl..but the lyrics were haunting and almost brash. She started "Go to bed. The priests are dead." It was a beautiful song though. She began with singing "I'm not supposed to do this. But I'm going to anyway. I don't think my friend Steve would mind. (did anyone else hear her say something like this?) Anyway, it was beautiful.
On a mailing list, someone said that they thought the song MERMAN was about her new husband Mark. But my interpretation was that she was singing to her unborn child. She's singing her a last lullaby...the lyrics contained..."little Skeeter girl". (Skeeter=nickname for the child she lost?) Anyone else with me?
Well, this was a very long review...but I can't stop thinking about it and her...and the whole experience. It was worth every second waiting in line at 6 am and having my friend's mother drive both times up to boston and then having my aunt drive us up to the show...and borrowing a friend's ID and having another made up for my friend who came with me...I will always remember it.

From Kate Hardison (Precious-Things post)
April 26, 1998 - well, i don't want to rain on anybody's parade, but the boston show had to be one of the most miserable concert experiences i've ever had...of course, we got lost in boston before the show, but i didn't mind that because we got in...then, it started...remember the guys that was shouting tori during the opening act, and david poe gave the finger to...well, that guy was standing right next to me the entire show...how lovely...him and three of his friends were completely shitface during the show, and making everybody else miserable...it was completely annoying...then they had the absolute nerve to start moshing during 'she's your cocaine...' i wish it wasn't a tori show, because there would have been some serious ass kicking going on...i have never been so filled with pure anger in my life...was possesses people to make total asses out of themselves is totally beyond my comtemplation...but, finally the bouncer got them out of there, and i enjoyed the second encore in a disturbed peace...
also, tori seemed a bit distant to me during the show...she had other things on her mind...i was to keen on the band setup for the simple fact that it took away from tori and her voice and piano...they could've toned down them a bit...the rendition of 'waitress' was awesome...and 'upside down' too, but i have somebody screaming the lyrics beside me in my ear...one of my biggest pet peeves...but it was tori and she was beautiful and i will live to see her again, hopefully were there is no asshole elbowing me in the back...

From Rana Siegel
April 26, 1998 - here I go!! let me just say that I am stil in amazment from the boston show. Unbeleivable, magnificant, enchanting.....so I got there at 11:00 and I was number 75. I could not beleive that. I thought that I got there late ands that alot of people were ging to be in line, but that was not the case. So waiting, socializing and all of that then, a couple of hours later a tour bus arrives. IT IS TORI. At first nobody went (ran) to the bus, but then all of the sudden all of us must of said to ourselves "what are we doing" then running screaming to the bus. So there is all of us watching everyone but tori come out of the bus. Then, like the beauty that she is, she comes out. How wonderful, she was talking, laughing, and letting people take pictures of her. I had a pretty good view of her. I was hanging on the side of the truck that was there. Then she was gone. Back in line we all went. Ok, time went on then into the show we go. The avalon is a small club so you knew that you were going to be arm to arm. However, I got a wonderful stance on the top of two steps. Also, I had platformes on because I am 5.2. Good thinking on my part. So, David poe came out with his guitar. He was not that bad. I got upset at some of the disrespect towards him. Screaming for tori during HIUS performance. I know that we all want to see tori, but obviously she and others wanted him to perform for US. Anyhow, it felt like forever for her to come out, but then the band enters then she comes in jeans and a small brownish, grayish shirt. She is magnificantly beautiful. Right away, she start in a bounding goosebumps all over song. I have no clue what is t was. It was off of her new album. I dont know how to discribe how it was. The style of it....it seeped you in to this world..very sensuish,phychotic at times, wild jungle.. the guitar was screaming, the bass was holding it up, the drums were puching and she was letting it out all members at once...I'm sorry I cant really descibe it. Maybe other people will do a better job than I with there responces. Anyhow, her oldies were precious things-this song works damn well with a band. my mouth would not sut itself. waitress, up-side-down, god, baker baker-with this song she sid that said wasn't expecting these girls, but for some reson they wanted out, horses-DIFFERENT this song was great, but you would not reconize it right away, I cant remeber more but I know that there is one more, but...her knew songs were wonderful. It showed a completely different side she had a different appeal, persona this time. Rage was sitting right next to her, her body langauge was dangerously tempting (take that decription as you will). She came out for two enchores. For the first, she played to songs and for the secong this one thast she said that shouldn't have realkly played but did. She cried at the end. All I can remeber from that song was "..go to bed the priests are dead, you can go to bed now." well something like that.
there is more to what happened but I cant and really dont want to explain because sometimes words ruin the actual experience. What I can say is that yeay I was hesitent at first becaues I knew that band members were going to play with her, but I loved it. (analogy) you know when you enter someones room, it looks like them and you cant think of then in any other room, but the one that they are in. But, they move and you are excitied to see what they will do now, how they will work in a new environment,,well that was tori. As an atrist one grows. They try new things and I was very amazed to see how tori worked in this new atmoshere. Everyone was on cue with the next. It was cute to see all of them giving each other smiles, and talking to eacj\h othewr without saying a word. Tori's voice was outstanding. It had no seatbelt on. WOW. I could go on, but I cany. They\re would be to much to say and it is hard for me to communicate on a computer. However, I hope I gave you part of how it was. Other peoles responces will fill in the blanks. If anyone wants to share anything with me about the show...please dont stop yourself. My e-mail is lime9@www.com or rs3810@ru\wu.com and my name is rana.

From Andrea Cleaver
April 26, 1998 - I feel that I should discuss the day in it's entirety, because I'm sure many of you who still have yet to go to your show may want to hear this.
I arrived at the Avalon at 5 am. Brian Nash, the wonderful person who kept "the numbers list" for the Orpheum voucher wait, said that he was going to arrive then. When I got there, I was given #13, a bump up from being #21 for the voucher wait. #1 had arrived at 3:30 am. I'm not sure of her name, but she was very informative, because she had just gone to the 9:30 show in D.C. and had gotten to meet Tori.
Nothing very exciting happened until around 8 am, when the equipment truck arrived. We were very excited, completely expecting them to get to work and start unloading. Brian wanted to see the Bosey most of all. However, the truck remained locked up until the crew bus arrived, about an hour later. We got to see Mark, wearing, interestingly enough, a black shirt with the lettering "Northern Scum". Not originally being from Boston, I thought it was hilarious!! They started to unload the semi, but my fiance came to hold our place in line so I could go home and get ready for the show. Jessie and Carrie, two wonderful people I had met during the Orpheum wait, came too. I really wanted them to see the video for Spark, which, by the end of the night, I'm glad I did!!
By the time we returned, around 11:45, over 100 people were already waiting. We heard that sound check was going to be around 3. #1, who had met Tori in DC, said she thought it was strange that no one from the club had been out or set up any barricades. Luckily, my fiance had been to the Avalon before and he thought the bus was going to be able to park in an alley down from the Avalon. I noticed that some guys were setting up a couple of barricades and then, at 2:40, the bus turned the corner down to Lansdowne street.
I told #1 that we needed to head down to that alley, and we took off. Of course, tons of others came too. My fiance was totally right, because they backed the bus right into the alley. I was right at the end of the barricade, before the gate. It took Tori about 5 minutes to get off the bus. Joel came first and then out she came. I went crazy, taking picture after picture. Joel walked her to the other end of the barricade area, where she started signing everything people pushed at her. I was very patient, because I knew it would take her awhile to get to me. She talked to and hugged my friend Jessie and then she saw #1, who she remembered from DC. I was trying to get some good photos of her and then I ran out of film!! She finally got to my end of the barricade, and I handed her the booklet from my Tori Stories to sign. She held onto it for awhile and used it to sign some other things on!! Finally, she looked at me and I handed her a card and a stuffed beanie cow and told her that in the card I had written some thoughts on how much her music had changed my life, making me the strong person that I am now. I leaned over and whispered to her why my life may not have been what it is now, and of course, started crying and she did too!! Then she hugged me and wished me good luck with my fiance and I wished her luck and happiness with Mark. It all happened so fast that it seems like a blur. She signed some more autographs and then Joel whisked her off into sound check.
Well, the doors didn't open until 5 pm, and when they did we headed straight for the stage. It wasn't too bad, my friends and I were right at the front. People were pushing, but I figured if you wanted to be up front, it was just something you were going to have to put up with!!
David Poe wasn't too bad, he was even sort of funny. He said he was from Dayton, OH, and I'm from Columbus, so that made him even a little better!!
Finally, at 7:50, Tori's band took the stage. When she came out, everyone went crazy. I really enjoyed Black Dove/January. It definitely will be one of my favorites on the new album.
I won't go into every song, since this is so long now, but I will agree with everyone else, that Tori and the band seem like they are having a great time. There is so much energy and just great fun between them. I felt that the sound was excellent.
I was luckily enough to be standing right in her sight line, and sometimes I thought she was looking right at me, but I know it's hard to see with the lighting and everything.
Of course, the highlight of everything was when she finished God. The band left and she stayed. I knew that something special was going to happen. She started playing some keys and she sang "this is for (someone in the balcony) and i'm going to do this because (someone else in the balcony) didn't think I'd remember the words...I know I shouldn't do this, but I'm going to anyway". Then she started a lullaby. Now, I hadn't heard Merman yet, so I didn't know what it was, just that it was beautiful. When she sang Merman, of course, I knew then. I was just crying, along with Tori, as she sang this most beautiful gift. And when she sang "Oh, Skeeter, girl" I knew that I was right about the reference in the Spark video. When she finished the song, she stood up and walked right over to me and took my hand. I told her thank you and that she was wonderful. And then she was gone.
How amazing was that? Words cannot describe. This was the sixth time I'd seen her, but the most touched that I've ever been.
For those of you yet to see your show, be prepared for a most amazing experience. This is your gift from Tori.

From Jesse Gallun
April 26, 1998 - 18 hours of waiting and every minute was worth it!! Adding up the time spent waiting for tickets and waiting outside Avalon, I spent 3/4 of a day waiting to see Tori for the second time in my life. My time has never been spent so well.
I would like to thank all the amazing Toriphiles I met while sitting through the two lines. I would especially like to recognize Brian, whose hard work kept us all from going insane. He also does an excellent rendition of Sweet Transvestite from the Rocky Horror Picture Show. Other mentionables include #260, the Munckin Lady for being so unbelievably sweet, and Carolyn, who kept my friend and I from getting bored in the line for the show.
Now onto the show, David Poe was the latest in a long line of weak opening acts. He tried to develop some energy witht he audience, but the crowd was too busy screaming for Tori. My impression of him was that he didn't really fit into any conventional style. He needs to improve his lyrics before he can hit it big.
As for Tori, she was phenomenal!! I can't even explain how great her rapport with the band was. As usual Steve was the perfect match, but the new bass and drum gave her classics a whole new element. The best examples of this were on Precious Things and God, which I can only descibe as orgasmic! The new songs were great and left me counting the days till May 5, when I can run out and buy the album.
Tori was at her sweetest all night, from signing autographs before and after the show, to mentioning Brian and his efforts while on stage. And I will be forever thankful, to have been blessed by her gift of Merman. It was one of the greatest nights of my life.

From jessie rauch (Torinews mailing list post)
April 26, 1998 - i showed up at the avalon at 5am and was the 9th person in line... #1 got there at 3:30am.
yes, there was a meet and greet... it happened around 3 in the afternoon. my advice: look for where the crew is setting up barracades, and then RUN for them (but don't be rude or push anyone over or anything.) a lot of the people that were hanging out by the front door of the club waiting for her ended up at the back of the meet & greet crowd. remember to bring stuff to sign and have your sharpie ready... her crew kept her moving along in one direction, and once she was past you... no chance in getting her to talk to you or sign your stuff.
i was in the front row of the show, and afterwards, a crew member gave me a copy of the set list from off the stage (i won't post it as thecleave already did...) but i thought some might be interested in the fact that she was planning on doing putting the damage on, crossed it out and wrote in doughnut song... and angie was going to be the final encore, but it got nixed for merman... (and i'm glad it was... WOW! what a treat that was.. she prefaced merman with a mischievious improv sing-song "i'm going to get in trouble... tower says i can't do this..")
the show was no smoking (yay!) and no cameras... as far as i know, they didn't check bags or anything, but if they saw cameras out during the preformance, they took them away and ripped your film out.

From Oliver Sabino
April 26, 1998 - Oliver sent this to me, but he is also posting it to his own web page. Check it out.

I went to see the show at the Aavalon in Boston on 4/25/98 and here is my review:

Opening Act: David Poe
Singer/song-writer from New-York (well, he originates from Dayton, Ohio). He plays guitar and sings. I would say that he's pretty cool. The music was ok but he put a little humor between and in the songs. I wouldn't say that I'd pay to see HIS show, but he was pretty descent. Nice job pal!

The long awaited Tori:
Some of us were waiting for about 10 to 20+ hours before we could finally see Tori on stage. It was worth the wait, let me tell you!


YES!! She played Merman!!!! But i'm gonna talk about it later. First of all, she started with Black Dove. I never thought that the stage musicians would do such a good job. It was simply fantastic! You absolutly have to hear it to believe it. The major part of the show, like on the rest of the tour, was based on the new songs from "from the choirgirl hotel". But she also played some old songs revisited by the band factor. When she noticed that the audience was shut and that they were there to listen, she told her musicians to leave and she played piano-voice songs. She started off with Baker Baker. OH MY GOD, it was so beautiful, it made me cry. I wish i could live this moment again and again. Then she played Upside Down alone. It was also incredible... The old piano-voice only Tori was still alive and in a wonderful shape. It was so touching. Then the musicians came back and they played some new songs and old songs that were sometimes hard to recognise. For instance, her new version of Horses was really weird, but it was still good! The band version of Waitress and Precious Things was just astonishing, with so much power and emotions involved. The best part, apart from Merman, was that she played The Doughnut Song. I was praying for that to happen and it did!! I've never heard something quite like it. I almost fell on the floor.

The first encore was also awesome. She's Your Cocaine and Spark were awaited by thye public. Those are two of the best girls from the new album. The, we had the surprise: a second encore (well, I knew that there would be one, but some people didn't). She first played God, which was awesome and then came the REAL treat!! She didn't stop there!! We were all confused, the band left but she kept on playing some ding-gelings on the piano while singing: "I shouldn't be doing this, everyone of you thank my manager not for saying anything." And she started playing Merman!!! I just couln't belive my ears, I was shocked. That was the gift of a life time. I love this song so much. I almost fainted. Yet again, it was so touching and the mood was perfect. Since everyone was stunned, they all shut-up. Well, that was the end, and I couldn't say a word, I was confused, happy and sad at the same time. Oh, and I forgot to mention, Tori's eyes started watering in the middle of Merman and she started having trouble singing because of the emotion. It was so beautiful to see Tori in such a emotional state. By the end, she was crying and then she left with a faint smile.

The show was defenatly worth it, since it took me and Etienne 10 hours to get there. I'd like to thank Brian a lot for all that he did. That awesome toriphile got to the Avalon at 3:30am and set up a list of the order people got there. Even Tori got word of it and thanked him during the show. He was really the man of thye occasion!!!


-Olivier Sabino (Montreal, Canada)
April 26st, 1998 1:15am EDT from Boston, MS

*Thanx to Emily Toulouse and Bill Weston for providing us with tickets on such a short notice!! Without you, we wouldn't have made it.

From Marco Carbone
April 26, 1998 - Okay, I know the set list has been posted so I won't get into that (I'm not good at that anyway) but I'll tell a little about the show. First, this was my first tori show so i was a tad bit excited. I got there at 4:30, a little late cause I was at a spring fling at my college watching Maceo Parker.
Anyway, so we were about 500th in line, but when we got in (at around 5:30) we got a great spot, about 30 feet away. I could see her the whole show. David Poe was fine, his songs weren't great but he was a good performer. One of his strings broke on his "no no no" song so he had to get a new guitar. after him, we waited about 45 minutes for tori, who came on about 8.
i loved the new stuff. "cruel" seemed to grate a lot but it could have been the nature of the setup. my favorites were "iiieee" and "jackie's strength". "waitress", the new "horses", and "god" all sounded awesome with the band. during her secret time, she played "baker baker", saying she might forget the words. i later found out at the meet and greet that she had the lyrics written on her hands. at some point, she mentioned that we had a "line president:" the guy who numbered us at the ticket office, brian. someone pointed him out for her and she thanked him or something. at the moment, i can't remember all of the things she mentioned but i'm sure someone else will pick it up. at the end, when she was meant to play "angie" she played "merman." she introduced it by saying she wasn't supposed to play it but she felt like it. it can't even describe how much i was affected by it.
after the show, i managed to get in the front for the meet and greet. i met matt chamberlain and caton and got their autographs. when tori came out, i freaked. remember, this was my first concert. when she finally came to me, i got her autograph and thanked her for playing merman. she looked at me and said something like "you're so great for saying that." then, i tried to let my friend get in but i was pulled back, told that i had to stay so people wouldn't surge in to take the open space. tori thanked me for staying and then kissed me on the cheek!
The next person was underage and didn't see her perform , so tori apologized and promised her that the larger tour this summer wouldn't be 18+ anywhere. then she said that these club tours are only rehearsals anyway. i said something like, "great rehearsals" and tori gave me this great look, kind of like she was saying "you devil, you" or something. it was amazing.
for my first tori concert, i had the greatest time in my life. i can't wait to go to more. meeting her was also amazing. i love tori!

From steve/musikae
April 26, 1998 - here's the set list. review later. need sleep.
BLACK DOVE (JANUARY)
CRUEL (after which she invited the witches of salem to join us at the show)
HORSES
PRECIOUS THINGS
LIQUID DIAMONDS
JACKIE'S STRENGTH
NORTHERN LAD
BAKER BAKER (solo piano)
UPSIDE DOWN (solo piano)
DOUGHNUT SONG
IIEEE
TEAR IN YOUR HAND
WAITRESS
1st Encore:
SHE'S YOUR COCAINE
SPARK
2nd Encore:
GOD
MERMAN!!!!!! (she sang before the song saying how she was going to do something she wasn't supposed to, but didn't think she'd get in TOO much trouble for it...obviously a reference to the whole deal/bullshit with the Tower pre-order. the song was absolutely beautiful. she cried while she was singing it and so did most of the audience. obviously written to the lost child.)
the people were wonderful. magical seance, indeed.
i even saw the famous puppet as the bus pulled away!