Check Out The Reviews And Set Lists Page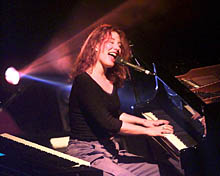 Tori performed her third concert of the North American club tour in Washington, D.C. on April 22, 1998 at the 9:30 Club. The photo you see to the right is actually from this Washington D.C. concert. It and many others like it can be seen much larger at Tori's Official site

maintained by Atlantic Records.

Set List
The photo to the right shows Tori singing "Precious Things" from this show. It was taken from a RealVideo clip available at www.tori.com

.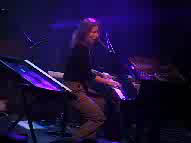 Black Dove (January)
iieee
Tear In Your Hand
Precious Things
Liquid Diamonds
Jackie's Strength
Playboy Mommy
Upside Down
Icicle
Putting The Damage On
Spark
Cruel
Waitress
1st Encore:
She's Your Cocaine
Horses
2nd Encore:
God

Reviews

From the Washington Post
April 27, 1998 - The following review appeared in the Washington Post. Many thanks to Richard Handal for sending it to me. You can also read this review online.

The review included a B&W concert photo taken by a Post photographer. (Close-up portrait.)
Tori Amos: Live, With a Band, at Last
By Richard Harrington
Washington Post Staff Writer
Saturday, April 25, 1998; Page C02

Tori Amos's Wednesday night concert at the 9:30 club unveiled and then emphasized the new: Nine of the 16 songs were from Amos's upcoming "From the Choirgirl Hotel" album (due May 5) and all but two of the songs featured Amos playing piano -- both acoustic and electric -- with a three-piece band.
It's the first time Amos has performed live with a band, though guitarist Steve Caton toured with her behind the "Boys for Pele" album. The latest additions are bassist Jon Evans and, most notably, drummer Matt Chamberlain; they provided a rhythmic vitality that kicked some of the older songs -- notably "Tear in Your Hand," "The Waitress," "Putting the Damage On" and "God" -- to a higher level of sonic subtext to match already emotionally roiling lyrics.
Wednesday's club show was only the third live date for the ensemble -- they're preparing for a European tour and a stateside tour of larger venues this summer -- and there were still a few rough spots: at times, as on "Liiee" and "Cruel," Chamberlain's percussive patterns were so tautly mechanical that they felt like the work of a drum machine rather than a human being. And Amos's piano work is so naturally orchestral -- two decades of solo performance have given her both a rare dynamism and a gift for impressionistic coloring -- that she's not always smoothly integrated into the mix.
The opening song, "Black Dove (January)," had a familiarly majestic sweep, alternating ruminative verse and soaring chorus. Amos performed it with full frontal pianism, one hand on the acoustic piano, the other on the electric. Several other times -- including on her current single "Spark" -- Amos moved between pianos, seeking the timbre that best underpinned her lyrics. But while Amos may be exploring different textures, she's clearly not compromising the emotional directness or melodic grace that mark her best songs.
"Precious Things" appropriated an almost ritualistic rhythm as Amos ran a primal obstacle course through fear, frustration and fury, eventually finding release; a similar urgent anger coiled through an edgy "Waitress," "Horses," a martially discordant "Playboy Mommy" and the set-closing "God," the last made even more terse and elastic with the band. Of the new songs, only the Alanis Morissette-ish "She's Not Your Cocaine" felt out of place (isn't it ironic -- Amos was a major influence on Morissette).
The new band was able to provide supple coloration to such tracks "Liquid Diamonds," "Putting the Damage On" and the beautifully spare "Jackie's Strength," a melancholy exploration of the past notable for its compassion. Throughout the night, the full house seemed remarkably pre-tuned to the new material, a development wholly attributable to the Internet, where Amos is a goddess second to none with almost 4,000 Web sites.
Amos did perform two songs in the solo acoustic setting that helped build that loyal (some might say obsessive) fan base: "Upside Down," crafted as a series of internal monologues, captured the topsy-turvy turmoil of spiritual independence and romantic attachment, and the at-first chilly but ultimately liberating "Icicle." Despite the occasional rough edges, Amos hasn't lost her fundamental gift for communication; the band simply adds a new authority to her missives.
(c) Copyright 1998 The Washington Post Company

From Michael J. Zwirn
April 27, 1998 - Michael writes a formal music review column for Kibbutz Music Reviews. You can read this review and others on the Kibbutz Music Reviews web site

.
Kibbutz Music Reviews #33, "You say you don't want it, again and again" 26 April 1998
Earlier this week, I was digging through a pile of old tapes in my apartment and came across a recording I had made of my radio show several years ago, as a student at Carleton College in Minnesota. I had never felt particularly compelled to record my own shows, and as far as I know this is the only audio documentation of four years of radio work -- except, coincidentally enough, a recording of my interview with Tori Amos, conducted over the phone during my senior year. This particular tape was made only because I wanted something to play for my family to answer the question of what, exactly, I had been spending all my time on instead of my senior thesis. Listening to the tape for the past few days on my commute to and from work, I've been reminded of a few things. First, I hate and have always hated the sound of my own voice. Second, even some twenty-one year old shmoe on a 100-watt college radio station in rural Minnesota sounds pretty good against the backdrop of Washington commercial radio hell. Third (and this is the only point that will conceivably interest anyone but me), Tori Amos is possibly the single most significant person in my life whom I've never actually met. Umberto Eco, Wim Wenders, Michael Stipe and Marc Chagall are all in that category, but I've never felt personally connected to any of those estimable figures in the way that Tori Amos has been an essential part of my life since I came one late one night from my high school job to watch a videotape of R.E.M. on television which I had made. The tape rolled over, in stunningly portentous fashion, through Crowded House and Richard Thompson on ABC's In Concert, and then on to Friday Night Videos, where the video for "Crucify" was being premiered.
I was transfixed. Some combination of the lyrics, the melody, the singing and the visuals conspired to turn me into a devout Tori Amos fan even before the video had played through. This was six years and three albums ago, and in that time I have devoted more of my time, my money and my heart to Tori and her music than I would have previously thought reasonable, or for that matter, sane. Since the first time I saw "Crucify" and ran out to buy Little Earthquakes, there have been three extended periods of breathless anticipation for the next record, including the current wait for her upcoming album, from the choirgirl hotel. Given that my time with Tori Amos has neatly paralleled my time on the Internet, those periods have been tied to the frantic exchange of rumors and fact over mailing lists and websites, to the extent that it is now possible to check Michael Whitehead's extraordinary Dent in the Tori Amos Net Universe at http://tori.by.net on a daily basis, and find staggering quantities of new information and opinion each time. As Tori's audience has grown, somehow, the personal connection hasn't withered away as it does for so many musicians. She is now that walking oxymoron, a cult artist with a massive audience; a musician with enormous popular appeal who still seems genuinely thrilled and surprised that people take her music to heart the way that they do.
Approaching the release of from the choirgirl hotel, I had been reevaluating my feelings about Tori and her music. Boys for Pele, her ambitious 1996 album, left me with a distinctly ambivalent feeling. The moments of musical and lyrical brilliance that made Little Earthquakes perhaps my single favorite record ever were present in abundance, but I found the overall tone of the album somewhat muddled. The self-production, the twisted, convoluted lyrical references, and the sheer mass of the album tended too often into obscurantism and an unreachable vision that defied the listener to understand its motives. Seeing Tori tour with guitarist Steve Caton on the Dew Drop Inn tour, I had a distinct sense that something beautiful was being diluted in the caldron of the mass marketplace. Sitting amidst the three thousand people in St. Paul, I had to squint down at the fuzzy form astride the piano bench on stage, and despite the glories of the concert itself something felt incomplete. I despise cult artist worship and am deeply skeptical of the cycle of possessiveness and rejection that seems so prevalent in music circles, but I wasn't sure if I was ready to accept Tori as a pop star without ever having the chance to see her on her early tours. I was too young in 1991-92, and in the wrong country in 1994, to see the Little Earthquakes and Under the Pink tours. It seemed, in fact, that I would never get to see Tori outside an amphitheater tour.
The news that from the choirgirl hotel would be preceded by a small club tour, whose venues would include Washington's 9:30 Club, left me -- once again -- in breathless anticipation. That is testimony to the hold that Tori's music still holds over me after these six years, and the changes in my life and hers. So, when Internet rumors and a host of snide radio announcers hinted slyly about ticket sales, I was more than ready to sneak out of work under the pretense that, hey, it was a religious holiday. Sitting in the parking lot of WHFS (motto: "We either play it to death, or we don't play it!") with some likewise clued-in fans, we were prepared to do whatever it took to get tickets. In point of fact, what that required was driving with reckless skill into Washington on a Friday rush hour, parking illegally outside the 9:30, and forking over our money with unfettered joy.
The concert itself, in the event that you had been waiting to find some discussion of it, finally came on April 22nd, a lovely Wednesday. I left work early yet again, claiming a dentist's appointment, and managed to get myself to the doors of the club by 4:15, accompanied, as fate would have it, by some of the same people who had waited with me in the parking lot. By the time we got to the grim urban setting of the 9:30 Club, some six hours before Tori herself was set to take the stage, there was already a large crowd huddled alongside the venue, waiting for the opportunity to meet-and-greet. I never managed to quite shove my way up to the front of the crowd but I don't think I really missed that much -- an autograph doesn't hold much meaning in comparison to the body of music that Tori has given her fans over the course of the past six years. She did, though, spend almost a half-hour accepting gifts, signing liner notes, and generally schmoozing, which if nothing else is some tangible demonstration of the remarkable bond that exists between her and her fans. After she was ushered inside for her sound check, there was an additional two hours to wait before the doors to the club even opened, which was spent in large part exchanging anecdotes of past concerts and speculating on the upcoming show.
Once inside the club, there was another two hour wait before opener David Poe came on-stage. By this time, much of the crowd had already been waiting, either inside or outside the club, for more than four hours, so people were more than ready to be distracted. Unfortunately, much of the crowd seemed ready to treat Poe as nothing more than a distraction, which is really too bad. The crowd, unmistakably partisan as it was, generally behaved itself, although there were a few moments when chants of "Tori-Tori-Tori" broke out during his subtle, acoustic set. In earlier dates on the tour, Poe had actually been booed, although here in D.C. the crowd seemed more diffident than antipathetic. The most accurate thing to say about Poe's music is that it was simply misplaced. Anyone would have had a hard time doing an opening set for Tori, especially a largely unknown acoustic songwriter, but Poe actually did a good job gradually winning over the crowd. Perhaps the turning point in his set was a charming rendition of the pre-rock pop song "The World on a String," although his own material, including "Apartment" and "Reunion." also had its merits. His fluid, bossa -inspired guitar playing made up for his somewhat limited vocal range, and I was very pleased to see that he performed "The Ballad of El Goodo," a Big Star cover that previously appeared on a promotional EP. The crowd eventually seemed appreciative toward the end of Poe's set, although it's difficult to say whether this illustrated new-found respect for his music or relief that Tori's set was upcoming.
Rating: 3 1/2 stars out of five
Another extended wait preceded Tori and her band taking the stage, and it was past ten o'clock by the time that they began their set, launching immediately into the new material from the yet-to-be-released from the choirgirl hotel. It's entirely possible that a sizable portion of the audience had already heard "Black Dove (January)," the opening number, but I hadn't. My perceptions of that track, and the other new songs, are thus based solely on their live performances. "Black Dove" is surging, churning rock, propelled by Matt Chamberlin's drumming. The song begins slowly and sadly, then escalates suddenly with Tori's choruses of "But I have to get to Texas." By the end of the first song, it was clear that Tori's original love of Led Zeppelin and the Doors was finally manifesting itself in her live performance -- showy lighting tricks, the muscular rhythm section and the propulsive nature of the new material all bespoke an earnest embrace of rock and roll. Earlier in her career, Tori's music achieved catharsis through the painful lyrical indictments of self and society, with the musical setting lending structure and cohesiveness, but now the force of the music itself has been promoted to the forefront. "iieee," the second piece, was dense and somewhat impenetrable, with the rhythm section overpowering Tori's lyrics and piano. The crowd, packed tightly against the stage, shimmied uneasily. From my vantage point around fifteen feet from the stage, peering over the shoulders of much taller fans, it was clear that Tori was motioning to the sound engineers to boost her piano and microphone in the sound mix, and the problem was eventually solved.
The first familiar song was Little Earthquakes' "Tear in Your Hand," perhaps my single favorite moment from her spectacular debut, and I was eager to see how the band augmented her piano on this piece. For some reason, although I found the band was generally very tight overall, the tempo of this particular piece didn't quite seem to fit. "Precious Things," on the other hand, was phenomenal. In the solo piano version of this song, reaction from the crowd tends generally to focus on the length of time Tori drags out the word "grrrl," which is cute in its way but doesn't really have much to do with the song itself. With a band, however, Tori is able to give the song the musical force it has in the studio version, and the bass, guitar and drum now appear truly essential to the performance. Here, for the first time, was a clear demonstration of what the band has to offer. Because Tori on piano and vocals is the obvious source of melody, the band can contribute the rhythmic elements which have become more prominent in her music since Under the Pink. Toward the tail end of "Precious Things," Tori went into some kind of musical reverie, repeating the lines "Those Christian boys/those Christian boys" more than a dozen times before bringing the song to its proper close, allowing the audience to focus on her vocals, which were truly superb throughout the set. "Liquid Diamonds," one of the new songs, was regrettably much less distinct, and again the band overpowered her vocals, but this track continues the emphasis on urgent, driving rhythms.
I had heard a snippet of "Jackie's Strength" on the radio prior to the show, but hadn't been prepared for the actual experience of seeing it performed. This is Tori's return to the classic piano ballad form, and based on my sole listen to the song, will be an instant addition to the ranks of her very best songs. Tori began with a short story of her own recent wedding, and the song follows naturally from that, using Jacqueline Bouvier's wedding to John Kennedy as a jump-off point for a larger exploration of human strength and dignity. "Playboy Mommy," another new, sad song, followed, but I haven't had a chance to get a handle on the implications of the lyrics yet, so I'll hold off on judging the song until I hear the album. At this point, the band left, and Tori announced that it was "secret time," a chance for some solo piano. "Upside Down" was a true delight, one of her very best b-sides from Little Earthquakes, and sung splendidly. The lyrics regarding babies coming out upside-down took on much greater resonance since Tori began discussing her recent miscarriage. Under the Pink's "Icicle" followed, and although the crowd was hanging on every word and note, I found the sing-along element too formulaic. When Tori quipped that the Washington piano bars where she used to perform would never have let her sing such a song, the crowd roared predictably, and the invitation to sing the seditious lyrics was entirely too manufactured. I prefer my transgressions less scripted.
On solo piano, Tori began "Putting the Damage On," one of my very favorite songs from Boys for Pele, but the band joined in midway through, adding an intriguing martial rhythm to the piece. "Spark," the current single, is the only one of the new songs that everyone in the audience had already heard, and the band rendition is truly powerful. Switching from keyboard to piano for alternating verses and choruses, Tori not only hit all the notes perfectly (an achievement in and of itself) but also sung spectacularly well. Unlike a recent television appearance, her vocals weren't distorted by the microphone, which was an improvement over the recorded version of the single. However, "Cruel," yet another new song, has almost no piano whatsoever, just a driving rock/dance beat. Tori seemed to be yelling into the microphone, which she was cradling in both hands, but despite that the lyrics were completely unintelligible. I'll have to wait for from the choirgirl hotel to make a final judgment, but this does not seem to be a very impressive song on first listen. "Waitress" was a much better synthesis of rock guitar and drums with Tori's piano-based songs, with Matt Chamberlin's drumming and Steve Caton's squawking guitar tied perfectly to the piano. Like the early b-side "Sweet Dreams," which featured the Subdudes, the rock instruments on "Waitress" complemented Tori's keyboard rather than fighting it.
After "Waitress," Tori and the band went off-stage for a moment or two, returning with the announcement that "it's time to rock." Tori started in on piano, leaving the rest of the band somewhat confused, and the song ground to an abrupt halt. "We're having a rock crisis," Tori announced apologetically, before cueing the song again. This was the only real illustration of the compromises between discipline and spontaneity implicit in performing with a band, rather than solo. Unlike Tori's solo touring, there was no real ability to improvise and tailor a performance to a particular audience, and the band had clearly been using Tori's extended monologues as cues. When she changed the cues, the band was left in the lurch. "She's Your Cocaine," once it got underway, was dense and wild, with spotlights swirling around the club and disco balls sending shards of light dancing around the audience. "Horses," altered radically from the Boys for Pele version, followed. Lyrics were removed, replaced, and shuffled, almost as if in a dance mix, although the tempo wasn't a dance rhythm. The band took on a prominent role here, with Tori dancing on her piano bench in reckless abandon. There was yet another brief break, and the band returned for one final song, a very impressive "God." Caton's guitar was at the forefront of the mix on this song, and Tori extended the song with an additional refrain of "Jesus, you dropped the Bible on me," repeated numerous times before the set closed.
The exhausted, but ebullient, crowd cheered for an encore, but none was forthcoming. By this time, it was nearing midnight, and I had spent the better part of eight hours at the 9:30 Club, every minute of it worthwhile. While the absence of some of her most beloved early songs was a bit regrettable, it's not surprising for a sneak preview tour. The Plugged tour scheduled for the summer will presumably offer a more balanced mix of new and old material.
Rating: 4 1/2 out of five stars

From J. Hunter
April 24, 1998 - Arrived at the club at 6:30 to find a line about 3 times as long as when I was waiting for tickets the prior week! After waiting in line for nearly 2 hours, I finally got in and looked for a good vantage point to view the show. Found a good spot on the stage right balcony that was practically above the stage, about 20-30 feet from where Tori's equipment was set up. Soon after I found my spot, David Poe came out and let's face it, there's 50+ guys like him playing acoustic folk in coffeehouses in every city and I don't think he really stood out. Nice cover of "The Ballad of El Goodo" though.
After another intermission, Tori came out with her band to mass applause including myself. I was curious to see how she would gel with a full band and I feel she pulled it off well. The only downer is that after hearing the new songs for the first time, I think the new material is awful!
Maybe I stand alone on this, but after having seen the dynamic range that the band lent to "Precious Things" and witnessing the intimacy when she returned to solo mode and played "Upside Down" and "Icicle", the new stuff came off as just plain dull (which I expect from someone like Sarah McLachlan but this is Tori we're talking about!). Of course, since the emphasis was on performing the new material, this comprised most of the show to my dissapointment. Don't get me wrong, with all of the crap that's coming out these days in general, I REALLY wanted to like her new stuff. But I just wasn't moved. Again, I'm sure most will disagree, but in my opinion the new material is not on a par with "Winter" or "China" or hell even "Hey Jupiter" (which sadly were omitted from the setlist). And yes, I'm open to new sounds or new directions but if the song doesn't go anywhere then it just doesn't, I'm not going to force myself to like it based on amazing material in the past. And no, having session musicians backing her up onstage isn't my complaint as it helped to add a dynamic that didn't exist before. It's just that the new material sounds like it was written by session musicians as well (i.e. glossy and lifeless).
So there you go. It's just a shame that while I feel she's at her peak performing-wise, the new material has to be so bland (especially when she's been the one setting the standard for others to follow for so long). Thanks again to Mike for having this site as an info source.

From Sarah McCabe (TAmsterdam)
April 24, 1998 - Just to add to the rest of the reviews to the show...here's an interesting bite of happenings on April 22nd...When Tori got to the part of PRECIOUS THINGS that goes "I wanna smash their faces. Those beautiful boys, this christian boys..." Tori kept repeating the words 'christian boys'. She must have done it at least 15 times (and it still sounded great), but she had these weird and worried looks on her face, and I was close enough to see that she looked to the drummer, and he mouthed the next verse "So you can make me come". I think this communication between them took place because Tori might have forgotten the words : ) And that's okay, because I love her just the same. Just thought that it was interesting.

From Steve Sears
April 24, 1998 - Just thought I'd throw in my two cents about Tori's DC show. It will be thrilling for fans who are going to upcoming club dates to get the full band exeprience. It IS a big sound yet Tori's voice is clear as a bell. Everyone's done such a great job of reviewing that I only have a few things to add:
My favorite new tracks were actually the first two. "Black-Dove" is a slower tempo song--I keep thinking of the beautiful "by the woods by the wood by the woods" repetition. (Will be interested to hear fthe recorded version). "iieee" has a sort of of kitsch b-side title, but is really a great song--and dancy!. "Tear In Your Hand" was probably my favorite as it's been slowed down just a bit with a sort of swaying rhythm. Hpe that one is bootlegged or a love b-side! Among the other great oldies redone was "Horses", not a favorite of mine before. I loved the smooth quality of it, in music and vocals, and the disco ball made you feel like you were in space or in the sea. Lovely effect. I doubt one could improve on the recorded version of "Putting The Damage On", but the march-like cadence of the drum was an interesting choice. It'll be great to hear Tori expand on other "girl and a piano " tracks. I don't go to shows to hear rehashes of recorded tunes, you know? I go to hear how the song has grown--how Tori feels it years after she wrote it. And Yes, "Precious Things" will probably be the hit of the tour. Loved it when she sort of freaked out, shaking her head and wailing! GREAT lights. This song definitely sent the crowd into spasms. Hope Tori takes note of how much the staging added to that song. Of the other new songs presented, I think "Playboy Mommy" was brilliant. Great jazzy feel--not a downbeat tune-- and yet the lyrics are really very poignant. It doesn't smack you over the head saying "I am supposed to be a sad song", you just feel it in the lyrics.

From Nevin Martell
April 24, 1998 - The following review of the D.C. show and interview with Tori at the sound check were written by Nevin Martell, who works for Atlantic Records. This review cab also be found on Tori's Official Site at www.tori.com

.




A Day In The Life Of Tori Amos

Wednesday April 22
Washington, DC
The 9:30 Club


It's 6:20 at the 9:30 Club and fans have already been gathering outside since this morning to get a good place in line or perhaps, if they're lucky, see Tori when she gets off her bus. Sound check just finished and Tori strolls away from stage in her overalls and white sneakers. The band play a few more notes and then toddle off to do what they do before they are required to play at peak intensity for close to an hour and a half. The soundcheck went well, with Tori running through about seven tracks. When she was rehearsing the latest single, "spark," she kept losing track at the same point at her transition between the Baby Grand piano and the keyboard. Questioning the height of the stool she was sitting on, they ran through the number four times before Tori was happy with the result. Even in a rehearsal, Tori's band are a fluid bunch, going through "God," "iieee," and "Cornflake Girl" with a professional nonchalance that belies their playing abilities.

Tori comes up to me and sits down, "I don't think I should have nachos, but they look really good, but i don't want it to fuck up my voice, but my voice is so dry today, so maybe the cheese would be good. We'll see."

A minute later, after some debate, a plate of nachos, replete with salsa and cheese arrives for her.

Tori sits back and munches a chip, "Playing with these guys is really challenging. Gettting it technically right and being relaxed is the hard part. You're trying to play the right notes, hit the right notes, keep breathing. Trying to relax when you're heart's going a million miles a second. It's a wild sensation. Trying to stay in tune and getting your instrument to get this primal sound from somewhere else." She laughs, "and to try and drop a few pounds during the course of the show."

We sit talking for a minute chatting aimlessly until I broach the topic of playing the new material for the first time ever in front of a live audience. "Everybody who's come to these shows has been so open minded. Which you need when you're playing new material. To play the music on this sneak preview tour before the record came out, I didn't know if it was demanding too much, because people haven't had a chance to sit and listen to it in their own truck. Or their VW Beetle, which some lucky dogs have," she giggles. "You have to have a personal relationship with an album, before you can have your own relationship, but everyone's been so open to other people's interpretation of the new music, so it's been a joy to play. We're seeing this as rehearsals right now, but we're trying to get the spirit rather than just be technical. Groove at all cost. Groove until you bite someone's butt -- but not really. It's not good vampire behavior."

After this Tori takes off to prepare for the show and get some quiet time before her storm hits.

It's a little before 10 PM before Tori comes onstage after David Poe has finished his superbly tight set. The crowd has a raptured look on their faces the moment the lights go out until they realize that Tori is about to come on and the cheering erupts. Starting the set with "black-dove (january)" from her upcoming release from the choirgirl hotel -- the crowd loves it. Next came another new one, "iieee," followed by the favortie "Tear In Your Hand" from LITTLE EARTHQUAKES. "Precious Things," also from LITTE EARTHQUAKES preluded a three new songs, "liquid diamonds," "Jackie's Strength," and "playboy mommy." "Jackie's Strength" is a sweeping ballad unlike anything Amos has ever tried before. It contains all the emotion that is innate in the music that Tori makes, but it is on such an epic level. The crowd instantly latches on to its chorus and their voices swell hypnotically along with Tori's.

Tori does a b-side live favorite "Upside Down" and "Icicle" solo -- jokingly introducing "Icicle" by saying "I used to play in a piano bar down the road and the wouldn't let me sing songs like this." The band returned for "Putting The Damage On," "spark," "cruel" and the sonically chunky surrealism of "The Waitress." At the end she took a bow and reached into the crowd to shake hands and take roses. They came back for two encores, the first was a new song "She's your cocaine" and "Horses" from BOYS FOR PELE. The second encore was a funked-up version of "God" that left that crowd breathless. It would be the last song, but not the last chance fans had to see Tori. Later that night she would go greet and sign autographs for the hundred or so fans waiting outside her bus.

From Jeremy Rueger
April 24, 1998 - To the people out there expecting a dull show: NO! DON'T THINK THAT!
Last night's show (Washington DC -9:30 Club) was fucking amazing! I have never been to a show as emotional as last night's. I'm really tired right now, so I'm not gonna give details on each song...(although icicle and waitress were just fucking unbelieveable...), so i'll just give some advice for people who still have yet to see tori....
1) Please, please, please, please, PLEASE (with a cherry on top??) don't be rude to other people!!! I saw so many people last night who were so disrespectful to everybody in the club. This includes NOT TAKING YOUR HAT OFF AND BLOCKING SOME PERSON'S VIEW (*ahem*), or PUSHING AND SHOVING TINY OR SHORT PEOPLE WHEN THERE IS OBVIOUSELY NOTHING THAT WILL BE ACCOMPLISHED IN DOING IT. Show some respect.
2) If the club doesn't allow cameras, try to sneak one in anyways!!!! (I hope my pics come out great!!! shhhhhhh...) Consider using high speed film (no flash). Oh yeah, watch out for the piggies. They suck....
3) BRING WATER! COLD ICE WATER IF YOU CAN!
That's it. I can't predict how any of the future shows are gonna come out, but I hope people who are gonna see her have the fucking best time of their lives....

From Nithya Rajendran
April 23, 1998 - Tori and the band were incredibly energetic throughout the show. They seem to be having a great time playing together. She was smiling and laughing with the guys through the whole show. And the guys were not anywhere near as restrained as they were on Letterman. Overall, they seem to be pretty tight...or getting there soon. Nonetheless, the whole night had a entirely different vibe from any other Tori show I've been to (6 and counting). It appeared as if Tori just wanted to rock and have a good time, which she appeared to be doing. So many of the new songs are very aggressive and danceable. She herself was doing little dances when her hands were free. Of course there were moments of classic Tori. The band left the stage and Tori addressed to the crowd that it was now "our secret time." At this point she played "upside down" and I lost it. Just lost it. This is my favorite song of hers and she did it beautifully and with such confidence. She then did "icicle." Right smack in the middle of the song she says "I used play a few blocks from here and they would never let me do this." And then she put her hand behind her ear and motioned the crowd to sing along, so the crowd sang(screamed is more like it), "and when my hand touches myself..." She finished up the song herself. The band came back and stayed on after that.
While Tori did perform mostly new material she played a handful of classics that were revamped with the presence of the band. There seems to be two schools of thought on this matter. One group likes the Tori and the Band sound and thinks the band enhances the music. The other group seems to like Tori by herself. One comment I heard after the show was that the band masked much of Tori's voice( this humble EWF would beg to differ.) I thought that Tori's voice was as powerful as it has ever been. By the way, she was sipping her ginger, honey, etc. concoction during the night. I thought the band did enhance the songs. Of course, just Tori and the piano are amazing, but the band gave a new vibe to them. It seemed wholly appropriate. Tori has been saying that she wants to explore new territory and break away from the "trilogy" of the past years. I think she has successfully done so. Last night was proof.
I had a chance to speak to the man himself, Steve Caton before the show. Steve told us that the Letterman show was the first time they performed to anybody together. They only had rehearsed before then. My friend asked Steve if Tori was really going to tour for two years this time. He looked genuinely surprised and said, "not quite, I don't think she'll be doing that." He also said he had fun playing slide guitar( for Playboy Mommy). I didn't meet Tori. There were an unpenetrateable huge mass of bodies trying to meet her, get things signed, tell her their life story, etc, before the show around 4:30. I couldn't stick around to see her afterwards.
As far as the new music goes, it is simply incredible. I was lucky enough to get a copy of "choirgirl hotel"(legitimately, let me add.) This is an amazing record. I still haven't digested it, so my specific thoughts are still in process. Sonically, it transcends any of her previous work. It is much more accessible than the others also. Tori seems to have a little jones for techno. Many of the tracks feature big drum beats and intricate programming. At the same time, there are a few very jazz and funk based numbers( Playboy Mommy and She's your Cocaine, respectively.) If I remember correctly, Tori said that she wanted this record to "make people bite others butts" and "that you don't fuck to a metrinome." Well, I definitely would agree with her. This is a record to fuck to. But, not to worry. Tori didn't let us down. There's plenty of food for thought lyrically. A record that makes you want to think and fuck( at the same time? separately? I'm still not sure. figure it out yourself.)
It's gonna be a great year, fellow Toriphiles.

From Phyllis Lynn Spiece
April 23, 1998 - Well, after having such a horrible time trying to get tickets, i had the most spectacular time at the show! As i arrived on the scene, it started out slow, but as the night progressed, it got better and better. Let me explain...
I arrived on the scene at 4:10. Didnt park in the 9:30 parking lot because i was stupid and missed it. Instead i parked in the visitor parking at the hospital across the street. I was a little worried. Anyway, at 4:15, Tori's pastel blue bus arrived. The crowd swarmed around the backstage area. I didn't think i would make it and i really didn't want to lose my place in line, so i stood there for a little while. Then i got overly excited that Tori was so close, so i squeezed my way over to the crowd, making sure not to push. Finally i sort of made it to the front, when Tori was motioned to leave, she had to do a sound check. Oh well, better luck next time, at least I saw her! So i am waiting in line and i am so close to the backstage that i could hear her soundcheck. The only thing i could recognize was "Spark". But that got me really anxious. As we watied in line a little longer, Atlantic went around with a video camera interviewing random people who had questions for Tori. I decided i wanted to ask Tori a question, and come the next day find out i am on the tori.com site!!!! How exciting!
So, the doors open at 6:30, and i finally get in. There is hardly anyone around at this point, so i take my place with a couple friends to the left of the stage. David Poe plays at 8:45, and not many people liked him. His music was okay, but lyrics were crappy. You really know the room is full of toriphiles when everyone pays attention to the lyrics! 9:40, David Poe leaves and they begin setting up for tori and the band. Finally at 10:10, Tori enters the stage with her band. They begin with "Black Dove". I had never heard this song, but was so excited to see Tori up so close that i didnt care at all. The band sounded wonderful. I really like this new sound for Tori. Tori was full of energy and looked very happy. She was really enjoying herself.
Tear in Your Hand: WOW! I was amazed to hear it with the band. Absolutely superb! The audience was eating it up, especially when the lights wnet to white and lit up the whole club.
Tori introduces liquid diamonds without announcing the title of the song, and when she looks at the druumer for his cue, he didnt start playing because he didnt know what song she was talking about! Rather amusing! She then whispers it to them, and they continue. She makes a side comment about "new song on tour, they dont know the story YET".
Jackies Strength: She tells us that we would understand this song if we have ever been married. Then goes on to talk a little about her wedding day and how she got lost. I really love this song because it reminds me a lot of "Pretty Good Year" or "SATY". More piano than anything else. This song could easily be my favorite off the album.
So, the band leaves and it is "SECRET TIME!" She says "I think you will recognize this one" and plays Upside Down. She puts her hand on her ear during the chorus because she wants to hear us sing it. So we all do. She then goes into Icicle and when it gets to the line about "And when my hand touches myself" she stops and tells the crowd that she used to sing at a bar down the street and they would never let her sing songs like that and asks us all to sing with her. The crowd goes bizerk and i think just about everyone was singing..."And when they take of his body, i think i'll take from mine instead."
Band returns and plays "Putting the Damage On". They then go into "Spark". It was nice to finally hear this one live. This is definitely a favorite of the bands. They all knew it quite well and Tori didnt have to give anyone cues. It was wonderful.
So, the show is almost over, she gets up from her bench and reaches out to all the hands that were there. She goes to the right of the stage, and i am on the left. I really wish she would come my way. She doesnt.
Encore time. She plays the most spectacular rendition of "Horses". I think this was my favorite of the night. It sounded so different with the band, but i loved it!!!
She gets up from her bench again this time coming to the left of the stage. I decide rather than reaching my hand out, i will hold the stuffed cat i brought for her out and maybe she will take it. To my surprise, she took it and waved it to the audience. I about freaked!!!! It was so excited.
She comes back out and places some daisies that a fan gave her on the Bosey. She begins her final song. "God". WOW! Is all i have to say. This was a super song to end the evening with!
So, after the show i went back over to the backstage area along with TONS of others. I somehow managed to get to the front barrier area. I couldnt believe it, i was going to meet Tori finally! We waited about an hour and at 1am Tori came out and the crowd went wild. I was pushed and shoved, but i managed to stay calm. She was inches away from me. I just stood there and watched. Finally I told her i really liked her shoes and she said "Thanks you, they are really comfortable!" Then she signed my CD cover with my name and everything. I told her she was so cool, and she said that we were really cool for coming to the show. My heart skipped a beat and i asked her for a hug, she said "Sure Phyllis" and gave me a great big hug!!! I almost cried. it was a dream come true. I had waited so long for that hug. I then said that i should move out of the way and let others in, but Tori looked at me and said "No, Phyllis it would be better if you just stayed here and didn't move." She said my name! WOW! I am easily amused as you can see. So, i stood there and chatted some more with tori as she signed other peoples things. It was a wonderful end to the evening. We all waved goodbye to her tour bus around 1:30am as it pulled out. I got back to my car safely and that the end of my story! It is an evening i will NEVER forget!

From Kim Davis
April 23, 1998 - Ok, I have to say yesterday was one of the best days of my life. I not only saw a great show but I also got to meet Tori for the first time..my friend Jason and I got there around 2:30 and Tori showed up sometime after 4..I don't know how but somehow I managed to make it to the front and I was near the end where she started off greeting people..when she finally got to me I was so nervous and trying not to break down..so she asked me my name and then I told her I got this for her and gave her the book I'd gotten her and told her that there was a letter inside.. she hadn't touched my hand at this point or anything so I tentatively asked if I could have a hug and she said of course and hugged me.. wow, that was wonderful.. i can only hope she reads the book i got her since i know she'll love it.. ok, so then after she's gone it's alot more waiting until we finally get into the club but we were near the front of the line so got in fairly quickly.. we headed for the balcony since i needed to be able to sit down and it turned out that we could see great the whole time from where we were so it was a good choice.. i also got a good view of Mark doing his thing too which was very cool.. once inside there was another long wait, then David Poe.. people were fairly respectful during his set, though there was a small moment a couple people started chanting Tori and he just gave them a look.. i liked his lyrics but the sound didn't really appeal to me..
then a little after 10 tori comes on.. i'm not very good with song by song reviews so i'll give you my highlights.. i loved all the new songs and could recognize all of them either by lyics or having heard them.. i'd have to say my favorites were Jackie's Strength and Liquid Diamonds.. she did alot of dancing throughout the show which i thought really added to the feel of the songs.. and the interplay between her and the band members i thought was really great, very strong.. they seem to know very well what she wants just by looks or motions.. Caton i thought was teriffic, rocking out especially in Waitress... before Tear in Your Hand, Tori said hi to us, asked us how we were doing and then mentioned not having seen Johnny or Bob (from WHFS) so she said "hi guys..i'll see you guys later"... then she said something like "ok i think you all will remember this, cross cross" and she crossed her fingers.. before playing Liquid Diamonds she talked about going to the water when she needed comfort because the sounds could comfort her like nothing else.. this was evidently a new intro story to the song because Matt (the drummer) was supposed to begin and didn't realize it.. it was cute.. then before Jackie's Strength she talked about this being about her wedding day and for anyone who's married that it's a great day but that you're perpetually having to go to the bathroom.. and that Jackie's a special lady and she wanted to acknowledge that.. before Upside Down she said that now it was our secret time and she said "toodles guys" in that toodles kind of voice.. people were singing along to both Upside Down and Icicle.. during Icicle she said "Ok, now I really wanna hear you guys on this next part.. because I used to play a club down the street and they would never let me do songs like this.." she did alot of dancing during Cruel which I loved.. and the version of Waitress with the band gives it a whole other dimension, I loved it.. the bluesy version of Horses was so much different than the original but also wonderful.. and God had so much more power with the band behind her.. i was a little sad when i happened to see the set list as i was walking out and noticed that she was supposed to do Mother also for the 2nd encore.. i would've liked to hear that.. i'm just glad i got to meet her for the first time.. it's a day i'll never forget..

From Justin John
April 23, 1998 - I saw Tori last night at the 9:30 club and it was amazing. Actually I don't think any words exist that can possibly describe what it was. Since you already have the set list I won't include again, but I'll just say a little something about the songs and stuff. I got to the club at about 3:30pm (I would've gotten there sooner, but I had to go to school). When I got there I just got in line to wait to get into the club. Sometime before 5 or so, Tori came out of her bus to sign some autographs and stuff. I got some pictures and got her to sign my May issue of Q magazine. I was shocked when she first came out, I couldn't believe it was actually her. I couldn't get up close enough with the crowd, so as soon as I got my autograph I left to go get back in line. A little while before they let us in the club some people handed out various promotional iteams. I got a little book that has all the lyrics to all of her new songs in it and other people got posters. On the way out of the show I got a lot of postcards too, because they just kept giving them to you. As soon as I got into the club I got a T-shirt and went to find a good spot, which ended up being about 4 people from the front of the stage. I had to stand up until 10pm when Tori finally went on, but it was well worth the wait because I was so close and had an awesome view. David Poe was alright, but I'll just go straight into Tori.
The lights went down and various colored lights started flashing and her band started playing and then came Tori. Black-dove (january) was so beautiful as well as the rest of the songs, but it had a lasting impression in my mind that I can't really describe. Iieee was another great song with a great beat that Tori just can't seem to sit still too, but quite alright by me because I couldn't either. Tear in your Hand was so awesome with a full band, it gave it another dimension as well as it did with Precious Things. As soon as Precious Things ended there was about a 3 second pause when everyone was just in awe that it seemed we almost forgot to clap. Liquid diamonds was another groovey song that I really liked. Jackie's strength was so beautiful that by the end of the song and couldn't even clap I just stood there staring at her. After Playboy Mommy it was "secret time" and the band left us with just Tori and Upside Down. Very gorgeous and breathtaking. Icicle was one of my favorites of the night. In the middle of the song Tori told us her story of playing bars and asked us to sing along with her starting at "when my hand touches myself..." Putting the Damage On was so beautiful and with the band playing behind her it was even better. Spark was great and very powerful. Cruel was one of those songs that you couldn't keep still to, especially Tori. At times it looke like she didn't know what to do with her hands, so all she could do was grap her microphone and sing. The Waitress was another favorite of the evening. With the band it was so awesome and it got all the power it was hungry for. Tori left the stage and came back on to do her first encore. She did any groovey number which was She's your cocaine and then the lights came down and the mirror balls turned on to do a new version of Horses with the band. Tori left once again and returned once again to do her second and final encore which was God. With a band this song got so much more to it and you just couldn't help but to move with it. Tori exited the stage and everyone exited the building to go to the back and try to get some more pictures and autographs, but I had mine so I decided to just go home and live in my mmemories of the show.

From Heidi
April 23, 1998 - Mike, first of all I just wanted to let you know that you are incredibly awesome to have the dent up-to-date, with the set list when I arrived home at 12:46 from the Tori concert. I scribbled the set list on my arm during the show and Tori was pretty good at letting us know what song was coming up and when.
Doors opened at 6:30, but I was pretty far back in line that I probably didn't get into 7:30. It didn't matter because nothing happened on the stage until about 8:30 or so. David Poe the opening act was okay, but nothing spectacular. The lighting design for him was rather boring, just blue.
He got off the stage around 9:15 or so, and we presumed that Tori would come on soon after. People kept walking on and off the stage, cleaning the piano, the keyboard, the guitar. The audience below (I was in the balcony) kept chanting Tori Tori! but it wasn't until 10 that she appeared. And of course, it was worth it!
Black-Dove (January) I am very much looking forward to this song on the album. I really liked the lyrics which fit musically with the piece. She didn't have any bizarre segways or anything..
iieee- this was the one song that I couldn't figure out what it was.
Tear in Your Hand- The audience went absolutely wild when she started this song, because as you can imagine, it was the first one that EVERYONE knew. Tori started to get really into the concert. This was different than the album version in that it sounded more synthesized and electronic. And the part of the song where Tori actually sang, Tear in your hand- she reached out ot the audience as if to grab something then pulled it close to her heart. Very effective.
Precious Things- Easily the best song of the night! Absolutely incredible, everyone knew the lyrics, some tried to sing along... but Tori just impressed everyone so much that most people could only stare at the stage. She repeated the lines "those christian boys, those beautiful boys" over and over and over again, very haunting. She also repeated "let me bleed" she was violently banging on the piano and her voice was raspy... the added electric guitar and drums also made the song more vibrant... it was amazing that Tori could be heard. The lights would flash from green, to white and dark. The white made the entire club look well lit (9:30 club is pretty small)... She even held the "girl"... unbelievable. Plus, Tori's hair was sticking to her, which means she was sweating- this describes the intensity of this song.
Liquid Diamonds- She had a quick little narrative intro to this song, and then was going to start, but the drummer didn't know what song she was talking about. It was amusing. The song was okay (I don't think it could possibly look good after the unbelievable Precious Things)
Jackie's Strength- Is a song more reminiscent of pre-Band tori like Winter, or Pretty Good Year. Mostly Piano, beautiful lyrics. Tori said she wrote this song when she got lost on her wedding day. Imagine that.
Playboy Mommy- I was busy trying to understand the lyrics.
Upside Down- By this time the audience was kind of tiring because she played three songs that none of us knew. And while Playboy Mommy was okay, it did not draw a strong reaction. The band left and so Tori said, "Okay, this one I think you guys know" It was upside down. I screamed when I realized this. A really girly shriek. In anycase, out of all the songs that she played, her voice was most clear and crystal (like Streisand or something) in this song. I was really impressed. She let the audience sing along for a bit of the song.
Icicle- Another hit of the evening. When it first started, no one knew exactly what it was, but as soon as people realized (one by one) they were screaming. She started the "Icicle, Icicle" in a really really deep voice. Now this song was great because in the middle she said something like "I could never sing this verse before, and so I need you to sing along." So we all did. The majority of the 9:30 club "And when my hand touches myself I can finally rest my hand and when they say take of his body, I think I'll take from mine instead..." Tori ended real soft at this part, and everyone screamed. Then she continued the song.
Putting the Damage On- Tori brought the band back for this song. It was odd version because it was really heavy in electric guitar and on the album its a rather simple smooth piano part. It sounded very jagged. Peculiar.
Spark- This song was made for the band. It is "their" song. They all played really in sync, with Tori cueing them, and Steve Caton strumming all over his little corner of the stage. She just used one microphone for this. I think I like the distorted mic better because she sounds more hurt and distraught. It was still good, I saw a couple crying.
Cruel- This is a great song off the new album. Her voice goes all (all) over the place.
The Waitress- The intro lasted for about 1 and half minutes. I kept turning to my friend going- do you know what song this is? what is this? It was much more intense on stage than in the album. Tori would perch herself high on her stool so her mouth hovered above the microphone so that it looked like she was going to swallow it when she said, "I believe in peace, bitch"
Tori then left the stage waving good bye
But she came back
She's your cocaine- Interesting song, interesting lyrics
Horses- with the full band. It was electrified. Very dark, very jagged. The innocense was lost (when I think of horses, I always think she sounded like a little girl, now I think she sounded like a mid-twenties depressed cigarette-smoking welcome to reality woman.) It had new meaning.
She left again. She shook hands with a lot of people she waved good bye she received flowers
She came back
God- At this point everyone was screaming songs because EVERYONE knew that this was going to end soon. Cornflake Girl, China, Leather, are just a few... but she started playing with the band... and it took us a second (they slightly changed the intro) but we recognized it. This song also showed how well they worked together as a band. Tori was cueing them with her head. She would also do this little Micheal Jackson hand motion to cue Caton or the drummer. It was a very energetic end.
I am very excited about this concert and the one this summer...so is Tori apparently. She is having a lot of fun on these tours. The band thing is working out well, I just wish she could play more songs, and perform more piano pieces like SATY, winter, baker,baker, or doughnut song.

From Richard Handal (to various Tori mailing lists)
April 23, 1998 - Okay. I saw the D.C. 9:30 Club show. It was a great deal of fun, and there was much good music to be had. I won't say it was the best Tori show I ever saw because it wasn't even close to that, but it might have been the most joyous and most purely *fun* show I ever saw! Those people were all having a grand old time onstage playing that stuff. Tori was smiling nearly the entire time, and the others in the band were pretty loose during the majority of the concert.
I think I can pretty well sum up my feelings about this show by referring to a conversation I had with Mark after it ended. I told him it was interesting to me how the newer songs translate the best to the live band format--especially in terms of the music reaching greater depth. Those songs were created with a band, and the older ones weren't. So, while the band arrangement of Precious Things is rather spectacular in a lot of ways, Tear In Your Hand is less so, and the newer songs as a rule far outshine the older ones she plays with the band.
I don't think he'll mind my revealing that I asked how much they had rehearsed for this tour, and he told me SEVEN DAYS! I was astounded, because for the DDI tour with only her and Caton, they had *ten* days of rehearsal. I asked him if they were rehearsing on the days in between shows and he told me they were not! She is *really* whipping those guys into shape with little preparation time. I'm impressed. And I stand by my views that these are some seriously talented players of exactly the type she needs with her, and given a bit more time on the road with them it's gonna be truly astounding.
I don't really have time to give a full review of this show right now, although I took copious notes, but I saw the excellent music writer for the Post Richard Harrington at the show, so I expect a review in the Washington Post one day soon. I also saw the Baltimore Sun's music writer J.D. Considine, but I'm extremely doubtful he was writing anything as a result. He may have a major interview piece out soon as he usually does for a Tori album, so we'll have to keep a lookout for that. Likely a Sunday near the album's release date.
I do want to say that I had a hell of a great time. Lots of fun, many laughs, and a lot of good music--and some good people. The crowd was fairly relaxed and Tori stretched out as a result. The tempi of some of the songs was surprisingly slow to me.

From Matt
April 23, 1998 - i was at the dc show last night and i can only say this woman has the power to kill me, it was just sooo intense and she was just having the time of her life...
we started off on the floor before the show started but then i got worried and we ended up on the balcony with a perfect view of everything.
the other day my friend said that even though we love her music and her so much sometimes we forget that she is really an absolute genious and prodigy in her music...that woman was sitting on her bench playing two instruments at the same time! and there was sooo much amusin interaction between her and the band.... tori would mosty be staring at caton but she would occasionally look back to the drummer and the bass player, she looked like some strange mother looking over her children.
When she did precious things, i was on the floor, it was almost too much. she took an already powerful song and just rocked out(for lack of a better word) near the end she just went off, shaking her head so violently and screaming something in the microphone, i could barely control my emotions
Iiee......tori was just oozing with sex at this point....she had the background vocals programed on that keyboard and she would be playing and then reach back and start them up...if you have not heard this song yet, it is amazing, especially the weird background vocals....
i have got to get to work but i must say every bit of the concert was amazing, she was in amazing form. SHe took every song and just made it ten times better, Icicle was beautiful and we all sang along in a glorious daze.....The waitress was just beyond belief.....
We waitd after the show and i got her autograph.....but she was moving past me and i needed to give her something other than the postcards everyone was handing her so i, grabbed in my pocket and i ment to get a one dollar bill but it turned out to be a five, but it did catch her attention, she kinda looked at me oddly but i said it was the only thing i had and then she gladly signed it....it was rather amusing....
okay well i must go but i might have mre to add later, like how amazing the new songs are.....lawdy lawdy!

From Tom Hargett
April 23, 1998 - I just got home from the "plugged" stop at Washington D.C. and it was truely a night to remember. I got there just before 3pm. And was not too far back in line. They set up the baracades about an hour before Tori arrived. David Poe arrived in a regulsr car about a half hour later and went in saying hi to a couple people. I figured he was the opening act but no one really seemed to know who he was. After waitng what seemed forever Tori's big blue bus finally arrived after 4 o'clock. Once her bus backed in the alley her security guard came out and had them close the bars to block the alley. He explained that noone moved until he said so and to follow the directions or Tori would not come out. Then he told us to slowly walk up. Since i was at the edge of the outer part, i was about second row back from the front. After about 5 min. Tori finally came out and everyone went ballistic. I started taking pictures of her as soon as she stepped of the bud. I couldn't believe she was so close to us! She greated just about everyone there making eye contact, asking names and saying hi. Once she made it to were I was standind I thought I was going to faint, having never met her before. I handed her the dozen roses i had bought her and she said "Wow, thank you so much." She then asked me my name, I said Tom, then she said, "Hi Tom how are you doing?" I then asked her to sign my 96 tour book next to her parents signatures. I couldn't get my picture taken with her because they wouldn't let me move forward, but she did hold my hand for a second, and that was just as good.
Once I was in line I was right by the alley, so I talked to one of the bouncers and i was also able to hear her sound check. i couldn't make out all the songs, but I could hear "iieee," "god," and "spark." I went up to the balcony to see the show. I'm glad i did because i could see her 100% of the time. What an awsome performance, to say the least! I thought that the band was good and it really added a whole new definition to her music.
Black Dove(January)
A slower sad song, very pretty. The part were she sings "but i have to get to texas..." really got loud like kind of rock style and the lights went crazy. That was something really different in this tourfrom the others. The lights really were spectacular through all the songs, alot of different techniques.
iieee
This was a really cool song to. It was kind of hard to make out all the lyrics becuase it was so loud, but really good.
Tear In Your Hand
This has turned into a kind of song that you either picture yourself sitting out in a field relaxing with the wind blowing of it makes you wanna bend your knees and shake your butt. With the band playing it adds an almost kind of a bluesy jazz kind of rythem.
Precious Thing
Nothing other to say than Holy Sh#@! The music spectacular. Her singing spectacular. The lights got about as bright as they could get! Even with the band had the gggggggggggrrrrrrrrrrrrrrrrrrrrrrrr and towards the end she got so wild shaking her head and her body it looked like she was having a seizure. She also added a new part into the end of this song as well.
Liquid Diamonds
A very different kind of sound. Extremely hard to hear any of the lyrics. But still was very good.
Jackie's Strength
Before she began this she kinda explained this song (about her wedding and having to constantly go to the bathroom) and how it (this person) helped her. She started playing after a minute then had signaled Matt to start but nothing happened. She explained to us that they are still new at this and she had thrown that in and changed the cue to start the song. after that she started again and it went fine. this song is very pretty and sad but different from the other slow songs.
Playboy Mommy
Everytime I hear this it gets sadder and sadder each time, but it is still one of my favorites. This was pretty much the same as the album version.
*THE BAND LEAVES, TORI ANNOUNCES IT'S SECRET TIME*
Upside Down
You can certainly tell that since we last saw her everything about her has improved! This was truely an outstanding performance. it was definately the regular version, but so much more incorporated into it.
Icicle
She stopped half way through this song (singing, she kept playing) and told how she used to play the bar down the street and she knew they never would have let her play this, so she turned it into a sing-a-long.
Putting the Damage On
The band had returned but Tori was playing this by herself on the piano. The band did finally join in one by one with a marching band type of rythem.
Spark
Someone had screamed outside that they loved her on Letterman. She had responded well honey, you ain't seen nothing yet. This was soooooo good! No distortion mic. Switching from keyboard to piano, then using both, which actually, she was playing both at the same time in different parts of songs for all but about two of them. Once you see her do this you have a whole new meaning of Tori the Goddess.
Cruel
Hardly any piano, alot of dancing, which she also did pretty much every chance she got when she wasn't playing a note (through the whole show). Another one of my top favorite to the new album, it has a really driving rythm.
Waitress
Wow, wow, wow, wow, wow. The band and Tori doing this, WOW! IT seems that Matt Chamberlin is really felling the music on the drums as the piano works in. It was like Tori hand an extension of her body which was the drums. this also had an extra part hooked into this as well. it's like you don't even recognize the older songs with this band kicked in. (in a good way!)
1st Encore
She's Your Cocaine
She came back and annoced that it was time to rock and the place did. This is a real wild song. You wanna dance to it but it's more like a rock dance. Not the raspberry Swirl type.
Horses
She has changed this song so much. With the band lines taken out lines put in. I can't remember all of the but she did say some over and over again. They had the disco bulbs going and the rest of the lights off, so if you stared at her and concentrated on her head it blocked out everything else and it looked like you were under the sea with all thses little white dots floating around you.
2nd Encore
God
Very impressive with the band and not the tapes! She added a line right near the end, "Jesus, you dropped the bible on me" she repeated this over and over before returning to the original chorus. it is almost like it is a total different song she has come in to add help to her other friends then they leave and let her continue on. Outstanding Amazing, I know I keep saying that but there is nothing else I can say to describe this night!

From Richard Handal
April 23, 1998 - Richard was kind enough to call me after the show. He was the first to give me the set list above and a few comments on the show, which I list below:
The opening act, David Poe, played from 8:44 to 9:20PM.
Tori played from 10:04PM to 11:42PM.
Tori and the band are REALLY having a GREAT time on this tour. On the new songs they are really starting to JAM together and use group-think and visual communication while playing. The older songs do not lend themselves to the band quite as easily.
After the second song Tori introduced the band and mentioned the famous DJs from WHFS, Bob Waugh and Johnny Riggs.
Jon Evans does not use a cello during part of the show. He uses a stand up bass.
During several songs Tori would do like a mini "Cornflake Girl dance" while writhing on her piano bench with her arms intertwined.
Before singing "She's Your Cocaine," Tori said, "We're having a rock crisis."