Elisa Strachan, Lucy, Julie and Missy sent me the following review of Tori's November 27, 2002 Chicago, IL concert from the November 30, 2002 edition of the Chicago Tribune. You can read it below or at Metromix.com. Elisa also scanned for me a live photo of Tori from the show that was printed along with the review. You can see that scan below.
Amos looks soft, but plays rough
By Greg Kot, Tribune rock critic.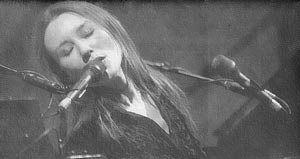 Tori Amos doesn't stride on stage so much as breeze onto it, all flowing sleeves and cascading auburn hair. Her voice can trill and whisper breathlessly with the airiest of femme fatales. If she had floated off her piano bench Wednesday at the Chicago Theatre, her audience might not have noticed anything that out of the ordinary.
But Amos has a steely resolve beneath the chiffon and rouge surface. Her songs may sound poetic and frilly, but they address big subjects -- religion, sex, death, patriarchy -- with sometimes shocking directness. Though her songs have been described as proto-feminist, she enjoys playing with issues of gender, straddling the piano bench and tossing her hair like she's studied every frame of Led Zeppelin's quasi-mystical concert film "The Song Remains the Same." She looks soft, but she plays rough. It's all fascinating subtext for people who still believe in rock stars. Amos is one, not by repeating the conventions of Plant's golden-god era, but by subverting them. She emphasizes her quirks: audibly drinking in big gulps of air between verses. She talks out loud to the would-be authority figures in her life: God, her preacher father, some poor discarded ex-boyfriend. And she can play that piano.
For all the mystic baggage thrust on Amos over the years, what's often ignored is her prodigious musicality. In the first of two Chicago Theatre concerts this week, she settled in behind her grand piano to create a dual-voiced persona. Even when she spoke off-the-cuff to the audience between songs, she did so at the keyboard, improvising over a drizzle of piano notes, turning her patter into a song.
Her style is rooted in the flowing melodicism of classical music, rather than the chord-based vamps of the blues or the bright riffs of pop. Her long double-fisted lines provide an undulating foundation for her words, which are so effusive they suggest a stream-of-consciousness monologue rather than a carefully edited example of songcraft. The advantage of this approach is a sense of in-the-moment spontaneity; its primary drawback is that a lot of Amos' songs can sound awfully similar.
Those strengths and weaknesses were both apparent as Amos devoted about half the two-hour show to her latest album, "Scarlet's Walk." The songs tell the tale of a thinly veiled alter-ego, Scarlet, as she journeys across America, a combination road movie, children's fairy tale and political commentary. The stage was decorated with interstate highway signs, but the route markers on this interior journey were psychological; as usual, Amos' characters are on a mission of self-discovery. She was not alone: bassist Jon Evans and drummer Matt Chamberlain have become valuable foils. Their job is to engage Amos in musical conversation, and Chamberlain alternated precise patterns with dexterous fills, while Evans danced up and down the fret board, shadowing Amos' unfurling piano lines.
The interplay among the three musicians emphasized Amos' debt to the progressive rock of the early '70s, from the quirky arrangements to the dynamic musicianship, particularly when Amos' breathtakingly aggressive piano solo went sprinting with Evans' bass on "Cornflake Girl." Not everything worked so well. The trio turned the voluptuous contours of "A Sorta Fairytale" into arena-rock, with lights beaming into the audience and Amos' voice soaked in reverb; it was all too shrill, as the singer struggled to convey intimacy amid the bombast.
The show found its equilibrium during a three-song solo set highlighted by Amos' reading of "Jackie's Strength"; on record it is lifted by an extraordinary string arrangement and grounded by precise guitar riffs. The singer compensated for those missing adornments with her orchestral piano work, and honed in on lyrics that meditate on loss, childhood and spiritual exhaustion ("feeling old by 21").
In these moments, the performer wrestles with the central issues in her music: how to convey vulnerability without appearing weak, compassion without becoming a pushover, aggression without becoming just one of the boys. She hasn't got those issues completely figured out, which is why her music can seem unrealized and indulgent to outsiders. But as she exited the stage, gently touching fingertips with clusters of out-stretched hands, the singer heard from her fans. For them, Amos sitting at the piano working out her life is exactly why they keep coming back.