Laura Heywood and Pixie told me about a 2001 Tori Amos calendar that is for sale and has also been seen on eBay. It is for sale at the Cathy Sue zShop on Amazon.com. This is a calendar imported from England. Most of the photos used for this calendar are very common, but some may still find this to be an interesting item. You can see a scan of the calendar below. Click it to see it much larger. Previous calendars like this were put by Oliver Books and were unofficial products. This is likely the same.
You can purchase this calendar at calendarusa.com as well.
You can also order this calendar from the Push Posters web site, which is in the U.K. Thanks to Danny for telling me.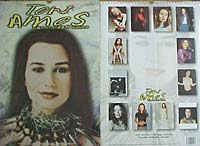 Click to see larger