Tori Amos and BT - Blue Skies

Updated August 13, 2000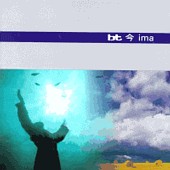 Tori is the featured vocalist on a song by BT called Blue Skies. BT (Brian Transeau) is a remixer/producer who helped Tori remix Talula. BT's full length album called "IMA" (featuring Tori Amos) was released on November 5, 1996 in the US (and the cover is shown to the right). It is a double-disc set. The second disc contains Blue Skies and a remix of Blue Skies called "the delphinium days mix" plus a few other songs. According to the sticker on the front of 'IMA', the disc with 'Blue Skies' is a bonus disc. That's why the disc is priced like a single CD. In the liner notes for the album, BT say Tori's vocals for 'Blue Skies' were recorded somewhere in mid-America during one of her soundchecks. There is a video for Blue Skies, but it is my understanding that Tori does not appear in it.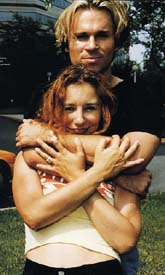 It appears that things are a bit different in Europe. This is a guess from the information I have so far. I think BT has already released an album called IMA in Europe that does not contain Blue Skies. The European versions of the Blue Skies Singles (shown below) mention that Blue Skies will appear on a BT album called ESCM in the U.K.
Blue Skies also appeared on the Party Of Five Soundtrack, released in the States November 12, 1996.
There is a 2 part European CD single of Blue Skies that was available from Europe. It was released in October 1996. The track listing and cover of one of the CDs follows. The other one has a similar cover, but it is gray: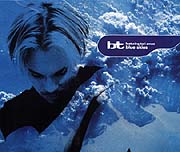 PERF130CD1
01. Radio Edit 03:49
02. Delphinium Days 11:46
03. Paul Van Dyk's Erinnern Indigo Mix 08:11
04. Paul Van Dyk's Blauer Himmel Mix 08:00
05. Robbers of Antiquity Alien Disco Mix 08:02
PERF130CD2
01. Radio Edit 03:49
02. Rabbit In The Moon's Phathomless Mix 10:14
03. Deep Dish Blue Phunk Mix 08:55
04. Deep Dish Blue Phunk Dub 04:55
05. BT's Liquid Oxygen Dub 09:06
There is also a 12" vinyl, with three mixes, but these mixes are on the CD singles I believe.
Tori and BT have a short article in the October 1996 issue of the British publication The Face. Actually, it is in the section of the magazine called HYPE on pages 32-33. It talks about the relationship that Tori has with Brian "BT" Transeau. The cover of the October issue shows Lauryn Hill of the Fugees. Tori says in the article, "I feel like Brian and I are married. Yet we can still have husbands and wives." The article also reveals that the lyrics to Blue Skies (which are very hard to make out by the way) were ad-libbed and created by Tori. The photo above with Tori and BT is from this magazine.
At one time you could read The Face article at Greg Burell's T.O.R.I. web site. That site is down for now, so if anyone has it, please send it to me so I can place it on the Dent myself.
Don't forget to read the article on BT that appeared November 1996 in Billboard Magazine.
Go To The BT Web Site at btmusic.com



Please give me feedback, comments, or suggestions about my site. Email me (Michael Whitehead) at mikewhy@iglou.com