Tori has had several Asian recording artists cover her material. I summarize the ones I know about below. I have information about covers from the artists Sun Yan Zi (Stephanie Sun), Faye Wong and Valen Hsu.

Sun Yan Zi (Stephanie Sun) - Cover Of Silent All These Years

Sun Yan Zi's cover of "Silent All These Years" appears on the album "Start" which was released on January 5, 2002 by Warner Music Taiwan. (You can see the album's cover to the right.) This cover of SATY is sung in English, and so the lyrics are the same as the original.
April 2002 Update: Yanzi's cover of "Silent All These Years" is burning up the charts in Singapore! Toriphile Mark tells me that the cover was #1 on Singapore top ten chart for two weeks in a row before it dropped to #6. (I am not sure of the exact name of the chart or the exact weeks it was #1.). The song is getting a ton of airplay on mainstream radio in Singapore.
Woj found RealAudio streams of 2 versions of the cover at the Warner Music Taiwan web site. Listen to the cover and see what you think!
Sun Yan Zi's name does not translate to Stephanie. She is simply using that English name for those in the West because it is easier to pronounce. (Thanks Prince Adam.)
Here is additional information from Anchovies: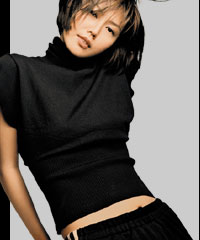 I want to let you know that there is a new cover version of Silent All These Years out in Taiwan. It's done by Singaoprean pop singer Yanzi Sun (or Stephanie Sun), and is released on Warner Music Taiwan. Yanzi Sun is one of the brightest stars that has emerged in the Chinese pop scene in recent years. Born and educated in Singapore, she began her singing career in Taiwan in 2000. With her girl-next-door charms, sweet smile and a distinctive voice that made her stand out among a crop of teen idols, Yanzi gained herself immense popularity in no time. In the past two years she has released three albums and one live concert cd, appeared in numerous commercials, and established a devoted fanbase in Taiwan, Hong Kong, China, Malaysia, and her native Singapore. Her fourth album, titled "Start," was out a few days [January 5, 2002] ago in Taiwan. In this album Yanzi goes back to her roots and covers songs that have meant something special or played a memorable role in her life. The songs include: the Beatles' Hey Jude, Patti Smyth's Sometimes Love Just Ain't Enough, Alanis Morissette's That I Would Be Good, and Silent All These Years, with Silent All These Years being the first promoted track. Already somewhat familiarized with the song earlier by Faye Wong's cover versions in Mandarin and Cantonese, the Chinese audience now has the pleasure to hear another version, with the original lyrics and a different arrangement. The track, currently on heavy rotation on radio and TV, has stirred up quite a bit of interest and discussion - on the track itself as well as on Tori's original . I am happy to see that Tori's music is reaching more and more people in this part of the world through Yanzi's cover, and I hope those who like the song will appreciate Tori's other works also and turn into ears with feet!

For now, you can find out about Sun Yan Zi (I have seen her name listed as Yanzi Sun as some sites) at sunyanzi.has.it or www.yanziunlimited.f2s.com. You can also find out more about Yanzi at the www.warnermusic.com.tw, however that site is in Chinese.
Thanks to Anchovies, Prince Adam, Alyssa from Taiwan and siew for telling me about this and for some corrections.

Faye Wong - Cover Of Silent All These Years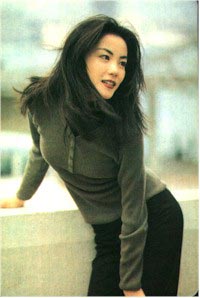 In 1993, Chinese singer Faye Wong did a cover of Tori's Silent All These Years on her album called "Hundred Thousand Whys." (The album is in the Cantonese dialect of Chinese and the album title is translated to English.) The album was released in September 1993. The SATY cover has the translated title "Cold War" and has different lyrics. The translated lyrics are below. You can also read them on this web page. You can get a list of many Faye Wong links at Yahoo.com. Faye Wong is a huge star in Asia!
You can now download a MP3 File of this song from my idrive, located at:
http://www.idrive.com/mikewhy67/files/Shared
Thanks to Anchovies and Tim Ponce for providing me with the Faye Wong Mp3!.
You can also download a wav sound clip from this cover at the Heather and her Flame-Haired Faeries web page.

bluebeardtoxic told me about 2 different sites for Faye Wong that take a closer look at the covers she has done over the years, including the Tori cover. Check out the Underneath All Currents Faye Wong web site. There is a scandal section which compares artwork and photos of Faye Wong to the artwork and photos of the people she has covered, including Tori. The audio section allows you to vote on which version of the covers you like the best, the original or the one done by Faye Wong. You can also download "Cold War" from this site, as well as some of the other covers Faye Wong has recorded. You can also find some of this information at this Faye Wong web site as well.

Alice wrote me and says, "I thought you'd like to note that Faye Wong also did a Mandarin cover of "Silent All These Years" on her album "Mystery." (I think this was released a year or so after "100,000 Whys.") The song is also called "Cold War," but the lyrics are most likely different." This fact was verified by Marla (tiara). If anyone has additional details on this different version, let me know.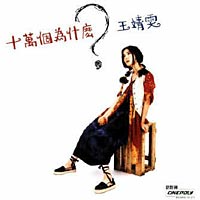 Cold War - Faye Wong
(From the album "Hundred Thousand Whys, pictured to the right. Composed by Tori Amos, Cantonese lyrics by Lin Xi, translated to English by Jone)
How do I know that I'm really holding you tight in the silence?
Like touching a cloud of unpredictable air.
Seeing numerous of questions have been kissed away by you silently.
I only deceive myself.
I never dare and mean to disclose the truth.
It's saying that you've been loving with that silent-film artist.
I also learn from the others to do my performance quietly, unwilling to
depart.

*Be together without a single word, seems like we've a compromise,
never start a naive argument.
But the facial expressions, our facial expressions tell secretly it's a
cold war*

How many years? Facing each other and said nothing.

#Rumours are surrounding me like the wind.
I never listen to, never tell and think about it.
Afraid of exposing some embarrassing evidence accidentally .
How to deal with?
Stepping on the sounds from my heart in the silence.
Turn to be the funniest silent-film actress with no complaints.
Always act as your lonely lover quietly,
don't care about who you're thinking of.#

Repeat *

How many years, until now, I love you and you love me too.
I've heard of you in this way in the past.
There have been break-ups, hatreds, sorrows, hurt and changes.
But you and me are ever afraid of telling the truth.
Cold war, cold war and cold war again.
I'm doing wrong and wrong again but I fell in love with this mistake.
To blame you, unmask you and give up, will it let me feel better?

Repeat #

Be together without a single word, seems like we've a compromise,
never start a naive argument.
But the facial expressions, even tho' the facial expressions seem like
we've got
nothing to say, nothing to say, nothing to say as in a cold war.
How many year? Facing each other and said nothing.
Seems like so many years, wish to love but have forgotten the words.
Wish to love but have forgotten the words.
Let you passing-by in front of me.

Lauren sent me the following on the Mandarin Chinese version of this song:
I've done the best I can at translating the lyrics of Faye Wong's Mandarin version of Cold War/Silent All These Years. I don't know chinese too far beyond "hello, how are you", but thanks to those wonderful folks at www.zhongwen.com I could plug the characters into a dictionary and see what it meant. It makes SOME sense... but it's kinda weird. But yes, it IS different from the Cantonese version.

COLD WAR - Mandarin Chinese version Silence is around, still not asking to breathe
Fear touched evil emotional air
For you, kept remembering the question marks
Waiting for you to stop kissing, my darling
Decieving oneself

Follow no plans, cannot bear to see through your heart
Heard you and I should be friends together
I also learn others silently watch the play of two parts
And unwilling to separate

Next to silence without words
Happy thinking of you, I wake early like promised
Must never immaturely guess
But mutual expressions, cold expressions coldly explain cold war continuing
How many years? Love you and hate you. (How many years? Wanting to be treated like ice)

Stylish words generally flow, half still there, fly here, fly there
No, don't listen, don't ask, don't want any doubt
Fear will not make power
Length of time is evidence of heaven's length
What about you?

Not too many emotions, don't ask you, but can't help but respond
Not deliberately forcing, wanting to urge you to stay, no harm in abandoning
Always whole-heartedly lonely, you pretend
Disregarding consent, unwilling

I love you, you also love me, this one promise now, you watch, she promises
Depending on meaningless mistakes, exceed harm, exceed pain
A mistake; I lost, you only waste away
Cold war, then cold war, again cold war
Going to mess up, already messed up
Love, what counts for mistakes?
Accompany you, obey you, condone you
What will make you turn around?

Opposite silently without words
Happy thinking of you, I exist early like promised
Eternally mustn't immaturely guess
But cold cold expressions, cold cold expressions
Have no speech, have no speech, have no speech
Clearly cold

How many years? Against disaster we love
After all, how many years? Unfortunate and pitiful
Unfortunate and pitiful
Offering to leave before your eyes
Valen Hsu - Covers Of Winter and China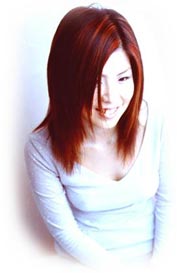 Taiwanese singer Valen Hsu did covers of both Winter and China on her "Appease" album, which came out in June 1995. This album is in Mandarin Chinese, and they are not straight covers in terms of the lyrics. (Thanks to Ben Blanchard for help in gathering some of this info.)
The Valen Hsu Info page has details about this album. (The titles are not translated to English, however, you can see that the album includes a Kate Bush song as well!) You can see the album cover below.
I read somewhere on the web that Valen Hsu's favorite foreign artist is Tori Amos! You can get a list of Valen Hsu links at Yahoo.com.
You can now download MP3 Files of both Valen Hsu songs from my idrive, located at:
http://www.idrive.com/mikewhy67/files/Shared
Thanks to Anchovies and Iris Chen for providing me with the Valen Hsu Mp3s!.
Toriphile Woj stumbled across a web page which has very good quality realaudio-encoded songs by Valen Hsu at this web site. The Tori covers are tracks 1 ("Winter") and 6 ("China") on the album "Appease".

"Ingratiation" or "Please You" - Valen Hsu (to the tune of "Winter" by Tori Amos)
(Lyrics translated by Ben Blanchard)
Gradually I understand what it is to be constrained
And it is a kind of beautiful feeling
In any case all you can do is talk to yourself about what it is to feel insecure
The least you can do is like yourself

I cannot let out the slightest hint
To let you know that I have never been secure
I'm really scared about what kind of mood you will be in today
And that you will have some bad news for me again

(This kind of)
Trying to please you I just end up hurting myself
It is so pitiful that I am unable to say no
Trying to please you I am the one that gets hurt
Even the gentle touch of a woman has been abandoned
I only want to set your mind at rest And for that I am willing to be held prisoner by you
I am prepared to forget who I am

Gradually I understand what it is to be constrained
And it is a kind of beautiful emotion
In any case all you can do is talk to yourself about what it is to feel insecure
The least you can do is like yourself

I cannot let out the slightest hint
To let you know that I have never been secure
I'm really scared about what kind of mood you will be in today
And that you will have some bad news for me again

"Butterfly" - Valen Hsu (to the tune of "China" by Tori Amos)
(Lyrics translated by Ben Blanchard)
The butterfly, The butterfly will never fly again
When my heart finds a place it can snuggle up to
I get close to you in bed day and night
Although human beings are more fragile than flower stamens

Happiness Is such a dazzling torture
Like a flower When it opens I want to wither and fall
You leave me I'm totally OK about it
I don't care for how it will be

The butterfly The butterfly will never fly again
When I start having vivid dreams once more
I am completely unaware that I have given my all
Although I haven't got a clue who you are

Good fortune Is such a fragile thing to possess
Like a butterfly At its most beautiful I cannot but cry
You leave me I'm totally OK about it
I don't care for how it will be

The butterfly The butterfly will never fly again
When I start having vivid dreams once more
I am completely unaware that I have given my all
Although I haven't got a clue who you are
Good fortune Is such a fragile thing to possess
Like a butterfly At its most beautiful I cannot but cry
I don't care for how it will be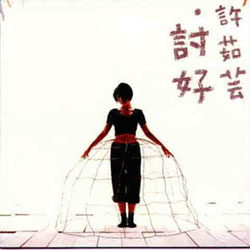 "Appease" album which contains both Tori covers