A new press release about the poetry book "Slam" and AlloyBooks was released on August 15, 2000. It mentions Tori. Read it below.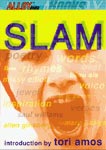 Tori wrote the introduction to a poetry compilation book called "Slam." The book is now available! (It was released in early August 2000, but some book stores got it in late July 2000.) You can see the cover to the right. The new paperback book is from AlloyBooks and Penguin Putnam Books for Young Readers and is 160 pages. The editor is Cecily von Ziegesar. It has an ISBN number of 0-14-130919-9.
You can find an entry for this book at Amazon.com.

Hear Tori recite poetry at Alloy.com

At Alloy.com, they have a section about the poetry book "Slam" at the AlloyBooks section of their web site. Once there you can actually hear Tori reciting some poetry using the "star poets" link. Click here to get to Alloy.com and then click on the link for "Slam." Thanks to Alli for telling me.

"Slam" poetry contest
This book and a poetry contest being held in conjunction with the release of "Slam" are detailed in a news item at MTV.com. The poetry contest does not involve Tori, but entries will be judged by Madonna and Macy Gray. For details about the poetry contest, go to Alloy.com. The contest is being held in two parts, with the first, Madonna-judged competition accepting submissions until the end of September 2000, and the second, Macy Gray-evaluated contest kicking off in October 2000.

Report and details about the Book "Slam"
I have a late July 2000 report from Toriphile Hope Hilton, who works in a book store and received this book. She sent me an email and shares Tori's introduction with us. You can read it below, but please consider purchasing this worthwhile book if you can! It only costs around $5.00. You can also see the Tori photo that is in the book. Thanks to Hope for the scan as well. Here is what Hope sent me:

Just wanted to let you know the Slam poetry compilation with the Tori quote is out. I work at a bookstore and just unpacked it!!! I am a big fan of your site and appreciate all of the hard work you put into bringing us Tori info. Her foreword is on page 5 and on page 4 is a photo of her from the Venus album photo shoot...Well, here's the quote:

"If we could express ourselves another way, we wouldn't be writers. I think we write songs or poems because we don't express ourselves exactly the way we want to in our everyday lives.

When you write, you can be anybody or anything. Nobody controls what your relationship is in a song or who you are. And nobody owns it.

There are things in daily living that hide behind everybody's heart, and that's always fascinated me. I'm always trying to go behind the heart, to that place where the unconscious lives. I don't think it lives in the brain; I think it is behind the heart.

For me, when the songs start to come, they show me different ways of feeling and expressing, often in ways that surprise me. My music always comes in my darkest hour, and the music is always so giving. I have this picture of an endless well somewhere, I don't know where it is- in the star systems out there. And the more that I'm open to the music, the more that it keeps coming.

Sometimes, if you expose your writing to other people, some of them will try to dilute you- give your words or your music a nose job or a little bow tie. But I'm a small vineyard. And I'm not willing to sacrifice the way I make the wine to get into the supermarket. You know what I mean?"

Tori Amos
July 2000

I also found a quote from Tori on p.133 from Cloud on my tongue:

" I don't need much to keep me warm
Got a cloud sleeping on my tongue
he goes
then it goes
and kiss the violet's as they're waking up"

The bio in the back (p. 148) states:

"Tori Amos began singing and playing in her church choir. At the age of thirteen she gave up scholarship to study the piano at Baltimore's Peabody Conservatory so she could perform her own material in Washington, D.C. clubs. With the release of her 1992 debut album, Little Earthquakes, Amos built an intense and loyal following that continues to grow to this day."

Jonathan Matthews found another Tori mention in the "Slam" poetry book. Here is his report:
There is a third Tori mention in the "Slam" poetry book, that the other girl didn't report on (it's easy to miss). On page 92, just before the section "The Wild Ones," there's a Tori quote to lead off the section that reads :

"The real gold has always been the individual spirit..." - Tori Amos

Press Release about "Slam"
Fred Flores first alerted me to this project when a press release was placed on Yahoo!'s web site on February 28, 2000.
I found a newer press release about this on the Yahoo Web Site on August 15, 2000. The press release covered the creation of a new teen imprint called Alloy Books, formed by Alloy Online and Penguin Putnam Books. It mentions Tori. You can read the newer press release below:

Tuesday August 15, 7:59 am Eastern Time
Press Release
AlloyBooks Have Arrived! Teen Web Imprint Launches Initial Four Books in its 12-Book Deal
Madonna and Macy Gray to Judge Poetry Contests at Alloy.com
Portion of Proceeds Donated to Tori Amos' Non-Profit Organization, RAINN
NEW YORK--(BUSINESS WIRE)--Aug. 15, 2000-- Today, Alloy Online (Nasdaq:ALOY - news) launched its new teen book imprint, AlloyBooks(TM), in major online and offline bookstores and at its Web site at www.alloy.com.
The launch of the first four books of the 12-book program represents another powerful extension of the Alloy brand in the Generation Y space.
The 12 books in the initial AlloyBooks(TM) program are derived from user-generated content submitted to the most popular channels on the Alloy Web site (www.alloy.com). Focusing on poetry, beauty, dreams and advice, select Alloy visitors' writing will be showcased alongside the likes of Shakespeare, e.e. cummings and popular musicians such as Missy Elliott and Jewel.
"The AlloyBooks(TM) program provides another example of Alloy blending an online and offline approach to reach the teen audience and deliver content and commerce," commented Matthew Diamond, CEO and co-founder, Alloy Online. "This program expands Alloy's reach and brand identity in the Generation Y market while delivering a high margin revenue stream."
Alloy visitors will also be able to access fresh content and several online promotions at one of the four mini-Web sites based on the books. There will be poetry contests judged by Madonna and Macy Gray on the "Slam" site. Visitors to the "Advice" site can enter to win a "Win a Life Makeover," where Alloy's trauma team will enter a lucky teen's home and help them get their life in order for Back to School.
"Alloy was a natural selection as an outlet for Penguin Putnam to try and reach the most amount of young readers," commented Angus Killick, VP of Marketing at Penguin Putnam Books for Young Readers. "The content and quality of these books stems straight from the minds of the loyal Alloy users who were afforded the opportunity to be expressive. The creativity of Alloy's fan base and the celebrity participation have proven to be a unique formula in producing such a quality read."
Books include:
SLAM, a showcase of some of the best poems submitted to Alloy poetry contests as well as well-known poems by Emily Dickinson and W.H Auden, slam superstars Saul Williams and Beau Sia, and lyrics from songwriters Macy Gray, Ani DiFranco and Tom Waits. Lyricists such as Rob Thomas of Matchbox 20 and Missy Elliott offer up advice on freeing your mind and expressing yourself. The foreword is written by Tori Amos, with a portion of proceeds going towards Tori's non-profit group RAINN (www.rainn.org), which stands for Rape, Abuse & Incest National Network.

d.i.y. Beauty, Alloy's homespun guide to looking and feeling your best without going overboard or over budget. Beauty experts Karen Bressler and Susan Redstone craft a how-to guide offering a bevy of beauty facts and celebrity soundbites from Shirley Manson of Garbage, Olympic snowboarder Shannon Dunn, Mary J. Blige and Missy Elliott. Jennifer Lopez's personal makeup artist also makes a contribution.

My Mom Reads My Email, A Loser's Trying to Hook Up with Me, I Just Kissed My Best Friend's Boyfriend and My Life Basically Sucks...any advice? makes a point of offering the best, most sympathetic solutions to each and every embarrassing, horrifying, puzzling problem that enters into one's teenage world. Written by Tucker Shaw and Fiona Gibb, the expert trauma team at Alloy.com, this advice book tackles teen issues like high school popularity and dating your best friend's ex, along with serious concerns like eating disorders, drug abuse and suicide.

Have your teeth ever fallen out in your dreams? Well, you are not alone. Apparently it is the most common dream according to Tucker Shaw, Alloy editorial staff member and resident dream analyst. Exploring the unknown causes and hidden meanings of your dreams in his book Dreams, Tucker offers an authoritative guide to understanding what your dreams say about you with cool facts and insight from experts Freud and Carl Jung.
Stay tuned for the next round of AlloyBooks hitting stores in October, which includes: Spiritualized, a collection of personal essays, revealing details of teens ' individual spiritual journeys; and this book is about...sex, a teen's guide to sexuality today. The first two books in the ground-breaking fiction series "Have a Nice Life" will be released in January 2001. Slated for Summer 2001 is "How to be a Rock Star," which chronicles the lives of three bands, including the popular all-girl band "Kittie."
About Alloy Online
Alloy Online (Nasdaq:ALOY - news) is a leading Web-centric direct marketer providing community, content, commerce and entertainment to the 70 million teens known as Generation Y. In addition to its unique convergent media model that includes the Alloy.com Web site (www.alloy.com), its e-zine and Alloy print catalog, Alloy has further expanded its media presence through the establishment of Alloy Productions, AlloyBooks and Alloy Entertainment. With a database in excess of 5.5 million and reaching over 10 million teens per month, Alloy offers a unique blend of services which enable teens to shop, interact and explore content on a variety of topics including entertainment, sports, fashion, advice and auctions. Alloy has developed a wide-range of partnerships with premier companies including Kodak, Reebok, Sony, Clairol, Johnson & Johnson, and Penguin Putnam, Inc. On April 14, 2000, Liberty Digital, Inc., an Internet and interactive television investment company controlled by the Liberty Media Group unit of AT&T, acquired a 16.7% stake in Alloy Online. For further information regarding Alloy Online, please visit the company's Web site (www.alloy.com) and click on Investor Info or call the investor information line at 877-ALLOY-IR.