Tori did an in-store appearance at the Virgin Megastore at Union Square in New York on September 19, 2001. The event started at 6:00PM ET. In order to take part and get in for the in-store, you had to have a special VIP Pass. Tori stayed there reportedly from 6:00PM until Midnight signing stuff for fans and talking to them!
The event did take place and you can read some accounts of the event below

after the photos I have posted. The most recently added reports are toward the bottom of the page. If you have anything to add, please email me. I would also like more photos from the event if anyone has them.
Atlantic Records has commented on the Virgin signing on a news items on their web site. They state, "Unable to fly due to the tragedy of September 11, Tori had driven all the way from Florida earlier in the week to be in Union Square for an event that was almost cancelled, then rescheduled and put back on track. The line wrapped around the block and down the street, but even with the multitude of fans lining up, Tori took the time to chat with everyone, giving out hugs and signing CDs."

Photos
The Atlantic web site has several photos from Tori's recent signing at the Virgin megastore in New York - You can see one of them below.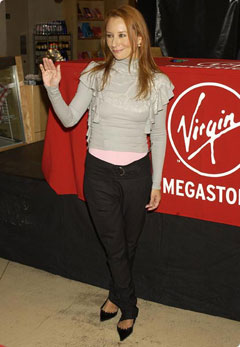 Photo posted to the Atlantic web site.
You can see a photo of the crowd outside waiting to see Tori at toriamos.com.
You can also see a photo of Tori at the signing at TVGuide.com. Thanks to John M Fernandes for telling me!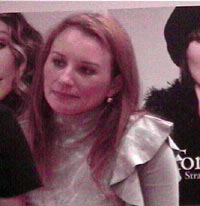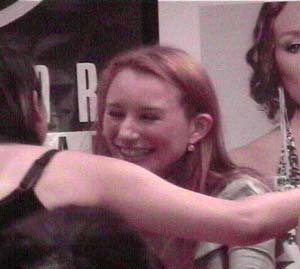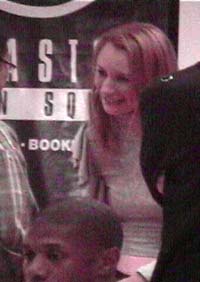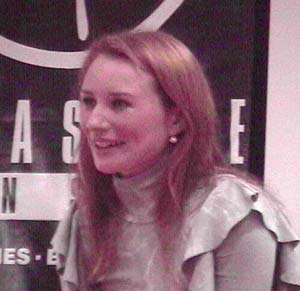 The four photos above from the in-store signing are from
Franklet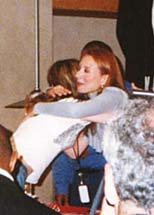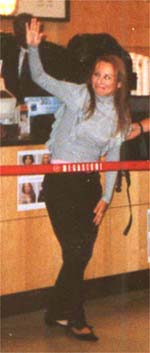 The two photos above from the in-store signing are from
Danielle

The two photos above from the in-store signing are from
Kristopher Kelly


Reports from people at the signing
From Melissa:
Tori is so caring! She met with every one and had a mini conversation with them before she signed their items. One person at a time went up to the stage where she was standing to meet us. One item per person and she gave a hug or a handshake. This was the very first time I was able to meet tori and it was wonderful! She is so beautiful and amazing to come all the way to meet us. The Virgin Megastore is right across from where the memorial is at Union Square. The city is covered with posters but every inch of Union square is covered with art, candles, posters and flowers. It's a very spiritual sight. After I met Tori I went across the street to place a piece of art and a candle. A beautiful night filled with tears all around.
One thing I forgot to mention and I didn't see any one else mention: There was a camera crew at the signing. There were cameras all over the area for other reasons. Someone said they were from the metro channel but I'm not sure They were interviewing people in the line about Tori and her new album. I have no idea when it will be aired or if it will be aired on the metro channel but thought you might like to know.

From danielle:
-there were WAY more than 200 people in line all with passes. it turned the corner and then went down the side street. we were 22nd&23rd in line and it took us 30 mins to get up to her. the sweet thing will probably be there until midnight.

-you could only take pictures while you were in line. when you got up to the front, you had to give them your camera.

-they let you come up on the little stage to talk to her. she stood and was behind a table

also my boyfriend had a very long conversation with her about her songs and the shapes of them. you can post this because i think it was a wonderful answer.

Me: Thanks Joel [Joel helps me up on the stage] Hi Tori

Joel: No problem

Tori: Hey buddy, how have you been?

Me: I've been good, thank you so much for doing this.

Tori: Awww It's no problem

Me: Tori, can I ask you a quick question?

Tori: Sure.

Me: I am a designer at an architecture firm, and I heard an interview with you when TVAB came out. I have been pondering it as I am designing my different projects. You were talking about the shape of the sound and the manipulation of that shape. My question is about the manipulation of that shape. Is the shape manipulated in a linear fashion as the song progresses, or does the shape of the song become somewhat of an object, like a Noguchi sculpture where all of the feelings and ideas are represented in one single expression.

Tori: [Begins to speak, but then pauses]

Me: [Mentally thinking, god she is pretty]

Tori: (this is the most accurate that I can remember) Well you have to put yourself inside of it, and when you are inside of it everything begins to change, it begins to take shape. No two things are the same, you have to set different rules for each song, and many times, the decisions you make, the choices that you make, where to put a wall where to put the structure you can see the blueprints, and it is always important to keep going back to the bloodlines and stay true . Does that make sense to you?

Me: Wow, actually it really does, that really does help. Thank You

Tori: Good, How do you spell your name again?

Me: S E A N

Tori: [Signs CD booklet for me]

Me: Thank you; see you at the New York Shows, good luck with everything

Tori: Oh good, see you then.

From Lindsay Williams:
I waited 4 and a half hours to see her, and it was worth every minute. She was so gracious, and full of smiles.

The staff at the store was strict--only 30 seconds each with her. But, it was still a wonderful experience. Again, gracious, happy, full of smiles.

From Keith:
I just came home from the virgin mega-store appearance and it was the most amazing time I've had in probably the last year. We arrived early, around 4pm and picked up our CD's. a line had all ready formed that stretched nearly all the way around the block, fortunately my sister had secured us a place up near the front :). So we were allowed to take pictures up until the stage area (I've attached a few digital images...I have much better ones coming but these were quick and handy), and I have to say their was no pushing or scrambling and considering the fact that there were 350 people there were no problems whatsoever. I also have to add that the atmosphere in the city was light considering the tragic events. Union square park is right across from the store and it is a sea of candles in honor of the WTC and thousands of posters are up for the missing. My sister was up first and Tori was so sweet to her. My sis started to cry a but and then looked at me and said to tori "this is my brother" Tori smiled and said "Hi Brother!" Needless to say Tori, my sister and I had a group hug!!! I had both of my favorite girls right there it was amazing. So then I was up and I said "thank-you for doing what you do" and she said something like "No thank you guys, New York has been through so much in the last week..." I then told her that I watched her perform on Letterman and that it was one of those performances that we put "in a little space inside our hearts and take it out later when we need it.." She looked so grateful when I said it that I all most started to cry. I gave her another hug and a kiss on the cheek and said thanks again....when we left it was said that she was staying until everyone got a chance to meet her because time went well over her 3 hours...
Look above for Keith's photo from the signing that he emailed to me!

From Susan (VenusFetish):
Hehe my angel gave me a free pass to see Tori at virgin today. It was great hanging with everyone and meeting up with friends. Hehe, I had a killer time (but my back was KILLING me). I took a crap load of pictures (oo and if I took a picture of you with Tori, email me at VenusFetish658@hotmail, I'll develop them tomorrow).

So here's how mine went (they started telling everyone to get up there, and get the thing signed and leave...only *10* seconds allowed):

I get up onto the stage thingy and meet Tori. I say hi and tell her I met her backstage at Jones Beach 99 and I was wearing those cat ears, I don't think she remembered. But I was like "and I couldn't stop crying, but I'm not crying this time!!" and she laughed and said "Well that's good! Don't cry!".

So I really can't remember what I totally said but I gave her a HUGE birthday card with a bunch of signatures from people on the line outside, a packet of pictures and stuff from the NYC RAINN Bash and something *my angel* wanted me to give her. I tried to tell her I was the host of the party, and she thanked me and I told her how important it was to me.

So I started getting kooky and while waiting on line I kept saying to everyone "Why am I so cool?" so I decided to ask TORI that question. So I look at her and say "Tori, aren't I just the coolest?" and she laughs and with this sexy growling voice goes "You are just SOOOOOOOOOOOOOOOOOOO cool." She was grinding her teeth, it was TOO funny!!! That just made my night, hahahahhaa. I am sick of asking stupid questions and saying stuff like "Tori, i love you" "Tori, you made me alive" so now it's all about saying and asking stupid shit. Oh, you'll see me at the M&Gs asking her "Tori, pad or tampon?"

So she signed my UTP Aussie flat "Susan, with love Tori Amos". We hugged and I said "God Bless you and Tash, congrats!" and she smiled and thanked me.

I definately didn't like the feeling of being rushed but I understood cause there was WAY over 200 people. Even at 8pm there was a line around the side of the building. What was happening was people would leave, give their pass to someone else, that person would hop on the back of the line and so on. So they started clipping the corners of the passes.

Well I had fun!

From dove95:
My tale at the Virgin Megastore:

I arrived there at 4:45 PM, which the signing didnÌt officially start until 6:00PM, but I was to meet Chris (neontorifan) there. I picked up my copy of Strange Little Girls, which I ended up picking out the ÏRaining BloodÓ one. Tori looked the most natural in this one. Anyway, I went outside and looked around for Chris, but didnÌt see him, so I went ahead to get in line.

About 5:00, I see him and just point at him, like heÌs da man and he points at me in the same fashion. Then, he looks for Allie (Tori_is_Bliss) and then, they greet me.

WeÌre standing for FOUR hours to get to share a minute or two with Tori. Gosh, good thing we got there early because when we walked out, it looked like we were at the halfway point!

I'm still in shock and soo happy and my feet hurt, but it was all worth it

Tori was sooo cute She had on this gray shirt that kinda had a flared collar and sleeves and black pants. I didnÌt get to see her shoes÷ darn! She's soo tiny too

When I get close, I think ÏIÌm either gonna pee my pants or cry.Ó So I get up there on this platform stage after Joel helps me up. He asks me how IÌm doing. I say IÌm nervous and excited. IÌm pretty much quiet until Tori ushers me over and says, "Hi, how are you doing?"

I look down smiling because IÌm so nervous and excited and say so.

She takes my hands, my cold clammy hands and squeezes them, smiling at me, and says something like, "Well, you've come a long way."

And then I give her my cd cover and envelope with my letter to her and she signs my cd: To Kriste then her signature and it's funny because you can tell she hesitated with my name since she wanted to make sure she spelled it right. (IÌll have to get a scan of it later)

While she's signing, I'm a dork and say, "Yeah, I've been a fan since ÎSilent All These YearsÌ and I'm soo excited to be here."

She asks if I live in the city and I say, "No, I live in Jersey.... but I'm going to be at the show on the 11th." This pleases me because itÌs like she wants to know that IÌll be seeing her at a show. At least, thatÌs how I interpreted it

She smiles and gives me a hug and I tell her, ÏThank you SO much for coming out here,Ó and then I go about my way in a daze...

If I thought I was blessed for being able to see Tori twice in concert, then IÌve truly died and gone to heaven on earth.

From Tickle My Tori (sharon):
I was there yesterday too. I got there around 4:30 PM and the line was way around the corner...I finally got in to see Tori about 8 PM ish... I have met Tori 3x before so every time gets a little easier. I went up and had a short chat with Joel. They were letting 2 people on the stage at once. One was standing w/ Joel waiting to go while the other was talking to Tori. Anyway, I FINALLY got to Tori and I went up to her and she was like "Hi, how are you?" and I said "I am fine, how are you?". Then she said "good" and leaned over to sign my autograph and said "What's your name?" and I said "Sharon" and she asked "With an SH or a CH?" and I said "SH" and she said "okay." While she was signing my promo SLG cling on thingy I said "You know I have been standing outside since 4:30 PM trying to think of the best thing to say to you and I couldn't think of a damn thing" and she looks up at me and grabbed my hands and was like "Well, you don't have to say anything at all" and my response to that was "Well, I guess I could say 'Thank You' for everything" and she said "Well, then I guess I could say thank you to you too!". Then she goes "Well, you New Yorkers are some bunch, a really strong group of people" and I said "Yeah, we're pretty tough" and I do forget what she said to me after that because I started thinking to myself 'That's Tori Amos right in front of me talking to me and I can't believe I haven't pissed my pants yet' and then I said to her "Well, I am from Long Island so I am only partly tough" and she laughed loudly and said "That's okay honey, and thank you sooo much, Sharon." And she gave me a hug and as I was hugging her I said "I'll see you really soon" and she ended it with "Okay, bye bye now" and that was it. But yet another treasured and amazing Tori experience. As far as the security goes...they were taking all luggage...backpacks, cameras, shopping bags..you went to see Tori with nothing but what you were getting signed and yourself. Joel was very nice and friendly (usually he's pretty tough I think) And Tori looked beautiful...she had on low-rise black jeans and a pink bodysuit covered by a grey turtleneck with frills on the sleeve...her hair was down and she looked great, just spectacular. Anyway, that's my story of meeting Tori. Thank you!

From Kevin:
I must say that Tori is just the best with her fans. ÝI had gotten there fairly early in the afternoon so I only waited an hour on line. ÝShe took each person and brought them into her sphere, her understanding of things. ÝSo if you were happy up there, then she was happy with you. ÝIf you were sad up there, she was sad with you. ÝOur conversation got into people I'd lost in the tragedy and she just listened. ÝShe looked at me straight in the eye and didn't say a word, which is the best thing anyone could do when you're dealing with a situation like that. ÝAnd then after all that, she offered me her hands, which is a big thing for someone who relies on her fingers to make a living...if you play the piano you know what I mean. ÝBut she went over 30 seconds with me to the slight consternation of the people running it and I certainly understand that. ÝIt was absolutely wonderful, something I will never forget...this may sound funny but when she was up there, she wasn't Tori, at least to me. ÝShe was Myra Ellen...human, right down on anyone's level.

From Kristopher Kelly:
Wow! My Tori experience at the Virgin Megastore just blocks from my home was incredible! I arrived there at around 3pm... the signing was scheduled to begin at 6pm. I received the number "92" -- this number system was not done by Virgin, but rather by the fans similar to what is done at a meet & greet to make sure the line was fair or whatever. Anyway....

Tori arrived around 6:15 or Ý6:30 . . . and it all began! We waited for about an hour before we got in. Tori was spending SO much time with each person! She gave everyone a big hug and an autograph and chatted with them! Unfortunately, there were seriously HUNDREDS of people in line... I'm sure Tori was there until at least 10 or 11pm . . . and then to wake up and do Regis and Kelly (which I just saw! Incredible), she must be exhausted! But what a kind and generous woman! Wow!

Anyway, we were all lead into the room little by little where the signing was taken place! Finally I got into the room and I watched Tori as she signed autographs ... she looked soo beautiful! Wearing a cute little grey thing w/ ruffles and a pink leotard under it on her cute little (skinny!!) tummy!

So I was watching her sign autographs and then I saw her look up and she made eye contact with me and I blew her a kiss! And she leaned over and blew me this HUGE kiss and extended her hand very far! At that point I went crazy! I couldn't wait to get up to the front and meet her!

She was up on a black platform and each person walked up the platform and talked to Tori in front of a huge table. People were just chatting too long for the line, but who can blame them? And what can Tori do, cut them short?? So Joel went around asking everyone to take no longer than 30 seconds that people would be waiting for HOURS at this rate ... so we all agreed, but few kept their word! hehe. But seriously, what can you do??

So finally it was my turn to get up there! I approached the stairs and when I walked up to Tori's little booth I had a huge smile on my face and I reached out and gave her a big hug!!! Then I said "Hi"! And the words didn't come out!! She looked at me for a few seconds, and I didn't know what to say, I just had a huge grin on my face. So then I gave her my Strange Little Girls mini-poster and she asked my name and I said "Kris" with a K. And I said "Tori, I don't know if you remember it but you really made my birthday special a couple years ago at the Houston restaraunt performance. Do you remember that??" .. hehe my dorky attempt at feeling good about being remembered by Tori. Oh well. And so she turned to Joel and said "Houston, restaraunt, do you remember that, Joel?" and he said "yeah!" and then Tori goes "OH YEAHHHH!! I remember you!! It was your birthday! And I remember the restaraunt!" at which point I was like "Oh my god!!" and I said "hahaha! you remember that! yeah :) well you really made that day special for me and I'll never forget it!" (See I sat 5 feet from Tori in a Houston restaraunt solo performance in 1999 and it was my birthday. And in the middle of her set, she wished me happy birthday, etc... Then I met her afterwards and invited her to go get Tex Mex with me hehehe! So that was the restaraunt she was talking about! weird how she remembered! Then later that nite she played Cloud On My Tongue for me, and I thanked her for that.) That was exciting!

Then she said "Well you are far from home, are you living here now?" and I said "yeah, I'm going to NYU now. I just moved here a few weeks ago" and she said something like "Oh wow..." (refering to the attacks, of course). And I said "Yeah, I know". Then I told her that I was a composer and I was wondering if she'd write a few "Words of wisdom, or just something" on my autograph! At which point, Joel gave me this aweful look and said something, to which Tori said "Joel!! Don't be like that!!" and he laughed and I told him I was sorry, and he smiled! I really was taking too long though.

And this is what she wrote on my autograph:

Music
Fingers
giggles
pedicure ...
Why NOT ?

And then she told me about how NATASHYA plays PIANO WITH HER FEET! Hehe. And see, I didn't understand what she said because I was so in shock and I thought she said something about her "door" (instead of "daughter") playing piano... and I was like ... "oh really! cool!" hehe. It wasn't until later that my friend told me what she said (he was behind me) . . . how sweeeeet!

Anyway, we hugged again. I did something kind of rude I think ... I hope it wasn't rude, do you think it was rude? After we hugged, my hands kind of slid down her waist like coming out of the hug! And I did not mean to do it but I felt a little bad that it happened. Oh well.

So I said goodbye about three times and she did too. And I had trouble leaving hehe. And then we were led outside.

But wow, what an incredible experience!! They didn't allow any cameras past a certain point, but I did get some pictures of Tori with a very nice boy I met in line named Luis! So I am sending those pictures! :)

WOW! What an experience! And it felt good that she remembered me! Even though that is kind of pathetic that I take an actual meaning to that . . . I was still so excited! I can't wait to see her at the Beacon all 3 nites! Wow.

Last nite at the Virgin Megastore, Tori had a cameraman (and sound person) going around videotaping fans, etc ... they took footage of many fans and also shot footage while Tori greeted the fans on the little platform.

I talked with the cameraman, he said he was with Tori and that they were shooting footage for some upcoming project. I asked if it was a music video or maybe a tour video, and he said he wasn't sure.

From Benjamin Kitabayashi:
It took a whole day to collect myself after meeting Tori for the first time. There were more people in line to meet Tori than I expected... at first I was doubtful about having the chance to meet her--I was one of the "winners" to the Sony Theater performance back in October '99--but the Virgin staff told us that she would meet with EVERYONE so my fears were allayed.

I met a cool guy named Timothy who was just as nervous to meet her as I was and we agreed to take pictures of each other with Tori, but unfortunately--and for good reason in light of all the chaos in Manhattan--all items other than the one intended to be signed were to be checked in. When I walked up to the stage, I chatted w/ her blonde body guard for a few minutes and asked him how long he'd been Tori's bodyguard. He responded, "For years!" Anyway, it was finally MY turn to meet her. I brought my Boys for Pele music book with me and walked over to where Tori was standing. I was so nervous, but as soon as we made eye contact, it went away. The conversation went something like this:

Tori: Hey... and what's your name? (reaches out to shake hands)

Me: Um...BEN!

Tori: Oh, Hi Ben! How are ya?

Me: I'm well, thank you! I've waited so long to see you!

Tori: (places her hand over her heart and smiles)

Me: I know I only have a half-minute!

Tori: Take your time.

Me: I have to tell you honestly...(I began to talk very fast and Tori asked me to speak slower, LOL) back when I was in high school, I didn't like your music very much. (looked insulted, hehe) I first heard "Silent All These Years" and thought were kinda weird, BUT a few years ago, I was in San Francisco walking down Haight & Ashbury... and heard this amazing harpsichord playing (it was "Blood Roses") from an outdoor speaker in front of a used record shop. As a student of the keyboard I couldn't believe that a harpsichord was being played like this! (Tori laughs) So I walked in and asked who the artist was and they told me, "Tori Amos". From that day on, I fell in love with your music, your musicianship. In my eyes, you're up there along with Bach and Chopin! (Tori seemed flattered)

Tori: Do you still play?

Me: Yes. 12 years now.

Tori: (In a serious tone) You know, the world NEEDS good music.

Me: I know. :)

Tori: Where is your set up?

Me: Oh...back at my dorm... I have keyboards and a piano (piano really at home, and my keyboard is missing, but...)

Tori: Good! Don't EVER stop practicing.

Me: I won't. I promise. (we both smile at each other and I hand her the BfP music book)

Tori: Where would you like me to sign?

Me: On "Blood Roses".

Tori: (flips through the book, glances at the contents...) Page 28?

Me: Yes.

Tori: (Writes: Ben, the world needs YOUR music.) Draws hearts and a smiley face and signs "Tori Amos" She reaches out and hugs me and we both peck each other on the cheeks :-)

Me: Bye now! See you at Beacon Theater.

Tori: Yes. Buh-bye!

I have to say, Tori is a very genuine and caring person. She met with every single person waiting in line that night and didn't rush ANYONE to move on. She wanted to hear everything I had to say and seemed persistent on making eye contact with all her fans. :-)