Tori In New York at the Virgin Megastore in Times Square
Here are a few stills from the video at the Atlantic Digital Arena Web Site. Atlantic did an outstanding job with this! This was no repeat of the MTV chat fiasco from last month. There was a Realaudio feed, a video image that was continuously updated, photos, a chat room, and live commentary scrolling at the bottom of the web browser (at least if you used Netscape 2.0; the site made heavy use of frames).
She performed 4 songs :
Crucify
Silent All These Years
Cornflake Girl
Hey Jupiter

The performances were carried live on Z100 in New York. Steve Caton joined her for Cornflake Girl. The crowd seemed very enthusiastic. There was a great question and answer period after the songs where Tori was her usual charming self. In fact, she was far more chatty here than in her regular concerts. She discussed her father, that piglet photo, her writing process, writer's block, how she colors her hair, poetry, and how she progressed from playing pancake suppers to gay bars in Washington DC. The crowd shouted many requests. Tori promised to grant as many as possible during her shows the next 3 days at the Paramount (Theatre at Madison Square Garden). The event was reported on by MTV news, so you might want to check MTV to see if they air that news story again.

Best quotes of the appearance:
A Fan asks Tori to explain to HIM why he likes her so much! Tori did not really know and replied: "I don't know why I like guacamole so much. I mean, it's green, it looks like puke, but I love it."
In response to the inevitable question about that piglet photo, "That's my Christmas shot, my Madonna and child. My father's been wanting me to do Christmas cards for years."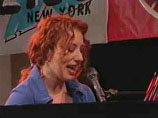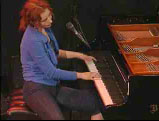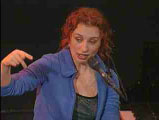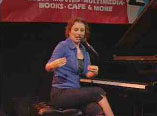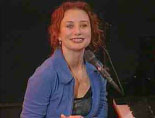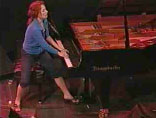 ---
Please give me feedback, comments, or suggestions about my site.
Email me (Michael Whitehead) at: mikewhy@iglou.com