VH1's 100 Greatest Women Of Rock And Roll
July 26 - August 1, 1999

Between July 26 and August 1, 1999, VH1 aired several times a 5 part series called the 100 Greatest Women Of Rock And Roll. (In fact, VH1 was celebrating the entire week as the 100 Greatest Women Of Rock & Roll week with much of their programming dedicated to women.) Tori was shown during all 5 episodes! Each episode was 1 hour long and covered 20 of the 100 artists. (That usually meant each woman was featured for about 2 minutes.) During most of the installments, VH1 showed brief interview clips with Tori commenting on other women in the countdown or on being a female artist in general.
VH1 showed the second installment of the 100 Greatest Women Of Rock And Roll for the first time on July 27 and Tori was featured more extensively during this episode because Tori made #71 on VH1 list and this was the program that covered artists 61-80. For Tori, they basically showed clips from several of her videos and the Tori episode of VH1 Storytellers from 1998. They included comments on Tori from John Popper of Blues Traveler, Ahmet Ertegun, Founder of Atlantic Records, Phoebe Snow, and Janis Ian. They also had a very short interview clip with Tori I had not seen before. I just want to say personally that while I am sure the 100 chosen will be criticized like crazy from various directions, I am really happy to see Tori honored in this way. She deserves a place among the greats and I am glad to see it in any form.
Go here if you want to see the complete list of VH1's 100 Greatest Women Of Rock And Roll
Look below for a transcript of the Tori part of the program and all the comments Tori made throughout the series! All of Tori's comments were taken from the same interview.

Episode 1 - Tori Commenting On Laurie Anderson
On the first installment that was first shown on July 26, Tori was also shown commenting on Laurie Anderson, who came in at #86 on the top 100.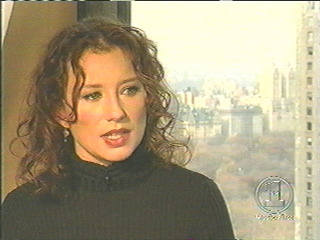 Tori Commenting On Laurie Anderson
"Laurie Anderson, um, I think really came at a time when music was shifting, not only sonically but....so that we were seeing the art world kind of come into the music side."

Episode 2 - Transcript Of The Tori Segment
Geri Halliwell, who was the host for the entire second hour/installment of the series which was first shown on July 27, introduced Tori when they reached the artist at #71.
Geri Halliwell: The artist at #71 won a scholarship to the elite Peabody Conservatory in Baltimore at age 5, but she was thown out for an infatuationwith rock & roll.
Narrator: She started playing piano scores and writing her own songs at the age of 4. But a streak of rebellion got the child prodigy Myra Ellen Amos expelled from her elite music school and instead on the track to becoming a rock star. Tori had a thunderous breakthrough in 1992 immediately establishing herself as a formidable music talent and fascinating persona.
John Popper (Blues Traveler) : Tori Amos. Wow. She's frightening. I get scared of her.
Ahmet Ertegun (founder of Atlantic Records) : Tori Amos is a very very special person. She's extremely sensitive, poetic, musical, and beautiful.
Phoebe Snow : I think she's brilliant. She's courageous. She's big on imagery. She basically paints a tableau for you when she's singing.
Janis Ian : Tori does some amazing stuff on the piano and she's opened up a whole world for people who were not accustomed to seeing a woman take the stage at the piano.
Tori: I'm much more comfortable when I'm just at the piano. I think that's why I became a songwriter. When I was little, that's how I really kind of told my mother I wanted macaroni & cheese. I'd sing it to her.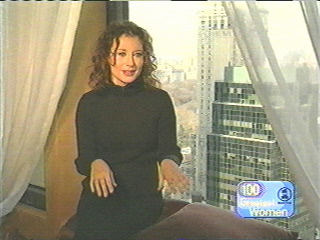 Episode 3 - Tori Commenting On Women In Music & Kate Bush
On the third installment that was first shown on July 28, Tori was shown twice during the program. They were talking about the struggle women had to go through to be accepted at the start of the show and they showed Tori saying:
"I remember being told, 'We're already playing Natalie Merchant. We're already playing one.' That was going on in 1991."
"I think my dick's bigger than all those guys anyway."
Then they showed Tori commenting on the #46 artist, Kate Bush:
"I got her work, and was really moved. And, more than anything, I was moved by her as a producer."

Episode 4 - God Video Snippet
On the fourth installment that was first shown on July 29, they showed a very brief glimpse of the "God" video at the start of the hour.

Episode 5 - Tori Commenting On Carole King & Chrissie Hynde
On the fifth installment that was first shown on July 30, Tori was shown twice. She first appeared commenting on the #10 artist Carole King:
"Carole King was always such an amazing writer."
Tori also commented on the #7 artist Chrissie Hynde:
"I thought Chrissie Hynde and the Pretenders were such a turning point. You really hadn't heard anything done like that before, in that way, with that attitude."


Please give me feedback, comments, or suggestions about my site. Email me (Michael Whitehead) at mikewhy@iglou.com