In early 2002, CDNOW.com added a listing to their site for an item called "Under The Pink (Limited Edition)". The site now says this item will be available on January 29, 2002. (It was originally listed as being out on January 8, 2002.) There has been some confusion as to what this is. It now looks like this is simply the "Under The Pink" and "Boys For Pele" albums placed into one package which comes from Australia. If that is the case, then it does not seem like a compelling product to me.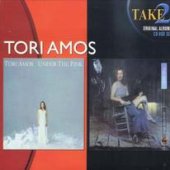 Benjamin Almeida tells me there is also a listing for this item at CDUniverse.com that seems to verify what I wrote above, and also includes the photo you see to the right. The description on this site says, "Australian limited edition release combines two albums, Boys for Pele (1996) & Under the Pink (1994), individually packaged in standard jewelcases & housed together in a slipcase."

Thanks also go out to Daniel and Greg Jamieson for telling me about this as well.
If you go to TowerRecords.com, you can see an already released item that seems to be the same thing. The item being sold there is called an Asian release that came out on July 17, 2001. I have no idea if this is the same as the item listed at CDNOW.com, but it sounds like it is to me.