Spin Magazine
June 1998

Added May 14, 1998

Tori has the lead review in the June 1998 issue of Spin Magazine. The review has the title "Original Sinner: On her poppiest album in years, Tori Amos is still trying to lose her religion." The review was written by Sarah Vowell and the album got an 8 out of 10 rating. The review includes a large photo of Tori in a pink skirt (another variation of one of the "postcards" included with the U.K. limited edition "Spark" single.) I would like to thank Jason Silver and IsItRite for sending me the article. Special thanks to Megan for sending me the photo.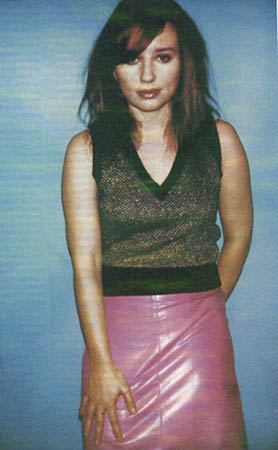 Original Sinner: On her poppiest album in years, Tori Amos is still trying to lose her religion.
By Sarah Vowell
One of the most encouraging moments in recent memory was that week a couple of years ago when Jesus appeared on the cover of all three of America's news magazines. The fact that God is still a cover story so late in the millennium is good news indeed, at least from a rock'n'roll-will-never-die-(or-will-it) perspective. Because once you get rid of God, religion goes too. And without religion and its rules, what is there to rebel against. Without preachers, there are no preacher's daughters; no Torah - no Tori.
Tori Amos: Southerner, Pianist, Loser of Religion. More than any singer/songwriter of her generation, this minister's child carries on the memory of rock's creation myth, that part of the genre born of Pentecostal passion and slave sadness. You can trace a line from the Holy Ghost shake of Elvis Presley's hips to the point-blank heresy in Amos's lyrics. She scolds God ("You need a woman to look after you"), rejects communion for masturbation ("When they say 'take of his body' / I think I'll take from mine instead"), and calls Lucifer "Father." And for all her excellent covers of Led Zeppelin or the Stones or even "Smells Like Teen Spirit," it's almost disappointing that this piano-playing Jerry Leeann hasn't yet recorded "Great Balls of Fire."
Nonbelievers think of losing your religion like it's losing weight. It's not. The loss of faith leaves a hole behind. You never get rid of spiritual need. For pop music, it's a very useful void. Even when she's not singing about religion - and on her new album, From the Choirgirl Hotel, she barely does at all - Amos achieves a kind of ecstatic holiness in song. She's that rare rocker who can build a racket not out of dissonance but through euphonic intensity.
"I guess you go too far / When pianos try to be guitars," Amos sings in "Northern Lad." Miraculously, Amos can convince you pianos are better than guitars for minutes at a time, even when pianos are at their most pianissimo. Despite her punk sense of spite, Amos, who honed her chops playing piano bars as a teen, often channels the spirit of schmaltz, which is why it took me years (and facing up to the memories of a decidedly uncool musical past) to like her. Even though my favorite album from the '70s is Modern Lovers, I admit my favorite album during the '70s was You Light Up My Life. And what girl won't get the secret Debby Boone shivers from Amos's "Jackie's Strength?" It's a nice old-fashioned ballad with string accompaniment and would be the perfect wedding song except for that relevant-though-inappropriate line about "my bridesmaids getting laid."
Maybe the gift of a Christian girlhood is also its chains. Sex has consequence. Which is why Amos's love songs are always so fraught with danger. Because what's sexier than danger? On From the Choirgirl Hotel, sex isn't so much a word as a sound, slithering from the murky, trip-hopped-up "Cruel" to the speaking-in-tongue-kisses funk of "Raspberry Swirl," in which a male suitor is advised, "If you want inside her / Well, boy, you better make her raspberry swirl." And in this, the year that's turning into sex addiction's big moment in the sun, who can resist a lurching rocker called "She's Your Cocaine"? It's got everything you want from Tori: devil references, an angelic bridge worthy of the choirgirl in the album title, and that Amos trademark orgasmic shrieking that makes faking it sound like so much fun.
Choirgirl is less overtly political than Amos's previous rails against patriarchal crimes. It's less fey as well (no harpsichords!), and her vocals don't get whipped so much into that register known as "upper tiramisu." That the messages are less pointed and the presentation less frilly makes for more universal appeal. Unless you can figure out what to make of a song like "Spark," which is about the "ballerinas that have fins," let's think of this as simply a rock record, which means its meaning is found in noise. You won't find anything nearly as harrowing as the a cappella rape memoir "Me and a Gun" from Little Earthquakes. You will find yourself engaged in old and favorite habits - dancing around; singing along; dropping through all the normal, miraculous rock'n'roll escape hatches. Somebody call Newsweek - this is something to believe in.


Please give me feedback, comments, or suggestions about my site. Email me (Michael Whitehead) at mikewhy@iglou.com