Tori was featured on the Swedish TV show Sondagsoppet on Sunday, October 20, 2002. The show broadcasts on Swedish Channel One (SVT1). Below you can find details about this TV appearance, including photos and a transcript. Thanks to Christina Stalby and stine hillestad for providing some of the details on this page, and a huge thank you to Jenny Wästgerd for the transcript you see below.
Tori performed a sorta fairytale alone at the piano, and did a short interview. Tori's performance was slow and beautiful, but quite short. She ended a sorta fairytale right after "I didn't think we'd end up like this."
Photos
The first photo at full size is a compilation of various screen shots sent to me by marco nieves: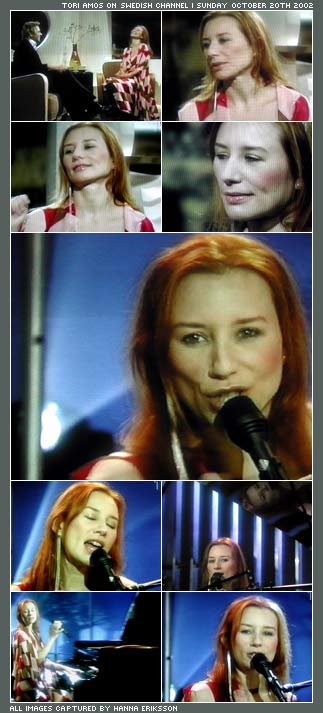 The following next set of screen shots come from Jenny Wästgerd:
Click any photo above to see larger.
Transcript
Many thanks to Jenny Wästgerd:
Tori start off with a sorta fairytale (on a Bosendorfer from The Swedish television!).

The program leader (Rickard) greets her afterwards with a "Tori Amos, thank you very much, that is so good!" and kisses her on both cheeks.

"Welcome to my corner of the world"

"It's cosy here" Tori says, looks like she's freezing."

"Soon now you're gonna embarc on Scarlets walk, I like to travel, where is it?"

"The story takes place in America, uhm, Scarlet, my character gets a phonecall from her friend.
She didn't know that she was going to be travelling the country, taking this roadtrip. She goes to her friend, her friend's a pornstar who is in trouble, and she goes to see her, and it all begins and one thing leads to another. And she ends up crossing the country slowly."

"And who is Scarlet, is that you?"

"Uhm, maybe she's my alter ego. Maybe she's my better half."

"Is it your Slim Shady or your Ziggy Stardust?"

"Haha, maybe so. Yea, maybe so."

"How much of Scarlet is you, what is she like?"

"Well that changes, I guess uhm, the story is based on real people and real experiences.
And it's really about a woman who's questioning what she believes in, and she's questioning the soul of this creature that we call America. I wrote it, uhm, when I was on the road last year."

"But is it easier to write songs when you have a character like Scarlet or Ziggy Stardust?"

"Honestly..."

"Which is a part of yourself."

"Honestly, it's a..., feelings are feelings, I mean if you're writing about being rejected by somebody you love, werther you're Tori or Scarlet, I think they, they feel the same thing."

"OK. When I saw you play here, I was just thinking because I play the guitar myself, and for me the guitar is a woman. What gender do you have on the piano?"

"They're all shes."

"They're all shes?"

"Yes. But they don't all have male lovers. But many of them do."

"What about this one?"

"I'd have to spend bit more time with her."

"What was your first impression?"

"She has a male lover, it's bloody cold up here."

"So, when are you coming back to Sweden?"

"Very soon, in the new year, when it's really really cold."

"Thank you very very much for coming."

"Thank you."