There is a 6-song promo sampler CD for Tori's first Epic album called Scarlet's Walk (selections). In mid July 2002, this sampler started to show up at various publications, and somehow found its way into the hands of several fans. Here is the track listing for this promotional disc and the timings listed on the back cover:
1. Amber Waves (3:38)
2. a sorta fairytale (5:29)
3. pancake (3:54)
4. Crazy (4:22)
5. taxi ride (4:00)
6. gold dust (5:55)

This sampler CD has on the back of the cover the number ESK 59032. However, the CD itself has the number AEK-00700 on it.
The CD is "copy-protected" and says on the back that it is not intensed for playback on PCs or Macs. Despite this, fans who obtained this sampler CD were able to make Mp3s of it and distribute them on the Internet in hours...
You can see the front and back cover of this promo sampler below. toriamos.org has larger scans available. Below the scans are some interesting comments sent to me by people who have heard the sampler.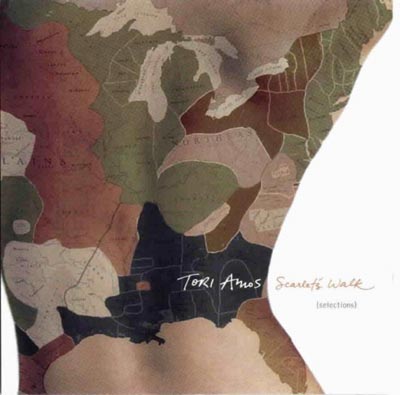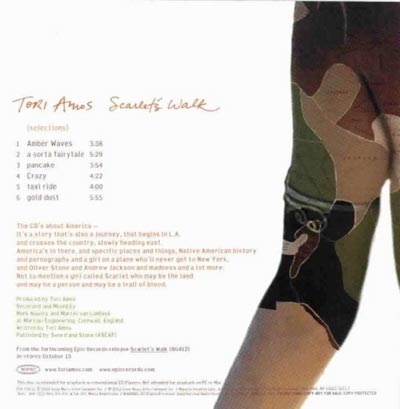 There are a few interesting observations emailed to me about the sampler from those who have heard it:
To some, the song taxi ride appears to be the song Just Another Dead Fag that Tori first mentioned in the Summer 1999 issue of a gay & lesbian publication called "Stero Type". Others say she likely just borrowed the phrase "Just Another Dead Fag", since the song seems to deal with Kevyn Aucoin's death. The general consensus seems to be turning to this NOT the song Just Another Dead Fag. She may have taken that song and redid it to be taxi ride, but we are not sure.
It is interesting to note the differences between the the radio edit of A Sorta Fairytale and the album version, which is on the sampler. (See the lyrics here.) The radio edit, in addition to being shorter by leaving out a entire verse (one that many think is the most interesting and controversial of the entire song!), has also been edited in other unexpected ways that make it more than just the full version with a verse missing. The radio edit fades at the end while the album version does not. Also, parts of the song have been rearranged and placed in different places in order to give the radio edit an entirely different feel...
The cover of the promo sampler CD (see above) is very interesting. As first reported by toriamos.org, the cover features a map of the Eastern U.S. that shows early Native American areas painted on a woman's back. The woman appears to be Tori, but that is not certain. Scott Feldman found a map online at the web site for the University Of Texas Library that appears to be identical. Will this be part of the full album's artwork?