The October 31, 2002 (#908) issue of Rolling Stone Magazine (The Women In Rock issue with Shakira, Britney Spears, and Mary J Blige on the cover) includes both a 3-star review of Scarlet's Walk and an interview with Tori Amos. Many thanks to dink, Sally Steffensen, Jason Cottnell, Sarah Folkes, Alisha Parker and Josh for making me aware of this. Read the article online at rollingstone.com or below. Read the review of Scarlet's Walk online at Rollingstone.com or below as well (after the interview). The version of the interview posted online is almost the same as what appears in the print magazine. The only difference is that the photo of Tori that they include (one of the promotional Scarlet's Walk pictures seen in many publications) online is cropped more than the one in the magazine. The magazine also includes this little "defining moment" snippet that is not online:
"Her 1992 live shows: Nobody was really prepared for the sight of a crimson-haired poet straddling the piano bench, wailing about God." They use a quote from her which says "Surgical repairs? It's a dangerous game." And that is offset from the rest of the body of the story. Otherwise the online version is the same.
The scan you see below comes from Steven MCILROY and was printed in the magazine next to Tori's interview.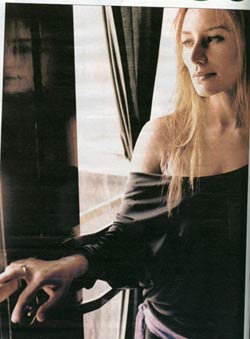 Tori Amos
On How She Arrived at her Musical Combination of Mary Poppins and Sylvia Plath
It's odd, when you think about it: Who are Tori Amos' contemporaries? Who, for that matter, are the younger Amos wanna-be's? There aren't really any. Amos stands alone, an intense, piano-pounding, mythology-steeped force unto herself. She phones from her house in Cornwall, England, which she shares with her husband and two-year-old daughter. Amos has been holed up in her home studio, polishing her new album, Scarlet's Walk, a sonic road trip through America's past and present. She's fun on the phone: intimate, funny and confiding, conjuring up memories of your best girlfriend from seventh grade.
Who are your heroes?
Well, let's start with the really important answer, which, of course, is Mary Poppins. How can you not love her? I mean, I'm a mother, and I'm so out of my depth on this one. My daughter just runs circles around me, and I'm just learning how to say no without her completely laughing at me. So Mary Poppins is on my altar right now, because - do you know what she says? "I am kind but extremely firm."
And my mother was such an influence. Through her, I was exposed at an early age to Emily Dickinson and other writers she loved. She would always read "Pippa Passes" too me, by Robert Browning, that whole love story. She'd have tears in her eyes, and I'd be with her before kindergarten, crying. She worked in a record store, and she'd bring me home her favorites, like Nat "King" Cole.
And then I had an eleventh-grade teacher called Mrs. Barrett, who kept giving me C's on my writing. I'd say, "Why are you giving me C's?" I was really demoralized. And she said, "Because you can do better. Go read Sylvia Plath."
How about your earliest musical memory?
I remember my grandfather singing to me all the time. That was my mother's father, and he was part Cherokee. I would sit on his lap, and he would smoke his pipe, and he had perfect pitch. He would tell me stories in song - he'd just make 'em up. And some would be hymns. There was a lot of that from my mother's side of the family. Books and singing, stories were very important.
How have things changed for women in music in your lifetime?
I think people are more open to women as composers. There's been room for divas for a long, long time, but composers, that's a very different thing. That was a boy's club.
Do you think the industry is more open to older female artists than in the past?
Surgically repaired? Well, no. It's open if you look youthful. It's not open if you don't. It's a dangerous game. Harrison Ford, Sean Connery - all those men have these twenty-something co-stars. Well, what does that say? Because don't think it doesn't translate into boardrooms and MTV and magazine spreads. Don't ask me what I'm going to do, because I don't know yet. I mean, you have to make peace with yourself on that one. But talk about a Faustian pact.
When did you first know you wanted to be a musician?
I knew I was a musician before I was potty-trained. I just always remember playing the piano. I don't remember not playing it. I remember I was five years old and I was at the Peabody Conservatory [in Baltimore], watching the little girls in their ballerina tutus and thinking, "What would it be like to feel like a girl?" Instead of sitting at this huge piano - I don't get to wear a pink tutu or anything cute like that. I was just a five-year-old fashion wanna-be who just didn't look cute in a tutu on any day. I didn't have that kind of body, let's face it. So it was kind of a heartbreak. But then I would just go write a song about it.
Here is the Rolling Stone 3-star review of Scarlet's Walk:
Tori's Trip
Porn stars, Cherokee prayers, Led Zeppelin and Enya: Welcome to Amos' America by : Greg Kott
On Scarlet's Walk, her seventh album, Tori Amos does a misty mountain hop across a mythical America, blurring the line between the sacred and the erotic, Cherokee prayers, and porn-star lap dances, New Age and Led Zeppelin. It's the latest transmission from Planet Tori, full of wordplay that is by turns inscrutable, outrageously purple or righteously outraged. Amos' albums have always been obsessed with the quest for self-realization ; Scarlet's Walk takes a thinly veiled alter ego on a journey across America in search of the real her.
Amos' previous album, the all-covers Strange Little Girls, found her role-playing with a delicious lack of inhibition; Scarlet's Walk is told from a single female protagonist's perspective. But that doesn't stop Amos from having fun. Eveen when she's fed up, as in "Taxi Ride," the steam rises from a line such as "Even a glamorous bitch can be in beed." And when her voice frays, breaking into a Zeppelin-worthy moan oon "Pancake," it gives her disillusionment as a sensual dimension.
Though John Evens' voluptuous bass and Matt Chamberlain's empathetic percussion provide ballast, Scarlet is all about Amos and her many musical personae, both as a singer and a keyboard player. She can be unbearably precious ("I put our snowflake under a microscope"), and tunes such as "Crazy" edge perilously towrad Enya. But she keeps even her most fulsome phrases conversational, her syntax underlined by ripling, chord-free keyboard lines. The harmonies-with Amos morphing into a backing choir or whispering responses inter her inner ear-play a similar role. She may be wanderin the world by herslef, but she's never alone: ther's an army of voices inside Tori Amos, and the girl knows how to use them.
By GREG KOT
Rating: 3 stars