The June 20, 2002 issue (#898 with Natalie Portman on the cover) of Rolling Stone Magazine includes a story about copy-protected CDs in the United States, and it includes sections that mention Tori's 2001 album Strange Little Girls. The article includes a small photo of Tori that is very nice, and which you can see below. (I can not recall ever seeing this photo prior to this article.) Many thanks to Jasmine for typing out the article for us, to Sally Clevenger (WanderingFaerie) and Alicia Gordon who sent scans of the photo or article, and to Melissa Jonas who also told me about the article. The article talks about fans who claim to have copys of SLG that are copy-protected, and also quotes someone at Warner who claims that no copy-protected versions of SLG were released in the U.S.
Don't forget to check out the Dent's page about copy-protected CDs.
Here is the section of fatchucks.com, mentioned in the RS article below, where they discuss the Strange Little Girls album and whether it is copy-protected or not.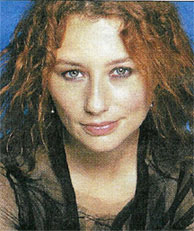 CD BURNING: HOW THE LABELS ARE TRYING TO STOP YOU

Fans protest as the record labels experiment with copy-protecting music

Ever since computers became De Facto stereo systems, the record business has taken more and more unpopular stances against consumers in an effort to combat music piracy. The cat-and-mouse battle is ramping up with the industry's lates scheme: copy-protected CD's.

Each of the five major labels is now experimenting with anti-piracy technology that prevents computer CD-ROM drives from playing or ripping music in the popular MP3 format. The labels hope to thwart consumers from swapping tunes over the Internet or burning recordable CDs.

So far, only four protected CDs have been officially released in the U.S.: The "More Fast and Furious" soundtrack and the debut record from hip-hop artist Pretty Willie, both on Universal, and country releases from Charley Pride and Len Doolin on two Nashville indie labels. While the technology has spread rapidly in Europe and Asia, American labels are moving more slowly because early reports about the plan have pissed off an array of home tapers, electronics and computer companies, and even some members of Congress. But protection for major releases may just be around the corner: There was much discussion between Eminem and Interscope Records about whether to copy-protect his upcoming disc, "The Eminem Show", though the rapper, his label and his manager decided in the end not to take that step.

The labels say CD burning has contributed to $4.2 billion in lost revenues, more than ten percent of the $44.7 billion market. Internet swapping may cost the labels billions more. Record companies say new CD's may allow for a single copy to be made, but will be in a locked format to prevent repeat copying and burning. "We need a minimal degree of copy protection to slow down frictionless trading of music", says Ted Cohen, EMI's vice president of new media.

Safeguarded CD's may prevent piracy in theory, but they also trample consumers' rights to make personal copies of their own music, whether to hard drives or portable MP3 players, which are growing more popular. The new CDs also may not work in audio devices such as DVDs and car stereos, which usually contain CD-ROM drives, since they are less apt to skip. "The music industry is potentially angering millions of its best customers, who will no longer be able to engage in the fair-use application of placing content on different devices", says Rep. Rick Boucher (D-Virginia), who plans to introduce legislation to combat copy protection later this spring.

Reports about the initiative have convinced some consumers that the labels have secretly released a large number of dysfunctional test CDs into the record shops to see how music buyers react. On the Web site Fatchucks.com, consumers have posted reports about 122 suspect CDs in the U.S., including the latest releases from best-selling artists such as Aerosmith, Alanis Morissette and Britney Spears. John Eisenschmidt, and Arlington, Virginia systems analyst, says that when he tried to rip a copy of the new TORI AMOS album, STRANGE LITTLE GIRLS, for his portable MP3 players, he got only static, hissing and popping. Eisenschmidt believes he got stuck with a copy-protected version and posted the news to Fatchucks.com. Nine others reported similar problems with the AMOS CD. "The disc is worthless to me", Eisenschmidt says.

There's only one problem with the hysteria: Each of the five major labels - which account for about eighty percent of all U.S. music sales - denies that it has secretly released copyproof CDs to the public. Retailers haven't noticed them either. "We do a fair amount of returns, but nothing that draws us to the attention that this is being done without our knowlede", says Vince Szydlowski, senior director of product at Virgin Entertainment.

In the case of the TORI AMOS CD, Will Tanous, a Warner Music Group spokesman, says there's no way it could be copy-protected, because the company's U.S. plants aren't yet equipped with the technology. And Eisenschmidt's reports about the popping and hissing aren't typical of the copy-protection schemes that Warner Music Group is testing. "It's simply untrue", says Tanous. "We have not released any CDs in the U.S. with copy-protection".

Press reports have suggested that titles have been leaked into world-wide markets for testing. But officials at three CD manufacturers - Israel's Midbar, Phoenix's SunnComm and Santa Clara, California's Macrovision - deny releasing any unmarked titles into the U.S. They do say it's possible that some protected CDs destined for Europe and Asia might have ended up in the U.S. "We don't know where they're shipped, and we don't put any limit on where they're shipped", says Brian McPhail, vice president of Macrovision's consumer-software division. "If it's been unannounced by some parties, that's the label's decision".

Consumers aren't the only ones troubled by the new technology. Philips, the Dutch electronics giant that invented the compact disc, advised that all record labels remove its CD logo from any copyproofed discs because of worries that they con't work in all CD players, which would harm the company's trademark. "We are concerned about technology that limits the playability of the CD, because multiple uses of the CD in devices has been the foundation of its success", says Jeannet Harpe, a Philips spokeswoman.

Rolling Stone asked to test Eisenschmidt's AMOS CD, but he says he's already sent it to lawyers. At least three firms are actively investigating the rumors with an eye toward filing a class-action suit against the labels. A suit against Music City Records for the Carley Pride release, which carried no warning label telling consumers that it might not play in computers, was settled in February. If there are stealth copyproof CDs in the U.S. and the labels haven't disclosed it, they could be targets of civil suite. "The lack of labeling may violate state statutes about deceptive business practices", says Donald Hall, an attorney at Kaplan, Fox and Kilscheimer, who says his firm has collected a number of CDs from consumers that "appear to be copy-protected". No wonder the warning labels on the two official Universal releases are as long as the side-effects sticker on Claritin.

But the legal hassles of copy protection may not compare to its business foibles. In Britian, BMG had to recall copies of the copy-protected version of Natalie Imbruglia's "White Lilies Island" because it wouldn't work in regular CD players. Ensuring copyproof CDs are compatible with the world's 2.2 billion CD players is no easy feat. As one label rep confides, "We're not convinced the technology is all that good".

And artists, even though they're smarting from piracy, aren't sure copy protection is the answer. "I don't think the technology is perfected to a point where it can prevent (copying)", says Eminem's manager, Paul Rosenberg.
"The only thing it's going to do is get the fans angry. People who spend money won't be able to play the disc everywhere they want to, and that isn't fair".

Ultimately, protected CDs may not even stauch Internet swapping. After all, it only takes one hacker to crack the code, and he can then replicate a single copy over the Net ad infinitum. And the CD may not be long for the market anyhow. New formats such as DVD Audio or Super Audio CDs offer longer playing time, better sound quality and copy protections built in from the start. Lables might also move away from CDs and toward online distribution, to save shipping and manufacturing costs. Of course, there would have to be a workable copy-protection scheme online as well, which means the Fatchucks.com crowd won't soon disappear.