Tori performed on Live with Regis and Kelly on September 20, 2001. She performed "Time" and talked briefly with both hosts. Look below for screen shots from the performance, and some comments on the show from various Toriphiles.
Photos

Click any photo to see larger.

Comments From Toriphiles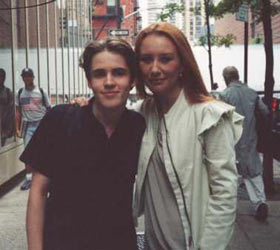 To the right, you can see a photo of Tori posing with Bill after the taping of Regis and Kelly.
From Bill Magee:
i met tori yesterday morningİafter the taping of regis & kelly. she walked out literally less than 2 minutes after she was on the show. there were 4 people there to greet her, 2 were autograph dealers. she stopped for maybe 5 minutes and took pictures and signed things. no barricades. just thought you'd like to know!
From Lydia Anne a.k.a. ttfn:
I just watched Tori on Regis and Kelly. I noted she was playing a Steinway Baby Grand. I also noted that she was wearing a group of red, white and blue ribbons on her right wrist with them having "streamers" hanging down.

Although sheİdid "Time" the performance was not nearly as emotional as the one on Letterman. That is she did not emot as much; seemed like a perfunctory performance. She was also wearing more traditional clothing top and pants of light tan colord--I like the "gown" she had on when she did Letterman; much more Tori to me.

After she played, there was a tiny bit of small talk. Her segment ended with both Regis and Kelly remarking about her upcoming tour with her and just the piano, "you don't need any thing more than just you". Tori seemed embarassed or even humble about that comment.

From Lorna Brigid:
So i have to say (I missed the Letterman appearance), it was sooooooo good to see her perform again! She looked lovely in casual lavendar, and she just radiated warmth. I actually enjoyed hearing Time live more than I did hearing it on the new CD. And it struck me, too, at the end of her performance; she motioned for Regis to come over to her, and she gave him a huge peck on the cheek... it struck me just how sweet she must be!

It was too short, as most musician's segments are, but it was a wonderful appearance. It was like seeing a best friend I'd really missed. Hope you caught it, if not, I am sure your VCR was set! :)

From MysT:
Sang TIME again - excellent eye contact with the camera. Didn't speak much - Tad about the SLG pics being the GIRLS who were inside the songs & about doing the solo tour. Wore red, white & blue ribbons dangling from her right wrist.

(Wondering how many Toriphiles will start to do the same.)

(Wondering when SOMEONE will let her talk about the tragedy.)

(Wonder if she wants to say anything about it?)

(Wondering if she will sing anything other than TIME soon.)

From Anthony Liranza:
i just finished taping the end segment of the television show, live with regis and kelly. as you know, tori performed a rendition of tom waits' time on the program...

but a word about the show: it is the worst piece of crap that i had to endure. tony danza is a shumck and so are regis and kelly. i had to keep switching the channels for my own self preservation and continued sanity.

tori's performance was heart-stopping; it seemed that she was singing to the hush that comes when we are touched by something true and profound.

after she sang time, she exchanged a few words with our intrepidly idiotic hosts. she told regis that she "crawled into these men's minds" to grasp the women, beneath, inside of the songs. regis was not too comfortable with the thought of this smart, tough, beautiful, and artistic broad getting inside any man's head and it showed by his flustered and stammered responses...my girl and i took much joy from watching tori make that geek squirm.