I was first told about this from Lucy Bennett. The February 2001 issue of Q Magazine in the U.K. briefly features Tori. There is a small photo of Tori on the front cover and about half a page about her inside, along with another photo. That section of the magazine is about rock stars who have taken drugs, and Tori tells about taking the Amazon drug ayahuasca. The picture inside with the article is a variation of one from the Spring 2000 issue of Revolver magazine. Lucy Bennett sent me the text of the Tori article and you can read it below. She also sent me scans of the Tori photos, both the one on the cover and inside the magazine. The small pic on the cover is from the session that produced the Tori photos for 1998 Q interview. (Thanks Emma Taylor.) Some people have previously reported that she looks pregnant in the inside photo, but that is not for certain and I don't think it is true.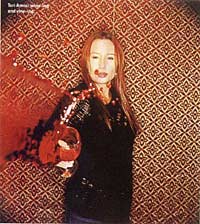 Photo from inside the magazine. Click to see larger.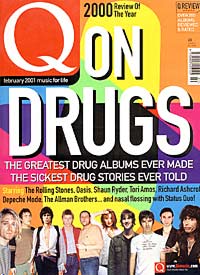 Cover of Q Magazine (February 2001) Click to see larger.

Tori Amos
Amazonian vine juice grabbed her "by the balls"
Her kooky image was one clue. Her Cherokee image was another. But few people suspected that Amos would be such an enthusiastic convert to the mind-bending possibilities of South American plant life.
"It's not like I've never done cocaine before but, on the whole, if I can't see dancing elephants, I'm not interested," she said.
"The drug which had a big effect on me was ayahuasca. It comes from a vine in the Amazon and you ingest it. You know that stuff they take in The Emerald Forest? It's like that. I was hanging around with some medicine women and they suggested I try it. I was very lucid but felt like I was walking around Fantasia, having a conversation with myself. "It isn't like acid, it's more emotional, more mental. But it can grab you by the balls and shove you up against the wall. I've been in a room with a woman who was literally trying to bite her own arm off. And this lasted for 15 hours. I was wasn't scared- just scared that I'd make a fool of myself. The funny thing was, I kept laughing and laughing, rather than sitting in the corner being intense. Then, every so often, I'd say, I'm in a really rough patch. And one of the medicine women would come over an reassure me that everything was going to be alright......
"I haven't taken it in a couple of years now. You can only really do it once in a blue moon. But the wild thing is that sometimes I only have to smell something and I'm right back there again, high as a kite."