Pnai Plus
19-25th February, 1998

Added February 23, 1998

I received the following from Toriphile Marky in Israel:

A singer in Israel named Rinat Gabai has covered the Tori song "Sweet Dreams" on her 1998 debut album. An article in Hebrew about this interesting singer appeared in a publication in Israel called Pnai Plus, issue #268 for 19-25th February, 1998. Toriphile Marky has translated this article into English below and has also sent me the photo of Rinat.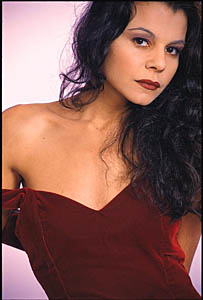 SHIRAT RINAT (The singing of Rinat) by Nahum Mohiah
Rinat Gabai has managed to do a lot: She's already sung at the opera, chanted at a historic event at the Vatican and performed 'A Walk To Ceasarea' at the Birkenaw concentration-camp. And soon her first album will be released, and in it a song that was given to her by Tori Amos, as well as songs written by herself. " I write about things that I feel inside and then I bring it all out to get a little cleaned-up," she explains
After seven years, Rinat Gabai is starting to fulfill her dream. In '90, when she was hardly 16, she sat on the guest-couch of Rivka Mihaeli on the show 'Siba LiMsiba', when the reason for her invitation is: Her cast as the lead role in the opera 'The Choke Chain' by Benjamin Britain. Without any warning the graceful and cute girl broke out in soul-trembling singing - and captivated the land.
Now she is on the bringe of releasing a first solo album which will bear, in an unoriginal manner, her name. She broke out into the airwaves in the last few weeks with two beautiful singles, 'Take Me From Here' (her own lyrics and music) and 'I've found good' (her and Tzruya Lahav's lyrics and her own music). The third single surprised everyone when it was found out that it was written by the British singer Tori Amos. The story goes like this: Gabay fell in love with this special and personal artist at age 18, when she listened to her debut album, "Little Earthquakes", and when Amos was brought to Israel for promotion to play, for invites only, at the Susan Dalal Center, the the young soldier managed to get an invitation to the event. Unfortinately, Danny Moscow, the head of Air Force Band, where she served, didn't allow her to go out that night and she had to miss the show. "It was soul-wrecking," she relives. "I was really down.
But the next day a close friend of hers, journalist Tal Perry of "Maariv" called her and reported that after the show, he met backstage with the artist and told her about Gabay, that she also sings and about how disappointed she was that she couldn't make it to the show. The story touched Amos' heart and she whipped out of her bag a tape, in it a song she wrote, "Sweet Dreams," that didn't make it to the album (and hasn't appeared in any other album since), and asked to pass it to Gabay, together with her approval to translate and record it herself.
How did you react?
"I was stunned. I didn't even find a way to thank her, because then there wasn't even any talk about an album of my own and I didn't want to commit to something I didn't know when or if would happen. But I knew that I had a gem in my hands, a special treasure, and I kept it in my drawer of special and precious items."
Six years later, this song will be released no Gabay's album, under the name "Good Night" (Layla Tov), translated by Tzruya Lahav. "She's an amazing woman and her translation is great," Gabay says enthusiastically.
Has Tori Amos heard it already?
"The record company 'Hed Artzi' passed her my version of the song together with the translation, and to my happiness she expressed a positive opinion of it and approved it."
And you haven't spoken to her personally? You've two have never met?
"Not yet. I'm really scared, I don't know what I'll say to her. I feel like hugging and kissing her. Maybe they'll arrange a meeting or phone-conversation between us, and I know I'll be very excited when that happens."
Gabay, 24, originally from Lod, has already written many commendable achievements in her record. In '93 she performed live to many TV station in the world the song "A Walk To Ceasarea" (by Hanah Senesh) at the Birkenaw concentration-camp in honor of 50 years for the Warsaw Ghetto Rebellion. She went there with an official Israeli delegation, which included teenagers from all over the country and the world, and was headed by prime minister Yitzhak Rabin. In '96 she represented Israel at the Vatican at the huge even in the sign of peace and brotherhood that took place there, and was the Jewish part of three singers (The other two being Catholic and Muslim). Recently the threesome were invited back to the Vatican, and at this even participated well-known musicians, including Giovanotti and Bob Dylan.
How did you feel during the performance at the Vatican, in front of the whole world?
"Knowing that this was such a big and important event doesn't allow you to think too much about everything else. I had to stay focused and concentrate on the professional side and to be in complete totalityto perform what I had to perform the best that I could."
The first song that you released, "Take Me From Here", is painful and sad. Who is Mazal to whom you dedicate it?
"She's my aunt, who died at age 36 after not having woken up from surgery. This story is a very painful tragedy in our closely-webbed family. I write about things that I feel inside, and then take them out to get a little cleaned-up. I sat with the piano and just cried the song out. And after that I played it and everyone got excited and started weeping tears. I wanted this woman to have something to perpetuate her."
In the song "I've found good," to which she wrote the lyrics together with Lahav, she expresses herself: "One step before the river / Another phase before the clothes will be taken off / This time without thinking too much / Staright into the deep end / And I don't care what they'll say / I take myself... and I've found good, I've found so much good / In the private silence only God is close..."
This song also expresses something melancholic, terminal even.
"It's amazing that you think so too. I played it to Erica Knoller, a friend of mine, an 82 year old actress I met at the Acco Festival (Gabay participated there with the group 'Sheva' at the show 'The Wedding'), and she said to me that this song is about suicide. My intention was completely different. I don't think and I don't write about suicides. This is a song that speaks about the phase of one step before fame."
Gabay, a young, pretty, sensitive and open girl, now lives in Ben Shemen with her boyfriend ("Nobody famous") and her Pekineze dog Chapa. She reveals that she has forever known that in due time she'd want to write to herself and she had a pretty clear clue of how her music would sound like. She's aware of what is happening in the local music-market and takes interest especially in another talented young singer who writes to herself, who'll release her debut album close to her's, Meital Trabalsi."Say," she asks me, maybe out of fear or maybe our of humor, "They're not trying to compare between me and her, right? They won't make me her opponent like they did with Ofra Haza and Yardena Arazi, right?"


Please give me feedback, comments, or suggestions about my site. Email me (Michael Whitehead) at mikewhy@iglou.com