Newsday reviewed Tori's November 13, 2002 show at the Riverside Church in New York, NY and published it in their November 15, 2002 edition. Please read it at newsday.com or below. Thanks to Erin Eber and Woj for the article and Erin for the scan you see below from the article.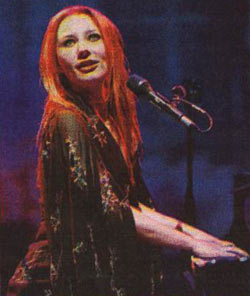 Divine Service of Hits

Tori Amos' canon comes to Riverside Church

By Glenn Gamboa STAFF WRITER

Tori Amos sat beneath an illuminated crucifix, statues of saints behind her, loyal, cheering congregation in front, posing one of her most famous questions: "Why do we crucify ourselves?"

For Amos, whose links to religion and spirituality run deep, performing at the Riverside Church was a special occasion, and she unveiled an unusual show of two hours and 15 minutes to match it. Though Amos is on tour to support "Scarlet's Walk," a concept album that traces a fictional trek across America after the Sept. 11 terrorist attacks, the fiery singer pulled out songs from throughout her career.

"Crucify," her first hit, was an early highlight, as Amos alternated between stark, electronic beats and her warm piano playing. In the unusual concert setting, her grand piano replaced the altar, the drum set standing where the lectern would be.

"To be in a church with you - wow!" she said, taking in her surroundings. "I must give this a moment."

Spirituality has been a long-running theme in Amos' songs, her work serving as a complement to religion. While religions strive to take grand beliefs and apply them to individual lives, Amos struggles to take events in individual lives - the "little earthquakes" she recalled in her breakthrough album - and surround them in grandeur.

With help from bassist Jon Evans and drummer Matt Chamberlain, Amos succeeds in giving her bold ideas an equally bold musical home, especially when she pushes her strong voice, as in the stridently beautiful "Cool on Your Island." Sometimes, however, her ambitions overtake the music, wearing out particular sounds or staying too long with a certain musical theme. Normally, Amos breaks up similar-sounding songs through her lively rapport with the audience. At Wednesday night's show, though, she said little, causing the end of the main set to drag a bit after she delivered a stirring version of her current single, "A Sorta Fairytale."

Amos also seemed to temper her usual onstage ferocity, though hair flips and bench straddling did make appearances, along with percussive piano pounding. Her finale, "Hey Jupiter," showed how Amos can get caught between her ideas and their execution, as her potent lyrics and energetic performance get wrapped in a generic power ballad unworthy of Journey.

Opener Howie Day had a similar problem. The singer-songwriter dazzles with his ability to build songs layer-by-layer in front of the audience, performing melody lines or harmony vocals one at a time and then looping them, using a technique pioneered by Joseph Arthur. However, several songs from his album "Australia" weren't interesting enough to get past the gee-whiz factor of seeing them crafted onstage. The exception is his first single, "Ghost," where Day works his layering magic on a gorgeous melody.

Amos and Day need to hone more songs to match their ambitious reach and live up to their potential.

Copyright (c) 2002, Newsday, Inc.