There is a nice photo of Tori and an article on RAINN that mentions Tori in the August/September 2000 issue of MXG magazine. Special thanks to Erin O'Neill and Erin Stynchula for sending me the entire article, and to BlueMaude for also telling me about it. Erin O'Neill sent me a scan of the Tori photo that you see below.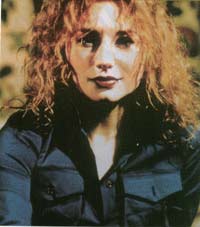 Click to see larger.

Right as RAINN
Warning: Before you finish reading this, another woman will be raped...
With the 1991 release of "Me and a Gun," featured on the Little Earthquakes album, Tori Amos reveals the struggles of a rape victim gone numb from violence. As one of the first celebs to go public about her rape, Tori became an international role model for victims of sexual assault, inspiring survivors to speak out. She worked on the 1994 launch of the Rape Abuse & Incest National Network (RAINN), which is a nonprofit organization with 826 centers nationwide and the only hotline in the country specifically designed for survivors of sexual assault. The hotline instantaneously connects the callers to the nearest rape crisis center and provides victims with access to free and confidential counseling. Because RAINN receives no government funding, the organization relies on the support of volunteers across the country.
"There's a tremendous role youth can play," says Fanny Garcia, a prevention education coordinator. "You can help just by strengthening your community's ability to respond to a rape, by altering the judgmental attitudes that can be so harmful." Society has been known to blame the victim for placing herself in so-called potential rape scenarios, but the reality is -- flashy D&G micromini or not -- no one deserves to be raped. RAINN urges teens to change these misconceptions by increasing awareness in their communities. Whether you contribute after-school hours at the local crisis center, enter a counselors training program, or pass out flyers in the hallway one morning, every course of action sheds light on this understated cause and draws victims out of the dark corners.
With the help of RAINN, more and more survivors are coming forward, diminishing the stigma normally affiliated with rape victims. Other celebrities, such as Jennifer Aniston, Calvin Klein, and Sarah McLachlan, have also supported RAINN. And advocates across the country are working harder than ever to ensure stricter laws against assailants. But just how big of an issue is it? According to the U.S. Department of Justice:
More than 300,000 women are the victims of rape, attempted rape, or sexual assault in the U.S. each year.
Teen girls 16 to 19 are the group at highest risk for becoming victims of rape.
One in two rape victims is under age 18, one in six under age 12.
Approximately 68% of rape victims knew their assailant.
For more info, call the RAINN hotline (1.800.656.HOPE) or visit http://www.RAINN.org .
--Nora Salim
MXG Magazine, pg. 14, Aug/Sept 2000 issue

Erin Stynchula adds the following about this magazine:
On page 41 of MXG magazine, the heading to the interview with James Marsden is "To Marsden and Back," it is in shoestring font just like TVaB, and the words 'to' 'and' 'back' are in grey and 'Marsden' is in black. It looks like they did this on purpose to be like To Venus and Back.