Music Week
April 11, 1998

Added April 20, 1998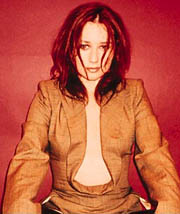 The April 11, 1998 issue of the British magazine Music Week contained an article about Tori and the new album, as well as a good review of the single "Spark." The online version of Music Week is called Dotmusic, and I have been pointing to the online version

of the article for a while now. The review of Spark

is also available online at the Dotmusic web site. The article includes three pictures: one being a small album cover, the second is a tiny portrait photo of Tori, and the third is shown to the right. Click on the small photo to see a larger version, which shows Tori's entire body.
The article below was sent to me by Andy Tebbutt and Emma Taylor, as well as from Marcel Rijs, who sent me a scan of the photo you see to the right. Many thanks to Steve Edwards, who helped me realize that the online version of Music Week was the Dotmusic web site, and who first made me aware of the article online.
Publication: Music Week
Date: 11 April 1998
Page: 8
Writer: Catherine Eade
'People who went for that remix [of Professional Widow by Armand Van Helden] probably won't ever like what I do and I'm OK with that, although if they like rhythm, you never know...' - Tori Amos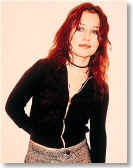 That the delivery of new material from Tori Amos should coincide with the departure of East West managing director Max Hole and her A&R man of seven years Ian Stanley may be seen by outsiders as somewhat unfortunate.
But those facts are certainly not reflected in From The Choirgirl Hotel - her first new material since Boys For Pele hit number two in 1996 - which is arguably her most accomplished and accessible album to date.
It contains many of the dark elements you'd expect from the woman who has made a living baring her soul, but there is a positivity of spirit and a richness in the music not found in her previous three albums (Little Earthquakes, Under The Pink and Boys For Pele). Each has sold around 2 million worldwide but From The Choirgirl Hotel (out on May 4th) should far exceed that, says Rob Dickins, acting managing director for East West since Hole's move to Universal last month.
He adds that the recent upheavals at the label will not affect Amos adversely. "She is in her own space musically and there is a strength to her that transcends her relationships with people at the label, " he says.
Amos herself is sanguine about Hole's departure. She says, "you do develop relationships with people, but Max is taking the next step and I'm happy for him. Times change."
Stanley, who has worked with the singer/songwriter since she was effectively moved over from Atlantic in the US to East West in 1991, and who Amos describes as one of the closest people in her life, may remain as an A&R consultant for the artist. She adds, "I've always played him the seeds of my idea's and there's always been a respect there. I'm not really A&R'ed, but you sort of create a brain trust with some people, and Ian is someone I really trust. He will always be a close friend."
From The Choirgirl Hotel marks Amos' move firmly away from the "girl and her piano" niche she had carved for herself, being the first recordings with a proper band - instruments have previously been laid over the finished recordings. The result is that the artist's Bosendorfer piano takes a back seat. Subsequently, the strong use of drums and background electronic effects, not to mention some pulsing beats and loops, will suprise fans.
Amos says, "The piano was always at the centre, but she's (the piano's) not down in the same way. She's more integrated. It's more like a passing of the baton to other instruments, although she still shines at times."
Stanley believes the change is a natural progression for Amos. He says, "The album was sort of a reaction to Boys For Pele, which was almost classical in its execution, quite dark with complicated structures and arrangements. This one is a lot more tuneful and positive lyrically, and different because of the other musicians on it. It's way beyond my expectations."
Dickins describes the album as extraordinary. "With this she has carved out a niche that is 100% hers, " he says.
The album was recorded in a studio in Cornwall with piano and vocals being cut live with the drummer and programmer, and TV cameras and screens set up so each could watch the other.
Amos says, "My drummer, Matt Chamberlain, just has a psychic way of hearing music and we cut live on every song except Jackie's Strength. We would look at each other and he would push something and I would pull back. It was more like a conversation."
Stanley adds, "Tori has played with a lot of people but this was something completely different. She would do a song Matt hadn't heard and he would play and that would be the take. It was amazing."
Amos says many of the songs for the album came about as a result of the miscarriage she had after the recording of Boys For Pele. "That made me look at things differently. It put me in touch with a more primitive feminine side and I started to watch for rhythms. There's a lifeforce in the music and rhythm of these songs which reflects my feeling that birth and death are mysteries of life which are constantly happening," she says.
As well as bass, strings and other instruments, long time collaborator Steve Caton's acoustic and electric guitar was later sculpted around everything. The result is a 12 track album of sheer brilliance, from the hooky Spark, the forthcoming single (out on April 20th) which contains all the classic ingredients for Amos fans and more, through the haunting Black Dove (January), the madly multi-layered Raspberry Swirl, the beautiful ballad Northern Lad and the sorrowful Playboy Mommy. There are still the slightly off the wall tracks (Hotel, Pandora's Aquarium) that fans would expect, but the album as a whole deserves to attract a wider fanbase, if not those who sent the Armand Van Helden remix of Professional Widow to number one in January last year. "People who went for that remix probably won't ever like what I do and I'm okay with that, although if people like rhythm you never know, they might like it," says Amos.
According to both Dickins and Nigel Sweeney, who has been promoting Spark to radio, East West has a substantial campaign planned to support the album, which has already had a positive reaction from radio, retail and the media, and kicks off with a "Q" front cover. "I don't expect a first play reaction with this album - it's not fast food," says Dickins, although Sweeney reveals both Radio 1 and ILR have reacted favourably, and Top Of The Pops' Chris Cowey has booked a pre-record session.
Amos will be touring from mid-May, including a date at the Albert Hall, and there are 200 live dates planned over the coming year, as well as festival appearances for the first time.
The flame haired singer will be very much out there, even if not in the sense that most people would expect.
Artist: Tori Amos
Project: single/album
Songwriter: Amos
Producer: Amos
Studio: Martian Engineering, Cornwall
Released: April 20/May 4
Catherine Eade

Spark Review
TORI AMOS: Spark (East West AT0031CD)
Tori bursts back on to the scene with this powerful first single from her forthcoming album From The Choirgirl Hotel. Her trademark piano is there but the addition of a band, drums, loops and electronic effects add a further dimension. It's a very fine, multi-layered song which will see her first return to the charts since the Professional Widow remix smash. The singer will be touring from May, and is winning interest from national and regional radio, while Top Of The Pops has already recorded a session. Rating: 2 thumbs up (out of 2. The Dotmusic web site showed a rating of 4 "stars")


Please give me feedback, comments, or suggestions about my site. Email me (Michael Whitehead) at mikewhy@iglou.com