Alexandra ~ cherryblonde sent me a photo that appeared in the German Magazine Musikexpress. At this time I do not know the date of the issue. The photo was taken in 1998 because it is a variation of the photo that appeared on the cover of Alternative Press Magazine in July 1998. However, Alexandra also sent me the article translated into English from German, and it mentions "to venus and back". Therefore, the article likely came out sometime in 1999. You can read the translated article below. (Many thanks to Alexandra for taking the time to translate it!) If anyone can find out the exact issue date of the article, please email me!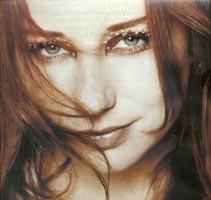 Click to see much larger!

Mysterious
Tori Amos is in very good hands in Cornwall - the place of myths and fairy tales. But in this conversation the brisk fairy leaves us with more questions than answers.
Sally jumps up and down. Sally works for Atlantic Records, UK. She is the one who picks us up in Heathrow but her first question is not what we think about Tori's new album or if we are well-prepared. She's asking us if we brought our swimming suits along. She is wearing a summer's dress with flowers and she is ready to spend a holiday weekend instead of a weekend of work. The driver who brings us to Cornwall from London is named James. What else. James spent half of his life driving rockbands and Michael Jackson's equipment through Europe and he seems to be happy that this is over. It is also a very relaxing weekend-job for him and when we pass the bridge to Wales and stop in a very picturesque town, this vacation mood takes over the whole crew. Ain't it beautiful? Oh yes, indeed. Even wonderful. The grass is green, the sky is light blue, die flowers almost explode of colors. The houses are small and a often little slanting. The ocean is in front of the door. The temperature is around 18ƒ, fresh, very pleasant. There are sandy beaches for every taste ' for family-swimming and some lonely bays with an amazing landscape. The main thing: stones. Stonehenge is not far, even closer are the remaining parts of Tintangel, King Arthur's legendary castle.
To make it complete our hotel is called "Camelot". But knights and magicians are far away. 15 years have passed since Myra Ellen Amos read "Avalon". Then she was 21, lived in L. A. and was far away from any kind of career. Now she doesn't read something like that anymore. It is real and not mysterious anymore. Her new neigbours tell her stories of ghosts and circles in fields just as if they were talking about soccer or the petrol prices. "This has nothing to do with New Age" Tori says carefully "this is not my world, this is a clichÈ, too conformistic."
Even though Tori Amos' music and the imagery of her album covers speak another language the sun is shining so brightly that you have to believe her. No twilight, no doubts. It's the opposite: there is so much South-European mentality surrounding us, that Tori looks more like a flowergirl than a soul-seeking woman of pain. All projections, all images are in a blur: the puppet box called "Little Earthquakes", the red-curled angel of "Under The Pink", the witch-like outlaw with a gun and a piglet at her chest of "Boys For Pele", the siren pressed behind glass of "From The Choirgirl Hotel". The piano. The guilt. The atonement. The father. "Father I killed my monkey" is the beginning of the new album, a biographic step further. Father, I am free. Again pschoanalysis is clapping its hands, again Tori Amos presents herself as an artist who carries her life and pain expressively into public. You don't have an interview with her. She opens a door for a certain time and it is good to choose which side your on before you go. Otherwise you'll find yourself swirling around 50 times and thrown in the bushes, confused and like on drugs, but the door is closed. She is looking at you from a short distance right into the eyes and sometimes in dramatic moments she grabs your hands. "Hang on" you might think irritated, you are positively amazed, you feel important, special far away from the sexual aspects of this touch (which is not the case) but you have to take care that she doesn't wrap you in. Is this strategy? Exhibitionism? No question: the 36-year-old is a professional and she knows exactly what she is doing. Even the way she appears tells a story. Bare-footed she walks over the lawn, blinks and shows the little tricks of manipulation. "You journalists don't know how much you reveal of yourselves" she says a little later "I am a hunter. I hunt frequencies, I hunt sounds and I hunt emotions. And sometimes I hunt those who want to challenge me. There is this side of me which has blood in the corners of the mouth." There are a lot of fighting Toris, one founded RAINN (Rape, Abuse and Incest National Network) which helps abused women and then there is this part "that you don't want to introduce to your mom."
Right now, flooded by light this aggression seems to be far away. All the people are happy and relaxed. England celebrates summer like never before and turns itself into a different England, far away from the one which is supposed to be Tori's home with its history, its culture and fogä but you have to remember sometimes that she is American and originally from North Carolina. For two years now Bude in Cornwall is her place although it is not really her home. There is no such place for Tori. Tori owns real estate(s) in so many different places such as Ireland and the Carribeans. There she goes to spend time on her speedboat. She's married for almost two years now, built a high-tech-studio with Mark, her English husband who is also her producer, at the coast of Cornwall in an old barn. "From outside it looks like it's 200 years old and inside like a spaceship" she proudly says. It is her kingdom, just waiting for her creativity, her next tornado. And then there is her baby, her fetish, her piano, the famous "B–sendorfer". After two albums concentrating on the piano the "evil" is not the most important anymore she claims. "To Venus And Back" is the record which was supposed to be just a collection of live outtake of the last tour, a step toward half-played, half-programmed music out of the depths of an ancient "techno barn". The anwer why there is a new album gives a good insight into Tori Amos: "They came to me." She gets signals. The desert talks to her, the earth speaks to her. She is the voice of them. Not a surprise that you will find sites on the web like "Church of Tori" and "Force of Tori" which are admiring Tori without any irony.
Tori Amos is a star, not a big one but a constant one. A trademark, a brand, a magazine for women in flesh and bone, always at the edge of creativity and expression. Tori combines opposites ' passion and work, discipline. "Only both are possible, there has to be a give and take, just like in tennis. If somebody is just doing aces (?) it turns boring." She is talking about her new album calling it her "Cindy Sherman record" just like the excentric photographer she changes constantly but stays the same. That is what the songs shall make come true. A very glamerous one is called "Glory of the 80s" and ends with the almost whispered words "nineteen-eighty-five". This is just in the middle of this famous decade which a lot of people have lived through very intensely, the meaning of musical depths: keyboards and synthetic drums, kitsch and pathos, over-production and stadium sound. On the way home we listen to "Broken Wings" by Mr. Mister on BBC Radio 1 as we drive through the hills and straight away we all know: this is the world of Tori Amos, her sound, her expression, her sentimentality which tastes after the end of the cold 90s very much like kitsch. Nevertheless Tori is able to press a well-hidden button in those moments which makes us want more, a wish for pain and emotions in panavision. Sometimes Tori Amos is afraid that there is no tornado in sight: "But then you have an ice-cream on days like these ' and you've got the white shark on a leash. When you're awake things like that will happen till you breathe your last breath." All she's saying and stopping abruptly. One hour has passed. We were cruising around earth, Venus or whatever once and now our lives have to part. Her life leads into the studio mine to the beach.
Holger In't Veld (interview) Jason Bell/Katz/Focus (photo)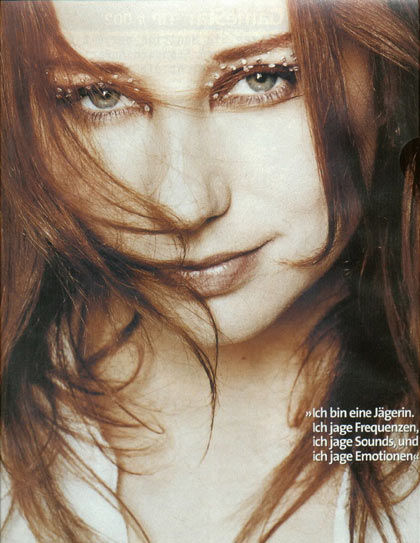 Here is the same photo, but you can see more of it!