Many thanks to Lucy for this interview and to Paul Fisher for the scans of the photos that went with this interview. Each photo is commented on by Tori below. You will see the photo, and then Tori's comments underneath it. This is a rather fun article!
TRUTH BEHIND MY PAP PIX: TORI AMOS - MY MAN NEARLY BASHED A PAPARAZZO'; THE SINGER-SONGWRITER WITH THE TRADEMARK RED HAIR LETS US IN ON THE SECRETS BEHIND HER SNAPSHOTS

Here I am backstage at the Brit awards. I was so hungry I was nearly falling over. I was like, Yuk, come on, I can't deal with these hors d'oeuvres, give me a banana.' I do try to eat healthily, but if I'm having a bad day because I've eaten the wrong thing - if I'm feeling crampy and bloated - I buy shoes. In fact, in my new video, there's a love affair between my character and the actor Adrien Brody, who falls in love with my Sergio Rossi button shoes. Instead of making babies, we make limbs. But that's another story...

I covered an Eminem song, Bonnie and Clyde, and this is me as my character. Kevin Aucoin did my make-up - tragically he died, aged 40,of a metabolic disorder. Kevin was the man behind Gwyneth Paltrow's look the night she won her Oscar and he made up Cindy Crawford for her first Vogue cover. Before we shot this picture, Dido came in to see Kevin, and she was lovely. It was a coincidence, as Eminem used her riff for his record, Stan. She said, I've heard you've done an Eminem song,' and I said, I'm playing the daughter of the woman killed in Bonnie and Clyde.' Dido heard the record and said it sounded creepy. I laughed and said, It was'.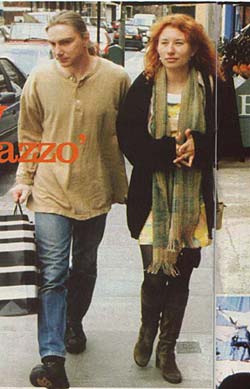 Aah, I love this photograph, My husband Mark and I had just started dating. And, yes, we'd just been shopping at Joseph. I showed him the picture last night and he said, Ugh, I remember thinking, "If I bash that paparazzi photographer, it probably wouldn't make a good start to our relationship".' Sloane Street isn't Mark's type of place, but I was so happy just being with him.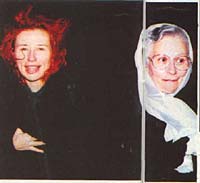 Ooh, here's me with no make-up on coming out of the Atlantic Grill with my mother, in 1995. I wasn't feeling well and she'd come to look after me. But then REM's Michael Stipe called and begged me to meet him at the restaurant. He and Michael Hutchence sat on either side of my mother. They asked her about the story of the trail of tears (my father is a Methodist preacher). I remember these two young men rapt by the story. The next day the whole story of Michael and Paula Yates' relationship broke.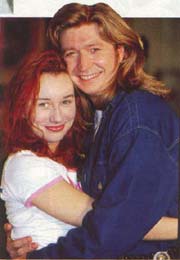 I was filming a TV show with Nicky Clarke and he wanted to cut my hair. I didn't want him to - as you can tell. Sorry Nicky. But I did get my hair coloured at his salon for a while afterwards. Sometimes I get tired of being the girl with red hair, maybe that's why I loved wearing all the different-coloured wigs for my last album, Strange Little Girls. For the new album I'm back with red hair. My character Scarlet goes on a road trip across America and she's like a thread of colour across the landscape.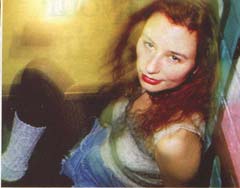 This was a shoot for Vox magazine. My stylist got these hand-made vests from a market - it's quite a Seattle grunge look. Fashion is so unpredictable, that same year we took the piss out of 1980s cheesy styling for Spin magazine and it was their best-selling issue ever. I swear it became a cool look.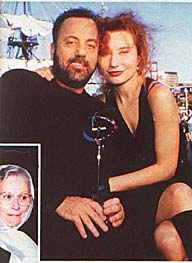 That's me with Billy Joel accepting a music award in Australia. He's a sweetheart, but the oddest thing was that, earlier that day, I saw a girl in the hotel who was the exact double of his ex, Christie Brinkley. That completely blew my mind. I thought, Oh God, cloning really is happening'.

MY FAVOURITE PHOTO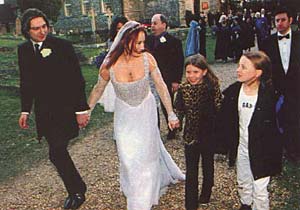 This is just after my wedding in 1998 at the Church of St Lawrence in the grounds of West Wycombe Park - which is a National Trust property in Buckinghamshire. Two sweet little girls came up and asked me what it was like being a bride. I wore a medieval-style dress with a long silver veil and my father gave me away. After the service, our guests were served hot punch by waiters dressed in monks' outfits and we left in a horse- drawn carriage.

Tori's new single, A Sorta Fairytale, and album, Scarlet's Walk, are out on Epic Records tomorrow.

Liz Hoggard