Tonight Show With Jay Leno
September 21, 1999

Tori appeared on the Tonight Show With Jay Leno on Tuesday, September 21, 1999 and performed 1000 Oceans with her band. She also had a small chat with Jay. This also happened to be the day that her album "to venus and back" was released in the U.S. Kevyn Aucoin did Tori's makeup for the appearance and she had what looked like stylized tears, which was quite different!
Also, when Jay was announcing the guests at the beginning, they showed a brief clip from the 1000 Oceans video on the monitor!
Below you will find a transcript of what Tori said to Jay sent to me courtesy of Cornflowergirl. Below that you will find photos from the program and then commentary from people who were either at the taping of the show or who saw it on TV.
Transcript
After Tori's 1000 Oceans Set...I guess she cracked her voice er somethin'
Tori Amos:I wish I could do that again...
Jay:You can.
(cut)
(She plays it again and this is the one showed to Westcoastees everywhere)
Jay Leno:How have you been, you alright?
Tori Amos: I'm pretty good.
Jay Leno:You look a lot like you've got a little sleep in your eyes.
Tori Amos: Yeah, well..you know.
Jay Leno: Are you done with your tour with Alanis?
Tori Amos:Almost done, we have a few shows left.
Jay Leno: Okay, then good, then having fun? Do you have you mike?
Tori Amos:Oh, I don't have it.
Jay Leno:(Tori fiddles with mike)There, here you go.
Tori Amos:Well, I'll just hold it.
Jay Leno: You wanna hold it? Okay.
Tori Amos:Is that okay?
Jay Leno: Yeah, so the tour's been...the tour went well with Alanis?
Tori Amos:Yeah, I'm loving it. You know it's like having two pirate ships
going into a cove. Lots of dirty laundry from many crewmen. (Sniffs
nose...hmmm)
Jay Leno: I have no idea what that means but it sounds exciting (laughter)
And how's uh...how's pop the preacher. Good?
Tori Amos:He's, uh, he's like a road dog. He and my mother doing like a car
trip. He sells posters out of the back of the car I think, just to get a
few extra bucks.
Jay Leno: Well, that's nice.
Tori Amos: He's fantastic. They're doing well.
Jay Leno: Now does he wear his clerk, clerk, clergy...
Tori Amos:Of course. Then people can recognise him and than he can um, he
has his own little fan club.
Jay Leno: right, so um's like a ministry within the fan club?
Tori Amos: Well..yah, all the little satanists come and like get his
autograph.(cheers)
Jay Leno: Now, I, I was reading about this new ah, you came up with the
title To Venus And Back before you wrote the song right?
Tori Amos: Yes, I came up with..well actually a friend of mine helped me
come up with it.
Jay Leno: Mhmmm...
Tori Amos: We were having a really good bottle of (phonetic spelling here
:P)cortonceronmai...
Jay Leno: Okay, good bottle of wine so...
Tori Amos: Yah..
Jay Leno: You came up with the To Venus and they came up with the And
Back...
Tori Amos:No, I came up with the To And Back.
Jay Leno: Oh, well okay, and they came up with the...
Tori Amos: Venus
Jay Leno: I see, I see.
Tori Amos: Opposed to...(cocks head to her right)
Jay Leno: Now do you use different wines for different things (laughter
about Tori's last remark settles in)
Tori Amos: Um, of course.
Jay Leno: Yeah.
Tori Amos: Yean, they say..um somebody taught me once, Al Stewart got me
into wine. You know, Year of the Cat
Jay Leno: Al Stewart, Year of the Cat of course!
Tori Amos: And he looked at me and he said you have never had good wine you
know I'd eh (sniffs underpits!!)(crowd laughs)I don't know what that means
but finally I realised he looked at me and said, burgendy is for sex,
bourdeu is for intellect. So I have a lot of bourdeu-I need that.
Jay Leno: Now, okay, like Mad Dog 20/20..what would that be for..(laughs)
I'm just curious.
Tori Amos:(The Tori Look...pauses)Um, for my crew. (crowd laughs)
Jay Leno: Like did you ever preform for Al (chuckles a little bit) did you
ever preform with Al Stewart?
Tori Amos: Yeah, actually.
Jay Leno: That's my kind of generation-Al Stewart, what year was year of the
cat? What year was that?
Tori Amos: Well, year of the cat is 1963.
Jay Leno:Ok, it's before my time..(mumbled)
Tori Amos: That's not when it came out (Jay Leno: No)
Tori Amos: but he sings about (Jay Leno: Right) year of the cat.
Jay Leno:Yeah, but bu when did the song come out? When did i when did i
Tori Amos: I know it's the seventies, you were on drugs see (Jay Leno: Yeah)
Jay Leno: (jokingly)Yeah that was me, I was on drugs, yeah that was me
yeah...(crowd's laughing)
We'll be back right after this...(screams of I love you Tori!!)
[Commercial]
Jay Leno: To Venus And Back, it's the new CD. Well, it's good to see, you
gotta come back often real soon.
Tori Amos:(mouths okay)(smiles)
(Cheers from Toriphile packed crowd)
Jay Leno:(tries to say something but then taps desk-goes on to say about the
guests then ends the show)

Click on thumbnail to see a larger image.

More photos from dink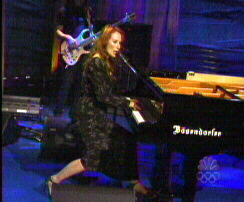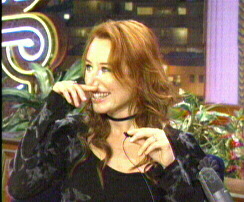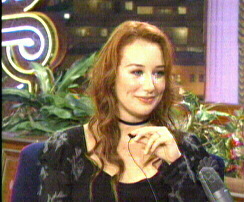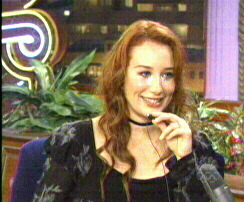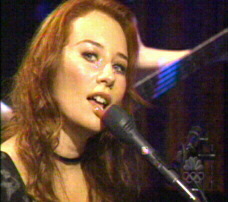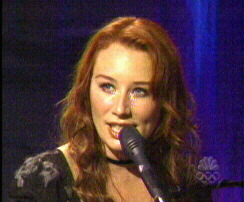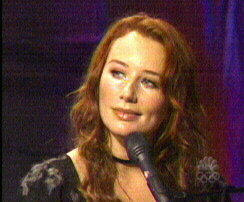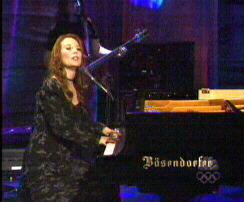 From Heather/RaysinGyrl
I was at the taping of The Tonight Show with Jay Leno tonight, and something very interesting happened. Tori performed 1000 Oceans and then sat down in a guest seat. Tori was wearing this grey dress with fuzzy flower type stuff on it.. i'm tired.. this will get better tommorow.

Anyway, when she was talking to Jay she asked him if she could do her song over again because she messed up because she was nervous!! (her voice cracked). We didn't know if they were going to let her do it again but much to our delight.. she did!! We got to hear Oceans live twice.

From JC
I just got back from the Tonight Show taping which turned out to be a great addition to my Concord and Bakersfield shows this week. Tori wore a long black dress with what seemed ot be a blurry, almost floral, pattern in grey or white--over the black dress. She played 1000 Oceans. There was a big crowd for her and she had a nice little chat with Jay afterwards about Al Stewart, wine, and the tour with Alanis. She asked Jay if she could re-do the song because she thought she messed up. Jay allowed her to retake it on account of lets say "technical problems." I just want to clear up one thing. Was it just me or was the Kevin Aucion who came out to retouch Tori's make-up during the break. Im sure others saw him but it might have been just me dwelling in the craziness of the moment. It was very beautiful. I must say I'm loving this little telescope/peephole thing Tori is doing when we scream her name and she looks our way.

From Dave
Just saw Tori on Jay Lenno. She sounded great as always. One interesting note was during the dialog segment. Tori joked that Jay was on drugs during a period in the 1970's. If you watch closely the screen jumps a bit following the comment. They obviously edited the segment. It was great to see that Tori was in fine form musically and her wit was intact. (Note from Mikewhy: They cut the part where Tori asks if she can do the song again. My guess is the performance we saw on TV was the second performance done AFTER the interview with Jay!)


Please give me feedback, comments, or suggestions about my site. Email me (Michael Whitehead) at mikewhy@iglou.com