It Is Over...
Tori Waves Goodbye & Performs Her Last Show Of The Dew Drop Inn Tour In Boulder
"It must be worth losing, if it is worth something."
Updated January 9, 1997
The photo below shows EWF Meredith Moseley With Tori Backstage at Boulder on Nov 11th.
Final Set List For Boulder on Nov 11
Beauty Queen/Horses
I'm On Fire
The Waitress
Hurt/ Caught A Lite Sneeze
Cornflake Girl
Honey
Pretty Good Year
Marianne
Here In My Head
Precious Things
God/Amazing Grace
Talula
Me and a Gun
-----------------------------
Landslide
China
----------------------------
Tear In Your Hand
Daniel
Hey Jupiter (on piano)






The Dew Drop Inn Tour is now a warm fuzzy memory in our hearts and minds. After 187 shows, Tori finished the tour Monday night, November 11th, 1996 in Boulder Colorado at Macky Auditorium. The set list included I'm On Fire, The Waitress, God with Amazing Grace, Honey, Pretty Good Year, Marianne, Here In My Head, Landslide, China, Tear In Your Hand, Daniel, and Hey Jupiter to finish the tour, on PIANO instead of organ. There was a great deal of energy in the air that night. Take a look at those last 5 songs. There could not have been a dry eye in the house. Between the first and second encores, Tori never left the stage. She accepted flowers and interacted with the crowd, but stayed on the stage. When she sang God, she sang it acappella while banging on the harpsichord. She then went into Amazing Grace, and then back to God, then right into Talula, without Talula's usual intro. While singing 'Tear In Your Hand', the second time Tori was supposed to sing, "Maybe it's time to wave goodbye now", she moved away from the mic and simply waved to the audience instead. Tori did not speak very much, but what she did say was priceless. She expressed strong appreciation for all her 'Ears With Feet':
"It's been one of those things where musicians come to me every night and say, 'God, can I borrow your audience?' And I say, 'Well, you have to ask them because there's nobody like them.' So thank you for those of you who've been with me for the whole tour and every night; it wouldn't have been the same without you."
Before playing Marianne, Tori also talked about the doubts her record company had when they first heard 'Boys For Pele':
"So basically what I said was--after this record went platinum, it wasn't because of anything you all did [The record companies] "... but it was because of YOU [motioning with her shoulder toward the audience] guys. Record companies, radio had absolutely fuck-all to do with any of it. But the one thing is, you guys DID, and this is one song that demanded to come tonight because, although she's not on this planet anymore, she was, um, probably the main song that gave me strength to withstand when everybody said I'd made a piece of shit."
I also heard she spent a great deal of time with fans at the sound check and after the show. Toriphile Dor gives this report. "As i embraced her i whispered 'tori, will you be back?' and the last words she said to me that ended this whole wonderful experience were 'oh dorothy... i'll always come back.' " I simply can't believe it is over...

Read The First Review Of The Show From Beth Hasbrouck.

Read a very detailed review with Tori's complete quotes from Meredith P. Moseley.

Read more comments from Meredith P. Moseley, including interesting post-show details.

Read a new review of Boulder's second night by Lisa Street (Mary Girrrl).

Read more about the show from Nanci Elizabeth Connor.

Still another review from Jason (anakha).

A review so well written you will feel like crying, from Dor. You can also see some Boulder meet and greet photos that Dor took on my Ears With Feet Photo Page!

Comments on the end of the tour by Devendra Kumar.

Devin and Maria describe the big farewell card to Tori that contained all the farewell mesages from the net and what happened when it was presented to her at Boulder. You can also see this great card by going here.

More Comments on meeting Tori in Boulder by Elusis.

You can see some great photos from the Boulder sound checks by going to my Ears With Feet Photo Album and looking at the entries for Dor, Meredith Moseley, Liz Phan, Erin Hopkins, Elusis, Dollllike, and Lisa Street.
Final Reports From The EWF (Ears With Feet!)

Meredith Moseley was the first Ears With Feet to send me a review of Tori's first night in Boulder on Sunday, November 10. She has since sent me a more detailed version which you have to read! I would also like to thank Lori Keaye, who called me at home from Boulder after the show and gave me the set list! Beth Hasbrouck has emailed me with her comments on the show. Lisa Street also sends some thoughts on this evening. Nanci Elizabeth Connor posted her experience to the RDT mailing list, and Jason (anakha) posted his to the rec.music.tori-amos newsgroup. Finally, we have a great review from Dor.

Stacey Russell saw Tori in Albuquerque New Mexico on November 9. Just minutes after the show ended, she called me at home and gave me this brief report from the show. I now have her complete review as well! Nanci Elizabeth Connor was also at the Albuquerque show and has her own comments.

I have numerous reviews of Tori's November 7 show in Omaha Nebraska. Cindy Elder was the first to email me a review of that concert. Sunni Elizabeth Franz experienced Tori for the very first time in Omaha, and also sent me thoughts on the show. And Laura,Pantyhose-girl recently posted her Omaha review to the RDT mailing list. Julee Dunekacke posted a review to the rec.music.tori-amos newsgroup. Cindy Elder sent me photos and 2 reviews that appeared in the Daily Nebraskan and Lincoln Journal Star newspapers. Lastly, I received a nice review from Dusty Bottoms.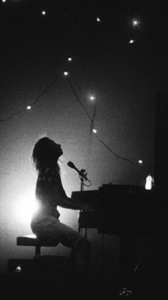 This photo was sent to me by Cindy Elder and was in the Daily Nebraskan Newspaper. It shows Tori beginning her show in Omaha Nebraska.

Say hello to the first reviews from Springfield Missouri on November 4. Jamie Beckman , emailed me about the show. Kevin Hollenbeck also posts a small summary in the rec.music.tori-amos newsgroup, and gives an interesting quote from Steve Caton where he takes a guess as to when Tori might record again!

Mike Richman , shares a few interesting comments on the November 2 Tulsa show with the rec.music.tori-amos newsgroup.

The Lawrence Kansas reviews from November 3 are coming in. Christa Madrigal , emailed me about the concert and her sound check meeting with Tori, and also talks about helping Tori's road crew to set up the equipment and instruments for that night's show! Kevin Hollenbeck posted a Lawrence summary in Tori's newsgroup, and described a very interesting set list he found near the sound board after the show.

Mark O'Malley sends me more detailed reviews of the concerts in Oklahoma City and Tulsa. I was also sent some brief after-show comments from Lyvia vwj from Oklahoma City and Tulsa.

My first report on the Tulsa OK show from November 2 comes to us via Kevin Hollenbeck who posted a summary of the show to the rec.music.tori-amos newsgroup.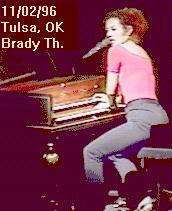 This photo was posted to the rec.music.tori-amos newsgroup and supposedly shows Tori at the Tulsa show on November 2. Of course, one should NEVER post to a non-binary newsgroup...very bad! But it is a nice photo...

Shawna Cooper recently posted a short summary of Tori's Oklahoma City OK show on October 30 to the rec.music.tori-amos newsgroup.

Daniel Skinner is the first Toriphile to send me a review of Tori's Austin TX concert on October 29.
The Last Ten Dates Of The Tour
Date
City/Venue
Set List
Reviews
10/29
Austin TX
Bass Concert Hall
10/30
Oklahoma City OK
Civic Center Music Hall
11/2
Tulsa OK
Brady Theater
11/3
Lawrence KS
Lied Center
11/4
Springfield MO
Hammons Perf. Arts Center
11/6
Davenport IA
Adler Theatre
11/7
Omaha NE
Orpheum Theatre
11/9
Albuquerque NM
Pope Joy Hall
11/10
Boulder CO
Macky Auditorium
11/11
Boulder CO
Macky Auditorium
The

symbol means that I was at that show.
Concert Summaries
Updated November 12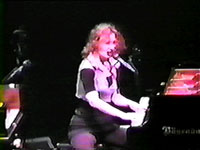 Tori final show of the Dew Drop Inn Tour is now history. It took place on Monday night, November 11 in Boulder Colorado at Macky Auditorium. All details for this show will appear above. I am stunned. It is over. Rest well Tori. You deserve it.
Tori played her first night in Boulder Colorado on November 10 and reports say she played Yes Anastasia, She's Leaving Home, Baker Baker, Mother, Crucify, Doughnut Song, Take To The Sky,Blood Roses prefaced with a few lines from Hurt, and Hey Jupiter at the close of the show. She did not speak too much but played her heart out. Tori was described as focused, content, upbeat and very energetic. She also thanked all those people who followed her around and saw so many shows! "When I see familiar faces it's like--there's nothing better than that. You've been amazing. I just want to thank you." Tori seemed out of breathe at some point and asked the crowd, "My God. I think I need some oxygen." She also introduced her new friend, 'Flying Duck Face'!
Tori played for Albuquerque NM on November 9, and seemed quite animated on stage. She sang Blood Roses with the Hurt prelude, Silent All These Years, Little Amsterdam, Honey, Precious Things, Putting The Damage On, Black Swan, and ended the night with Hey Jupiter. Tori said that she really wanted to play in Albuquerque, but they told her there was no place for her to play there. She said that she told them "I'll play in the streets if I have to."

Tori performing in Omaha. Photo from the Daily Nebraskan Newspaper and sent to me by Cindy Elder
Tori did her last show in the midwest in Omaha Nebraska on November 7. She presented to the audience Blood Roses, prefaced with a few lines from Hurt, Little Amsterdam, Honey, Precious Things, Marianne, Silent All These Years, Smells Like Teen Spirit, The Waitress, Daisy Dead Petals, and Hey Jupiter to wrap things up. Tori talked about the irony of singing in the shower and disturbing people, who don't realize that others have to pay money to hear that! She also told the crowd that Marianne was going to the other side now and that it was her last appearance on the tour. At the end of that song she sang, "Rest In Peace."
Tori performed in Davenport Iowa on November 6. Full details are above. The set list had Losing My Religion, Tear In Your Hand, Past The Mission, Here In My Head, Winter, and at the end, Hey Jupiter. She also began Caught A Lite Sneeze with a few lines from Hurt.
Tori rolled into Springfield MO on November 4. She seemed excited and talked about Mary Magdalene. Her song list included Take To The Sky, Pretty Good Year, Doughnut Song, Mary, The Waitress, Twinkle, Winter, Mr Zebra, Tear In Your Hand, and the final song, Hey Jupiter.
Tori was in Lawrence KS on November 3. Her relatively shorter set list included Smells Like Teen Spirit, Tear In Your Hand, Onward Christian Soldiers/Icicle, Lovesong, Somewhere Over The Rainbow, Cloud On My Tongue, and she concluded the night with Etienne. She discussed the problem of having to be with her dad at Christmas, when she would rather be with a hot date!
Tori just completed a show in Tulsa OK on November 2. Tori played Yes Anastasia, Hurt/Lovesong, Honey, The Wrong Band, Precious Things, China, Somewhere Over The Rainbow, and ended her show with Hey Jupiter. According to one fan, during the second encore Tori had a foodgasm! Tori also did the part of Me and A Gun where she raises her voice unexpectedly while singing "FLAT", startling many people in the theatre.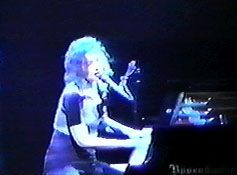 Tori played for Oklahoma City on October 30, and gave a solid show despite being tired after 4 straight days of playing. Tori performed Leather, Doughnut Song, Frog On My Toe, Happy Phantom, Lovesong, Black Swan, Winter, and the last song, Hey Jupiter. She also sang Surry with a Fringe on Top from the musical 'Oklahoma', which she called a favorite song of hers (Thanks Karen!). She sang Beauty Queen while wearing a Mardi Gras mask, and then dramatically flipped it back before Horses.
Tori once again graced Austin TX on October 29. Tori's setlist included Bells For Her, Flying Dutchman, Leather, Landslide, Mother, Humpty Dumpty, Pretty Good Year, and Sister Janet.
(The color photos above feature Tori performing in concert on 6/6/96 in Chicago & are from a video belonging to Rebecca Cox and are used with her permission. )