Caroline (Amarillys) sent me the following review of Tori's November 20, 2002 concert in Montreal, Quebec from the November 21, 2002 edition of the French Canadian newspaper La Presse. Caroline kindly translated the article from French into English for us. To see the original French version and a nice live photo of Tori, go to cyberpresse.ca. The article was quite inaccurate. For example, it claimed she played Carbon and Strange, which she did NOT play. Thanks also to Umbriel and Lonore for also telling me about this review. Lonore also sent me a scan of the live photo of Tori that was printed in the newspaper with this review, which differs slightly from the one posted online. You can see that photo below.
Going back to the essential
By Frédéric Boudreault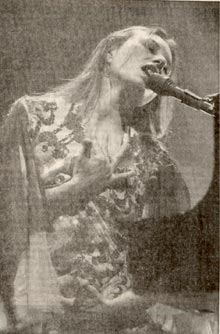 We had been waiting for this moment for a long time. We had waited an eternity since Tori Amos' last concert in Montreal. After a four-year wait, we were very happy to see her again, and the 5000 loyal fans who were at the Bell Center Wednesday night were not disappointed.

The generous two-hour long concert that she gave wasn't the easiest one. Tori Amos bravely chose some of her most obscure songs. Even if she performed the majority of the songs from her latest album, Scarlet's Walk, she also selected songs from her whole discography to give an overview of her carreer, that has been going on for over 10 years. With her white long sleeves, it looked as if a bird had just landed on the stage of the Bell Center. And the singer brought us with her for a very nice flight.

Tori Amos appeared with the nice Indian prayer, Wampum Prayer, sung a capella. The crowd responded very well, even if it was put to the test. All of those who were hoping to hear the singer's greatest hits were probably disappointed. Yet, the fans stayed silent during the whole show, filled with admiration for her. They were stunned, almost in a trance, by the emotion-filled and intense performance. Closing our eyes, we could have thought we were in a cathedral.

A happy compromise

The last time she gave a show in Montreal, in 1998, Amos had given a more electric concert. This time, it was a happy compromise between her first few visits, alone at the piano, and the last time, when she shared the stage with four musicians. Last Wednesday, we were given the best of both worlds: some moments were filled with a simplicity that left us breathless, and others, more energetic, were very well done. The songs from her last album passed the test, especially Carbon, Sweet Sangria and Strange.

Many artists need to go overboard to create an emotion. It's not really the case with Amos, who can touch people without fancy tricks, thanks to her voice and the subtle support of bassist Jon Evans and drummer Matt Chamberlain. Over the years, the singer lost herself, but she now seems to be back on the right track. She got rid of her numerous twitches and gave up all excess to keep only the essential. On Wednesday, we felt that we were with the real Tori Amos. She humps her piano stool a little less, but she's still charming.

In fact, the best part of the show was when she was alone at the piano, in the middle of the concert. Without her musicians, emotion was at its peak. She then sang four songs, including Mother, which really pleased the crowd.

Later, she performed Precious Things, from her first album Little Earthquakes, and the song has not lost its power after all these years. With Matt Chamberlain hitting the drums and her voice going up in the stratosphere, she gave the crowd goose bumps. She then sang I can't see New York, the most touching song from her latest album. A graceful moment, sent from the gods.

There was only one negative point. Amos was sometimes dissipated, like when she sang her first hit, Crucify. Her new version, with added electronic rhythms, was way too long and redundant. But it wasn't enough to ruin the evening that was, without a doubt, a nice return.