Later With Jools Holland
October 30, 1999

Updated March 17, 2001

Tori appeared on the U.K. TV show 'Later....with Jools Holland' on Saturday, October 30, 1999 at 11.30PM U.K. time on BBC2. Tori recorded the show on Tuesday, October 26, 1999. Lucy Bennett and Mike Gray report that Tori played Suede (without the "little sister" part) and Concertina solo. Suede was played using the keyboard and a backing tape. She dressed in black with high heels, and there was no interview during the appearance. She also played parts of Cruel, but that part of the taping was not aired. This episode was broadcast again on September 2, 2000 on BBC2.
You can now listen to Tori's performance in RealAudio at The Little Amsterdam web site.
This program was shown many years later on BBC America in the U.S. I personally saw it on March 16, 2001. At that time I was able to get several screenshots, which you can see below. Thanks to Amanda (Novinha) for helping me with the screen shots.
Pete Lambert took some screen shots from the show, and you can see those below. He said that Concertina was the most beautifully filmed Tori appearance he has seen. He also said this about the end of Concertina, "The grin that spread across her face during the last chorus, and the way she stroked her piano as the audience clapped, is gorgeous."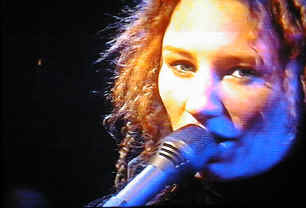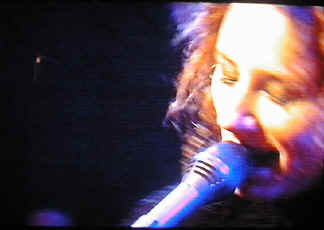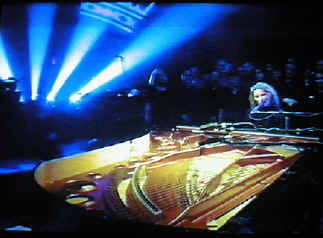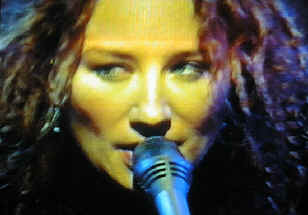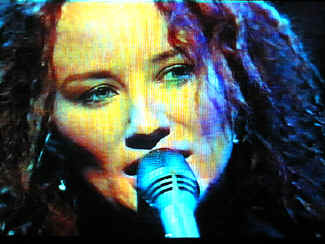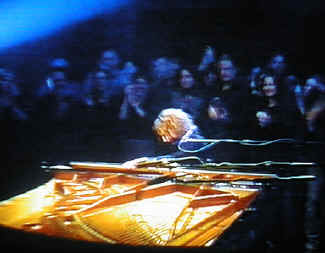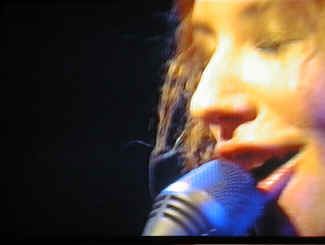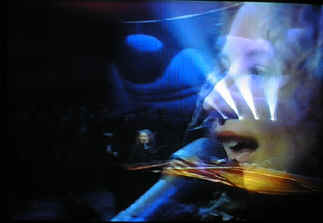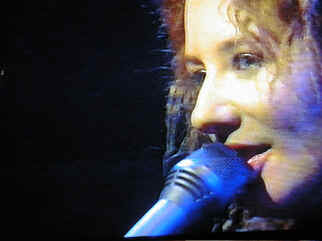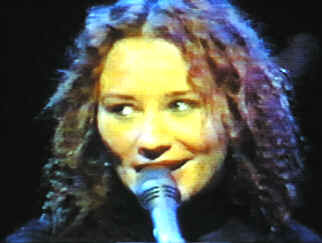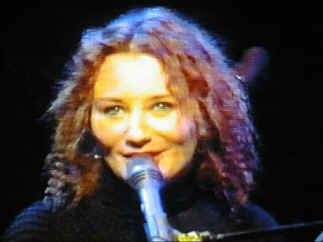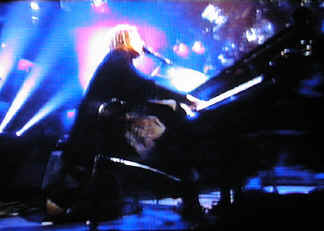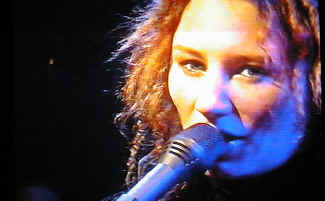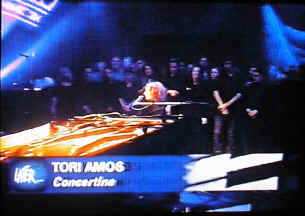 Above - Tori performing Concertina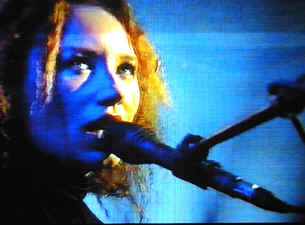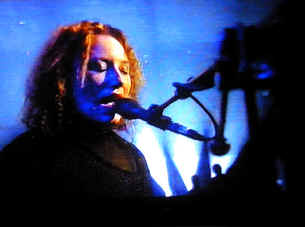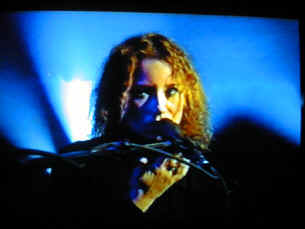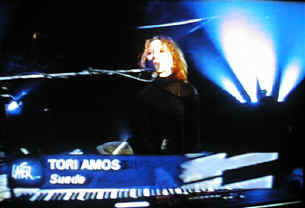 Above -Tori performing Suede.

Here is a report on the show by Squidgy posted to the Precious Things mailing list:
Well watched Tori on "later With Jools Holland" last night, she wasn't on very much, not enough, they seemed to have an obsession with playing those weirdos 'Madness' all night. Of course I nearly had an orgasm when she started singing/playing because it is very rare that I get to see her on the telly...if I ever got to a concert now that would be worrying. Anyway she looked as lovely as ever with rather shorter corky screwier hair (she might have had this for ages, what would I know?) anyhow she sang 'Suede' and 'Concertina', pianoy type versions, they had some nice facial close-ups on Concertina where she looked all happy and teary eyed. Unfortunately, you couldn't see much of her because she was wrapped head to toe in a black shawl and dress....must have been a bit chilly in the studio.
Here is another report from Andy Caldwell:
With reference Pete Lambert's comments, "The grin that spread across her face during the last chorus, and the way she stroked her piano as the audience clapped, is gorgeous."

The reason she is grining at the end of Concertina is that someone's mobile phone keeps ringing in the back ground! Now I hear it every time, otherwise one of the most perfect performances i've seen.

I'm glad for that persons sake, I wasnt there, is there anything more Sacrilege than that?


Please give me feedback, comments, or suggestions about my site. Email me (Michael Whitehead) at mikewhy@iglou.com