Richard Handal made me aware of this article on Tori, which appeared in the November 12, 1998 edition of The Ithacan, the newspaper for Ithaca College in Ithaca, NY. You can read it below or online at The Ithacan Online. It is actually a review of Tori's November 8, 2000 show in Ithaca, NY during the Plugged '98 tour. The article included several black and white photos you can see below. They appear to be from the Ithaca, NY concert.

Tori Amos hypnotizes crowd with music
By Jeff Miller
Ithacan Staff
Photos by Gary Cotti/The Ithacan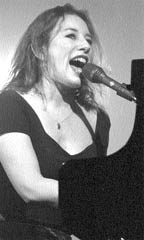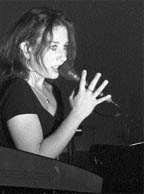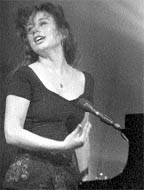 At 7:30 a.m. on Sunday, Ithaca College was--as is typical for a Sunday morning--empty. But Paul Divine, a 27-year-old Tori Amos fan from Chicago, was already holding his place in line at the entrance to the Ben Light Gymnasium.
"I've been to all her shows in the past month," Divine said. "I'm an artist and she inspires my art."
Divine was not the only fan who came to Ithaca from far away for the piano-songstress's sold out concert, the first this year presented by the Bureau Of Concerts. The crowd was multicultural--fans from England, Germany and Israel all came to Ithaca to show their support for Amos.
Amos, a classically-trained pianist and co-founder of the Rape, Abuse, and Incest National Network, played a two-hour show to a crowd of approximately 3,000 fans, according to BOC chair senior Aaron Mendelson. The show was part of the last leg to her almost year-long "Plugged '98 Tour," her first national tour with a backing band.
The key to Amos' appeal seems to be her uniqueness.
"[Amos] doesn't go along with the establishment of modern music media," said fan Jeff Howell, who traveled from Lansing, N.Y. for the show, "She's a totally different [kind of] artist than what's on mainstream radio stations."
Howell's statement became obvious over the course of the concert. Songs like "Cruel" took on a new life on-stage, mixing typical rock beats with strange, moody melodies and luscious instrumental fills. Amos' music is like a sensual, yet disturbing painting--it initially is hard to understand but eventually draws you in and doesn't let you go.
By the time Amos and her band finally took the stage at 8:45 p.m., after an hour-long set from opening act The Unbelievable Truth, the energy in the gym was almost palpable. After opening with "Precious Thing" from her 1992 Atlantic debut "Little Earthquakes," Amos played songs from all of her albums, including her most recent release "From the Choirgirl Hotel."
The emotional highlight of the show was the short solo section, which included "Silent All These Years" and the concert rarity "Yes Anastasia." Amos' knack for poignant and catchy songwriting was strikingly apparent when her songs were stripped down to their piano and vocal core.
Lighting engineer Daniel Boland also provided many strong points in the concert, including the faux-rave lights for "Raspberry Swirl" and the encore disco ball jail of the a capella "Song For Eric." Boland used the lighting as if it were another instrument, painting the band in lush blue hues for slower songs and fire-engine red when Amos' playing was particularly intense.
"The lighting was really awesome ... It was fantastic," freshman Tom Metzger said. "It was like an arena show in our own gym."
Amos' band--which consists of bassist John Evans, drummer Matt Chamberlain and guitarist Steve Caton--was technically proficient although its stage presence seemed forced and fake at times. The band added new elements to older songs of Amos'--like a hard rock segment in "The Waitress" and a reggae feel to "Pass The Mission"--but were eventually bogged down by their own pretentiousness and contrived rock-star attitude.
Sophomore fan Skott Freedman loved the show, which was his 15th Amos concert.
"Her energy was definitely better [than at previous shows] ... I have to give her credit for keeping it up for almost two hours," he said.
Sophomore Erin Waas also expressed her enjoyment of the concert.
"This is the second time I saw Tori, and the first time it was a much slower, more quiet show," she said. "This was definitely more rockin'."