On June 27, 1998, Tori performed at the Glastonbury Festival in the U.K. You can still read reviews and a set list for this concert here. On July 4th, ABC in the U.S. showed a special Independence Day concert that featured several of the acts from that U.K. Festival, including Tori. (If someone from 1776 traveled in the future they would find all this quite amusing...) I was unfortunately unable to see this ABC special on July 4th, but reports say that they showed Tori singing Precious Things and Crucify. This was likely the same footage that the BBC showed on British TV. Below you will find more details about the ABC broadcast, and several wonderful photos from the concert sent to me by Toriphile Xenotrope (who went to a lot of trouble to make these for me and who I thank profusely.)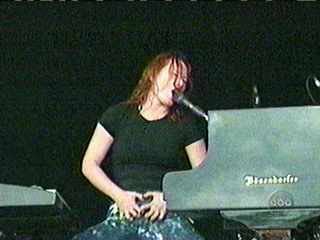 The "grrrrrl" part of Precious Things

From Courtney Key
They showed two clips of Tori, the first was "Precious Things" and the second was "Crucify." The female ABC announcer who introduced Tori on the broadcast (she was in a raincoat standing by some tents) got the name of Tori's album wrong, calling it "Songs from the Choirgirl Hotel." At least she didn't botch it up too badly! Tori gave what I thought was a very powerful performance of "Precious Things" - a couple of things that were a little different are that she repeated "beautiful boys, Christian boys" several times before launching into the "so you can make me cum" line, and the band kept playing during her "grrrrrrrls" line. I also liked "Crucify," although I didn't think it differed much from the LE version. In case you wanted to know what Tori looked like, her hair was curly and almost looked wet! Maybe some of the rain outside caught her. She had on a tight black top and some blue and white pants which I can only say looked either paint-spattered or swirly camouflage....they were different. I haven't watched the entire video yet, but it appears Tori got more screen time than some other artists.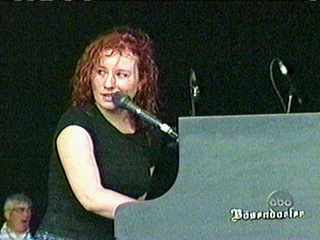 Crucify
From Matt Presidente
I was so happy that they showed this in canada, even though I had to stay up till 2am to watch it - it was worth it... at least they played tori first! and they played TWO songs! most of the other bands only got one! FIRST was PRECIOUS THINGS which was absolutely incredible... the loud chorus rocks out with the band - and she did a bit of yelling at the end which was great! The "GRRRRL" part was the best cause she kind of grabbed her crotch, then turned to the piano and all this drool flew from her face! It was great! CRUCIFY was next, and it was really well done, but fairly true to the album version, and not too exciting... I prefered it solo piano like on the last three tours. Overall her performance was good, but she looked uncomfortable - maybe it was because there were 50,000 people in the audiance all running around and not paying attention (as compared to her DDI shows with 4000 silent fans) or maybe it was because there were about 4 video cameras in her face... the setting didn't quite suit her... but it was still great... She looked nice, but tired - and her hair looked fairly greasy (It couldn't be from sweat since PRECIOUS THINGS was the first song she played and it was all greasy from the beginning) but she looked nice...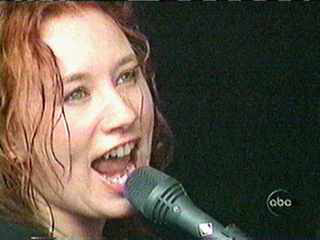 Precious Things
From Meghan
Two of Tori's performances were shown on the ABC Independence Day Concert thing. It was on at 2:30 a.m., July 5th in Massachusetts. Anyway, they showed "Precious Things" first which is what I'm pretty sure she opened with because they also showed her walk onstage and did the little "Tori wave" as me and my friends call it. It was great, she really got into the song and she growled! That was my favorite part! Tori was wearing a black tee shirt and these like, bleached spotted jeans I think and I'm pretty sure she had black shoes w/ heels on them, but then she put her foot on the piano, and they looked like boots. Then, they went to a commercial and when they came back Tori did "Crucify". It was really really REALLY good. It seemed like a lot of people right up front were singing along too. All in all, it was a really good piece on Tori.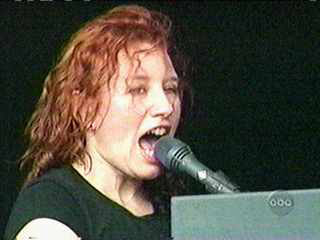 Crucify
From Stephen Sartin
Tony Bennett played first (just one song during opening credits) then after the commercial break Tori played "Precious Things", then another commercial break and she was back with "Crucify". Then another commercial and Ben Folds Five was on so I assumed that was all we got to see of Tori so I turned it off. I was dissapointed that we only got to see her play two songs but happy at the same time because I got to see her on a station other than MTV.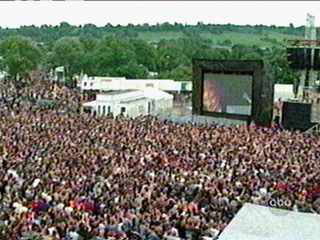 Precious Things
From shawn.the.little.masochist.in.the.hotel...
Well, Tori WAS featured on the ABC Independence Day concert along with the likes of Ben Folds Five and the Foo Fighters. Tori was first on the show and played awesome versions of Precious Things and Crucify, both with band. I was really happy to see lots of shots of Jon, Caton, and Matt (as well as Tori of course). It was really great to see Tori on TV again!!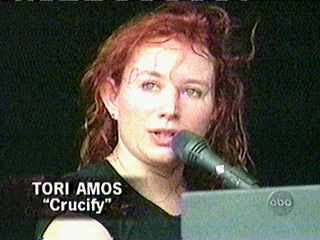 Crucify
From maggie dayton
the glastonbury festival on abc showed tori playing precious things and crucify. she was sandwiched between tony bennett and ben folds five. the show looked like it rocked.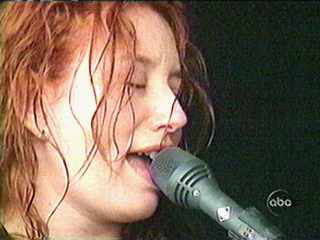 Precious Things
From Sara Adamson
I saw the Independence Day concert; it was pretty cool.Ý It wasn't on here in San Diego until 2:35 Sunday morning!Ý They showed two songs, Precious Things and Crucify.Ý Tori was wearing a little tank top and dungarees.Ý The band sounded really good,Ý it was just too bad she didn't play any of her new songs.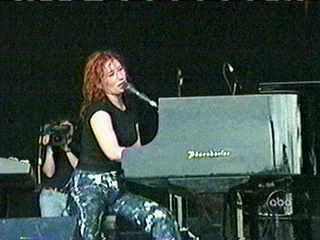 Crucify
From ~*Laura*~
Tori was on tv tonight.. but not at the time she was suppost to be on. I'm sorry if my spelling is off and if there's lots of typos but it's 4:29 am here and I'm tired. Anyways.. well you obviously know that Tori was going to be on ABC on this day. Well she wasn't on at 12:35-1:05 ET. I ended up taping some stupid show. Well, this is really odd.. but at around 3:36 or something... I don't remember.. I went downstairs and turned on the television.. and I hear Tori. (I know that voice so well it's scary.) so I run around looking for a tape and then when i finally find one and hit the record button she goes into.. ".... in my peach party dress...." oh it was sooo moving that performance. And then after that she did "Crucify" I believe they only aired two of her songs because that is what they did for most of the other artists as well. So the set list for the TV part of the festival was "Precious Things" and "Crucify". I just thought I would share that with you.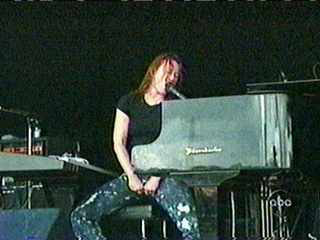 Precious Things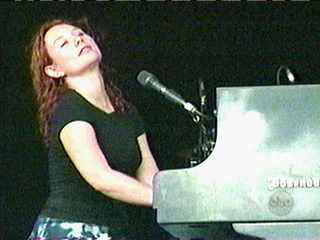 Precious Things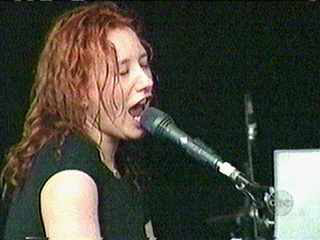 Precious Things