The following information comes from Ears With Feet Kim H:
In the January 1998 issue of Marie Claire magazine, on page 15, is a contest to win some of Gwyneth Paltrow's costumes from the movie Great Expectations.
The contest was devised by Marie Claire magazine, Gwyneth Paltrow and MCI. All proceeds go to help the Henry Street Settlement, in New York City. Its Urban Family Center, founded in 1972, "provides 100 homeless families with housing and the training they need to improve their situations."
To try and win, call 900-656-6420. It costs $2 per call. You can call as many times as you like but you must be over 18. MCI is donating their services, so *all* the profits go to the charity.
When you call, write down the six digit number they give you, you'll need it to claim your prize if you win. Phone lines will be open until January 31, 1998. No purchase is necessary (of what, they don't say *L*).
According to the full contest rules, on page 143, you can also enter without making the 900 phone call. By mail no donation is required to enter (although you're welcome to). You just send in some info on a 3 by 5 card (put your name, address and telephone number on a 3 by 5 card-- no envelope unless you are enclosing a donation-- and send it to: Gwyneth Paltrow's Wardrobe, Marie Claire, Radio City Station, P.O. Box 1408, New York, N.Y., 10101-1408, to be received no later than January 31, 1998. They will then enter your phone number into the computer listing of entrants for the contest.)
Residents of AZ, CO, IA, ID, MN, MT, ND, NE, NM, OR, SD, UT, WA, WY, are prohibited by law from entering via the 900 number ! So, if those people would like to donate they can send something to the address above. Anyone can use the address to enter the contest, though, and no donation is required except via the 900 number. All those proceeds, though, help the homeless.
Winners will be selected at random by March 5, 1998 and notified by phone by March 9, 1998. Good luck everybody !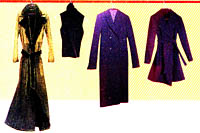 I've enclosed a scan of the clothes from the contest.
From left to right: an olive shearling coat, a sleeveless cashmere turtleneck, a black double-breasted boy coat, and a black wrapover coat, all by Donna Karan.