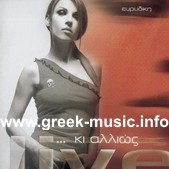 Sakis Pavlakakis informs me that a very popular Greek-Cypriot singer, named Evridiki has done a cover of Tori's "Pretty Good Year" on her new 2002 Live album released in Greece.
Evridiki's official site is located at www.evridiki.cjb.net and you can hear the MP3s from the album at www.greek-music.info. (I was unable to get the mp3s downloaded when I tried, because I kept getting messages saying I was forbidden to download from their server.) Some biographical info on Evridiki can be found at ubl.com.
If you can not get the MP3 to download, copy and paste the following link into your browser and you can listen to a clip of the song in RealAudio:
http://www.geocities.com/FashionAvenue/3485/ram/live/1.ram
Thanks to Joalby and S.P the Greek for telling me about this link.