Tori On E! News Weekend
May 23-24, 1998

During the weekend of May 23-24, 1998, the E! Cable channel in the U.S. showed a brief story about Tori on their E! News Weekend program. This program was shown several times over the weekend. You can read a transcript of what Tori and E! said, as well as see a photo from the broadcast below.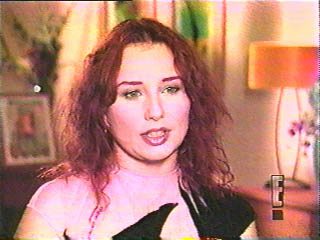 Benjamin Mobley reports that E! did a joint report on Tori's new album, as well as the album "Songs From Ally Mcbeal (songs by Vonda Shepherd)." After the stuff about the Ally album, they showed Tori. They showed clips from the "Spark" video, as well as some older 1996 footage of Tori singing on stage. The interview clips were obviously taped the same day as her recent appearance on the Tonight Show With Jay Leno. The program referred to Tori and Vonda Shepherd as "Divas."
Here is a transcript of what was said from Mikewhy. They start the story by saying that Tori's "complex" music has a massive following, and that her new album, "from the choirgirl hotel," debuted in the top 10.
Long time Amos fans may be surprised to find her abandoning her solo piano work [Note From Mikewhy: She is not 'abandoning' it!] for a full band in a new musical approach.
Tori says, "You got to get the ego out of the way and go, 'You know, for the good of the songs, this is what this work demanded.'"
Despite a decidely non-mainstream sound, Amos is achieving mainstream sales. However, she is not about to compromise her musical vision.
Tori says, "You have to keep striving, I think, and challenging yourself."


Please give me feedback, comments, or suggestions about my site. Email me (Michael Whitehead) at mikewhy@iglou.com