If anyone sees any evidence of "Let's Do It Again" getting released commercially in the U.K., please let me know! There were reports that this item would be officially released in the U.K during summer or fall 2000, but that never did happen. There has been no indication since then that this record will ever see the light of day as an official release. I don't plan to anticipate an official release anymore unless someone can tell me otherwise! There are some promo copies of this floating around in various places.
A U.K. dance track called "Let's Do It Again," which is credited to Tori Amos V Andy Gray surfaced as a promo release in Spring 2000. Listening to the track, you can hear Tori talking against "banging hard house" music. (She does not sing!) Since late Spring 2000, it has only been available as a limited DJ white label 12" vinyl promo. The Worldpop web site at one time reported that it would be released commercially in June 2000 through BPM Records in the U.K. However, that never happened. (I am guessing plans to releasing this commerically were scrapped.)
In the song you can hear Tori saying something like "We'll Do It Again" and "Keep The Money" over and over again to a hard dance beat. She also utters some other things including "Sorry, Fucked up." (I do not think that the female "Oh yeah" in the background is Tori, although the breathing DOES sound like Tori!) It is really quite fun, although people who hate repetitious dance music may not care for it.
For a while you could hear this track using the Windows Media Player at the radio section of the Ministry Of Sound web site. However, they have changed the files there and that is no longer the case. However, you can download an MP3 sound file of the song in the Diagnosed Sounds section of the superb here. in my head: my tribute to Tori Amos web site. (Do to some problems at the Diagnosed Sounds, this song may no longer be available by the time you read this. But check to be sure!)

Andy Gray Helped With Some Of The Raspberry Swirl Remixes
Marc reminded me that Andy Gray remixed some of the Raspberry Swirl remixes, namely the "sticky extended vocal mix," and the "scarlett spectrum feels mix".

Promo vinyl versions of "Let's Do It Again" and some places where it has been sold; It contains 2 different versions of the song!
This song is currently only available as a promo on a limited DJ white label 12" vinyl from the label 6AM N Rockin. This is a low-budget self-produced promo release. Eric Wilcox has a copy of it, and he reports something really interesting. It contains 2 different versions of the song, and Tori says something different on each version! Here are Eric's reports:
There are 2 different tracks on the promo 12". One is the version that is found on the net on MP3 [ saying stuff like "We'll Do It Again" and "Keep The Money"]-- the other one is COMPLETELY different. In this track-- he samples tori saying a bunch of things-- from "I'm rich..." to "I'm luscious..."
The major sample here ... is of Tori half-singing, half-speaking "I'm rich.... with womanness...." She goes on to say, "luscious... sweet.... like a honeycomb..." as well as a few other unintelligible things.

Honestly, I think the first track was much stronger. But its interesting nonetheless. :)
I have heard this other version, and while the woman sounds like Tori, I am not 100% sure that it is her. But it likely is! The main version of the song though is definitely her!
Here are more details about this promo vinyl from Eric:
I got the 12" record. Lovely. Its 2 sided-- and it APPEARS to have a different mix on each side

Its got a plain Green cover with the "Tori Amos v Andy Gray" on one side and a large "6am n rockin" logo on the other side. [See scans below.]
The promo vinyl record has a blank white label, as you can see below.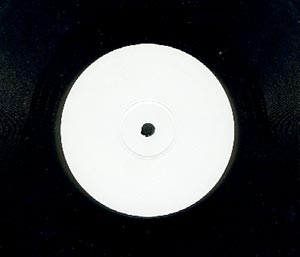 The cover of this record gives the name of the song and the artist. Below you can see a scan from the cover. Thanks to Eric Wilcox for sending all the scans of the 12" promo.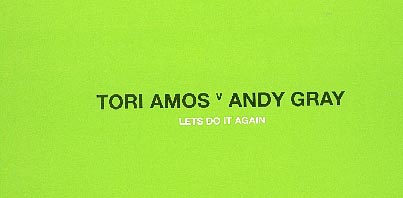 Marc found that a limited number of these promo 12" vinyl records are being sold at Esprit International ltd. They were sold quickly, but you might keep checking back in case they get more.
Deborah emailed me with the following information on this promo item:
I live in Canada and I was talking to the local vinyl record store. They told me that the vinyl of Let's Do it Again is available for special order. Most rave/techno vinyl stores can get it but they told me that I would get it at the end of June.
Deb also found an online U.K. store called Hard To Find Records. If you go there and do a search on ANDY GRAY, you may find the vinyl version of "Let's Do It Again" listed. So I would keep an eye on that if you really want this Dj promo vinyl version! (The catalog number is MR44393 and it is listed as a UK promo item).

More On "Let's Do It Again"
The Ministry Of Sound web site, which covers dance music in the U.K. has a page of their personal recommendations, and they earlier listed this track with Tori under a section called Playlist, which is their predictions for the biggest pre-release tunes of the moment. They had this listed for Tori:
Tori Amos vs Andy Gray - Do It Again (6AM/Rockin)
The gem waiting to be signed. [6AM/Rockin is the name of the record label distributing the limited DJ white label 12" promo the song first appeared on.]
They later placed the song in the Movers and Shakers section on that same page. Thanks to MrsMalkav for telling me about this site. The Tori song is no longer listed on this page.

I first read about this item at the Worldpop web site on May 12, 2000. Thanks to Caroline Kenney who emailed me about this. That report said:
Tori Amos in clubland comeback - Tori Amos' longstanding relationship with club culture is set to explode this summer with the release of a single on which she doesn't even sing.

Amos, whose biggest UK hit to date was thanks to an Armand Van Helden remix, is set to release Let's Do It Again, a collaboration with Amoebaassasin's Andy Gray in what appears to be out-takes of Tori in the studio, set against banging hard house.

worldpop understands that Tori's been able to do this record - which would usually equal breach of contract with her day-to-day record label Atlantic - because her contract with the label only covers the rights to her singing voice, and her vocal performance in Let's Do It Again is spoken word.

The strictly limited DJ white label 12 of the single, currently doing the rounds, paves the way for a full release in June through BPM Records.