Tori On Late Show With David Letterman
January 29, 1997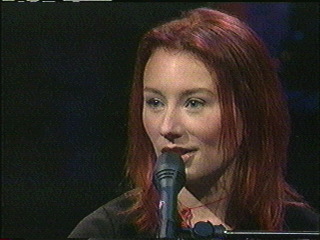 Tori sang Silent All These Years. She did not really get to talk as usual, but in an unusual move, Dave chatted a little with Tori before he introduced her. He playfully waved to Tori through the piano, saying that it was fun and that he did something like that once at a funeral. Tori said, "Hi David, how are you?" while waving back. Dave then asked her if she knew the guy in Nine Inch Nails. Tori said something like "Yes, he's a good guy." Tori was wearing a black Unlock The Silence t-shirt. Since RAINN is selling white shirts, this will lead to cries of "I want the black one!" It also looked like she was wearing an Unlock The Silence necklace, which you can see in the photo to the left. Kim Rygiel informs me that a friend of hers named William Fuentes made that necklace. "Before the show he gave Tori a larger necklace that he made for her and asked her to wear it. She was happy to, but noticed William was wearing a smaller version of the necklace. Tori asked if she could borrow the smaller one to wear on the show."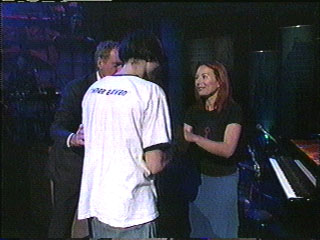 After she performed, Letterman said to her, "You want to meet the kid?" Then they brought a young guy named Tom onstage. Dave humorously frisked him first and then let him meet Tori and shake her hand briefly. Then Dave pulled him away saying, "Okay, that's enough." (Below you see a photo of William giving Tori the RAINN necklace before the Letterman show. Click on it for a larger image.)
Click on thumbnail to see a larger image.

---
Please give me feedback, comments, or suggestions about my site.
Email me (Michael Whitehead) at: mikewhy@iglou.com