Deluxe Magazine
May 1998

Updated April 24, 1998

Toriphile Lucy Bennett and StealthDragon Sam inform me that the May 1998 issue of Deluxe Magazine in the U.K. contains 2 pages on Tori. One is a question & answer interview with some interesting comments about drugs, pianos, etc, and the other is a beautiful pic of Tori wearing a shiny dark coat. Lucy and Richard have sent me the article and Andrew Smith and Tim sent me the photo.

2 page spread, left side interview, right side full page picture
The Tori Party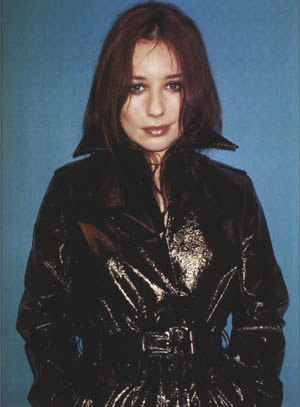 Tori Amos on the merits of red wine, envying Kate Moss and her previous life as a shepherd boy.
Interviewer - You've got a proper band on your new album From The Choirgirl Hotel. How do you find people to play?
Tori - I'd pushed that 'girl and her piano' form as far as I could. The drummer's from Pearl Jam, and there's one of The Meters, the father of funk. You get to know people through other musicians. I don't meet anyone. I only run into Bjork when we're in the airport for ten minutes. We have a giggle, a scream and a laugh and go our seperate ways.
I - Are you easy to work with?
T - I'm vicious but fair. I work myself into a frenzy sometimes. For 'She's Your Cocaine' [on the new album] I put on this tiny black body, jeans and high heels, got a marguerita and walked outside for 30 minutes to drink Tequila in Cornwall, in the freezing November night. After a take I'll get the guys a coffee and I'll say "The artist is on one today, isn't she?" They often agree.
I - What are the new songs about?
T - 'Spark' is about when I miscarried, in 1996. I was three months pregnant and very excited. All of a sudden I woke up one morning and started to feel bad. The songs started coming soon after. I was really angry at God. Going into a shopping mall and seeing some woman knock the head off her child, I'm going - 'So this is fair?' I don't know where the spirit went, whether she picked another mummy, like, "OK, choose her, then! Hope you're tone deaf!"
I - Do you look up your name on the Internet?
T - Sometimes you feel like there's a little camera in your private world because of the Internet. If you're having an argument with someone in a restaurant chances are it'll be on the Internet: 'Tori sighting, Tori uncomfortable at table, the man with sunglasses'.
I - What was it like studying at the Peabody Music Conservatory at just five years old?
T - All the kids were over 16, one was nine and I was the youngest. I didn't fit in. My mother was reading me Edgar Allen Poe at night to help me go to sleep, then you go and read Dick and Jane and Spot and practise Mozart and Bartok in afternoon. I was always writing music at my desk. It's not that I was that smart, but I was real creative.
I - Would you consider plastic surgery?
T - I believe in maintanance, but it has to be a personal thing, You know, I'm only 34 so I haven't crossed that bridge yet. I don't know what I'll do but I'm not oppposed to a little feng shui of the face.
I - You recently got married. Did you buy any of those Wedding Brides mags?
T - I did! And I was really happy that I had my dress made privately. I bought it more because I really embraced what it was like being a bride. You just pick it up and go, "OK, that's me!"
I - Did you ever consider a celebrity husband?
T - No. I always go for the engineer types. I go for the boffins, because they're usually so totally unimpressed with the glamour side, which I personally need. I think you'll find a lot of pop stars are starfuckers.
I - What's the best chat up line you've ever used?
T - "So you've always wanted to learn piano, then?" Unfortunately it works. It's got me in loads of trouble.
I - You said you've taken hallucinogens before. What wouldn't you take?
T - My problem with hallucinogens is that I want to take a booster. The problem with the booster is the speed aspect gets accentuated, not the good weirdy stuff. With Ecstasy it's like, oh no, I got that bit of it. I've taken it but not on the dancefloor, much more with a group of people. I've done it with with a few women friends I think you can talk about things maybe couldn't always talk about. 'I've been keeping this secret for six months but I gotta tell you now!'
I - Do you believe in reincarnation?
T - Every time I get near a sheep I get a little excited. My friend believes she and I were Pete 'n' Bob - shepherd boys.
I - Have you ever written a letter of complaint?
T - Ruth Picardie had breast cancer and wrote about it in The Guardian, as she was dying. This woman wrote a letter - "What right do these people have to emotionally vomit their experience on the pages?" I'm like, "What the fuck are you vomiting? Your envy?" We've all been there with envy. We all envy Kate Moss.
I - I don't
T - Not even for three seconds? Just to put that bathing suit on and not get your picture taken by The Sun so everybody goes "look at those denty bits".
I - Do you get free pianos?
T - No! Of course I don't, they're £100,000 a piece. I got a discount on the last one.
I - How often do you swear?
T - I get around certain people and it's like Tourette's Syndrome.
I - Who would play you in a biopic of your life?
T - Robert Carlyle.
I - What's your poison?
T - Red wine. I can smell a good wine on a list. I read it and feel it and the words say "drink me drink me drink me! Put me down your mouth!" A good wine? American, Silver Oak, a great Cabernet. It's not too expensive, 40-50 bucks. That's not bad - 25 to 30 quid.
I - That's a lot
T - If we're going to drink, we drink good wine. You won't get sick - we could drink all night. That's the great thing about being a pop star, you can get good wine but not get a headache.
I - You bastard
T - I know, it's a hard job.


Please give me feedback, comments, or suggestions about my site. Email me (Michael Whitehead) at mikewhy@iglou.com