A Tori article appears in the Autumn 2001 issue of Cream Magazine in Australia. (This is not the same as Creem Magazine that used to be published in the U.S.) It mentions that Tori should have a new album in 2001, but does not state who there source was. (They could have read it themselves on many numerous Tori Amos web sites!) You can read the article below. Many thanks to Mark and Kirily for sending the article to me and to Kirily for scanning it!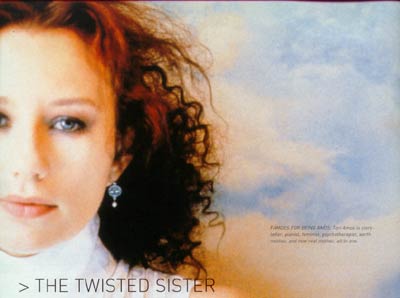 THE TWISTED SISTER
"you think i'm a queer, i think you're a queer. and i've shaved every place where you've been." so sings tori amos on 'blood roses' off her 1996 tertiary album 'boys for pele'. there's the thing about the marvellous ms. amos. unafraid to delve into the primal realms of the female experience, using poetry, a twinkling piano, and the occasional phat bassline ('professional widow') to hit us over the head with the notion that she knows every intricate corner of a girl's secret life. and not content with getting the girlie thing out of her system on record, amos gives good sacrilege (especially when inspiration is coming from nine inch nails' trent reznor), paying pilgrimage to father lucifer, respect to mother earth and cryptically praising her queer -- as in gay -- community (just listen to her lyrics to 'riot poof', on her latest album, to venus and back).
without a doubt tori amos has the kind of fan following often reserved for southwestern US cults. that she's less bible-bashing and more bible-slashing has seen her make it onto many a hick's hitlist (though burning a few tori cds might seem a small deal compared to the burning of john lennon's entire music catalogue in the late sixties).
the woman who said, after breastfeeding her first born for the first time, that "an ounce of breast milk is even more potent than the finest tequila" is ready to retaliate when commonly branded a white witch or the devil's daughter.
and if she's not rebuking or rebutting on record, she's doing so via other means, like creator neil gaiman's popular sandman comic in which she wrote the introduction to three editions which ran under the banner 'death: the high cost of living.' amos is even suspected to be the inspiration for one of the gothic comic strip's characters, delirium. ("bits of tori have found their way into delirium, a tall, red-headed woman," admits creator gaiman -- pronounced "gay-man" according to tori).
after critical acclaim and chart success surrounding five studio albums (little earthquakes, under the pink, boys for pele, from the choirgirl hotel and to venus and back) amos is on hiatus and thinking of family first for once. she and husband -- recording engineer mark hawley -- announced on september 5, 2000 the birth of natashya lorien hawley, all seven pounds and one ounce of her.
so to the conservatives and anti-queerists, no, tori amos isn't devil spawn material. rather, she's one of modern music's most challenging and creative female entities; wrapped in the beauty of a sprite goddess, and armed with just enough vitriol to keep the dullards at bay. and, hey, landing two nominations at last year's grammy awards, and being honoured with best solo artist, most underrated act, favourite cover, best live act and sex goddess positions in spin magazine's recent readers poll is too much to argue against.
-- antonino tati.
to venus and back is out through warner music. a new tori amos album is due for release late 2001.