Esther (Orange Jasmine) informs me that the Dutch version of Cosmopiltan magazine contains Tori content and a photo in the August 2000 issue. Esther sent me the scan from the magazine that you see below. Here is what she says about this: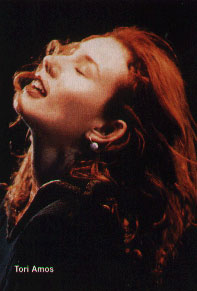 I had to mail you about a small Tori bit I found in the Cosmopolitan. It was in the Dutch version but I'm not sure whether other European issues hold the same interviews and stories! It's a small part and photo in a topic about spirituality among Hollywood stars. The article is 4 pages long but Tori only appears in a few sentences.This is what is said, mind my translation :)
Cosmopolitan August 2000 page 72-75
In search of spirituality
Hollywood into the Lord
Tori's photo on page 73 the short bit on page 74
"God drinks Margaritas up there
Singer Tori Amos is the daughter of a strong methodist priest and a cherokee mother. She was raised strongly religious and is still very religious herself. Even though she let the traditional religion go. She views her beliefs as a way that helps her to be a better person.
"God excists. He is up there drinking some Margaritas. I'm sure about that. But I don't look at him as someone divine. I rather believe in the spiritual world. That's a very common word to me, nothing strange about it. That's because of my Indian grandfather, who had a large influence on my life. Most of the time I discover the divine in not-western and ancient cultures. Especially in those of the Native Americans."
Tori's spiritual beliefs suit this time completely. She combines the base her parents taught her with the things that inspire her from different cultures. In this way she creates her own individual 'melting pot' spirituality."
Also mentioned in the article are Madonna, Jennifer Lopez, Prince, Ashley Judd, Richard Gere, Kelly Preston and some others. Tori's photo is one of three on the page.